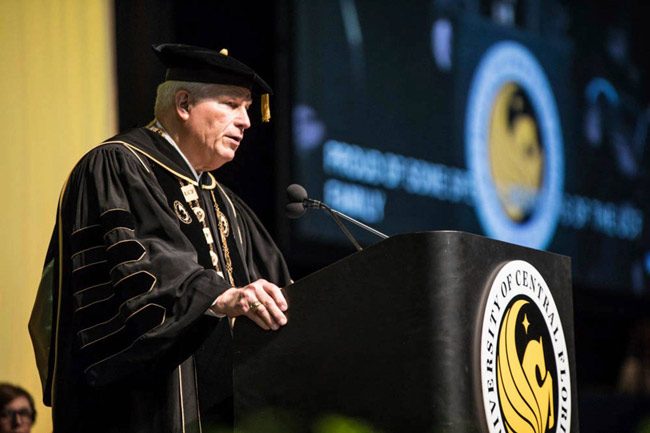 Three state university presidents in Florida earned more than $1 million in pay and other compensation during the 2016-2017 academic year, a new national survey showed.
University of Central Florida President John Hitt, who retired last month, earned $1.28 million, according to the survey published Sunday by The Chronicle of Higher Education.
University of South Florida President Judy Genshaft earned $1.18 million, and University of Florida President Kent Fuchs earned $1.1 million, the survey showed.
In its annual survey of some 250 public college and university presidents, The Chronicle said the three Florida university leaders were among a dozen public school presidents who earned more than $1 million in 2016-2017. Compensation packages averaged $560,000 for all public university presidents.
The pay packages included base pay but also other compensation such as performance bonuses, housing allowances, vehicles and deferred compensation plans.
Other Florida university presidents in the top 100 of the survey included John Thrasher of Florida State University at $634,437, Mark Rosenberg of Florida International University at $619,739 and John Kelly of Florida Atlantic University at $608,573.
The survey included partial-year salaries for presidents at Florida A&M University and the University of West Florida. But a more complete Florida presidential-pay survey was produced during UCF's search for its new president this year.
Based on 2016-2017 data, University of North Florida President John Delaney, who has retired, earned $766,121, according to Sibson Consulting. Florida Gulf Coast University President Wilson Bradshaw, who has also retired, earned $686,525.
Florida Polytechnic University President Randy Avent earned $538,517. Florida A&M President Larry Robinson earned $443,907. University of West Florida President Martha Saunders earned $432,915. And New College of Florida President Donal O'Shea earned $357,250, according to the Sibson survey.
The Chronicle also surveyed compensation packages for 570 presidents of private colleges and universities.
Among the Florida presidents in the top 250 in the private-school survey was University of Miami president Donna Shalala, who has retired and is running for Congress, at $1.47 million.
George Hanbury of Nova Southeastern University earned $1.69 million. Embry-Riddle Aeronautical University President John P. Johnson, who has retired, earned $879,358.
Florida Institute of Technology president Anthony Catanese, who has retired, earned over $1 million, according to the survey. Larry Thompson of the Ringling College of Art and Design earned $629,640, and Wendy Libby of Stetson University earned $573,015.
William Fleming of Palm Beach Atlantic University earned $474,693 and William Abare, who has retired as president of Flagler College, earned $473,822, the survey showed.
–Lloyd Dunkelberger, News Service of Florida