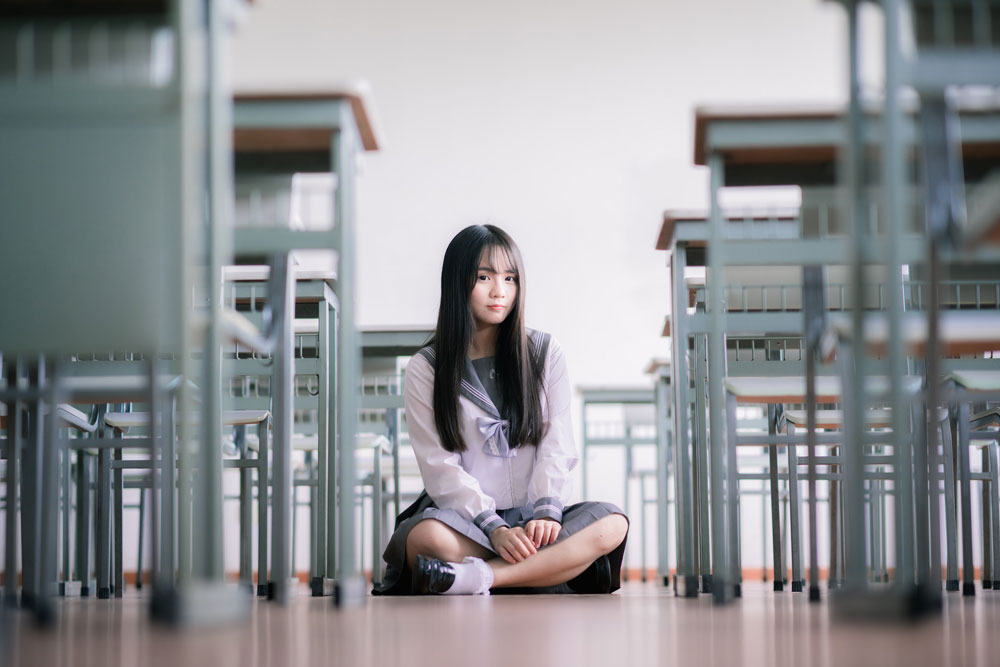 The dress code is one of the more nagging questions facing principals and the Flagler County School Board. The issue has come up several times since summer as the board reviewed its dress code policy but split over making it more specifically stringent.
"All teachers shall be on alert to give helpful, friendly guidance in these matters without embarrassment to the student," the district's very short policy on the matter reads. "Dress and personal appearance shall be reasonable as outlined in the individual school handbook." The district has specified a couple of changes: straps must be at least three inches wide, and "cleavage area must be covered." But the policy is up to principals' discretion to administer, as each school sees fit. That's in line with the district's general policy of deferring to local, school-based control on most matters. But that approach, which fosters autonomy within schools, has pitfalls, as the same clothing a student wears in one school could be received differently in another.




An absence of hard data made it more difficult for the board to decide whether the policy in place is too strict or too loose. Last week, the district produced that hard data.
As the hierarchy of problems go in schools, the dress code doesn't rate very high, making issues with the dress code more of a perceived problem than an actual problem. In all, the district had 177 referrals related to dress this year, out of a district population of 13,000, and well over half of those were at Flagler Palm Coast High School, which also has the highest enrollment in the district (2,400 students).  It is almost a non-issue in elementary school, where the county's five schools combined have just four referrals this year. Indian Trails Middle School had no referrals at all: the school doesn't write up referrals unless the problem is chronic, which suggests that, when problems arise, mere warnings are doing the job.
Buddy Taylor Middle School, with an enrollment of more than 1,000, has written 40 dress-code related referrals—two more than at Matanzas High School. Flagler Palm Coast High School logged the highest number, at 94.
The high schools have clear enough rules against mini-skirts, tank tops (or anything resembling tank tops), low-riding pants or shorts, visible midriffs, flowing dresses, pants that reveal underwear or whatever may lurk beneath that underwear. Hats, bandanas and headwear are also prohibited inside the school unless it's part of an athletic activity, and is worn during that activity.
That 10-page dress code is handed out to students at the beginning of the year. It's a simple booklet of images showing the permissible and the impermissible: the preppy look is in, the hooligan look, the gang look, slutty look and the homeless look are out (even though the district has its share of homeless students who do not necessarily have access to varied wardrobes). Jeans are OK. Shorts that cut off a hint below the crotch are not: the shorts must be more neighborly with knees than nards. "Be aware, the code reads," that staff does not want to have to comment on your clothing."
In a report to the board last week, Katrina Townsend, the district's student services director, said there were issues in administering the dress code in schools, beginning with inconsistency. The district's policy and school-based codes leave a lot to subjectivity. But that's by design, subjectivity and local discretion going hand in hand.




Another issue: male teachers are uncomfortable addressing girls' inappropriate clothing. School board members discussed the matter inconclusively: how is a male teacher supposed to tell a girl that she's wearing too revealing a top without, possibly, being accused of eying her cleavage? But where those concerns were noted, they were few, and limited to the secondary schools. Six schools reported no such concerns. The charter schools, too, where uniforms are required, reported no significant dress-code issues.
When Townsend asked for ideas from schools on where to go next with the dress code, uniforms again made the list, though it was by no means an indication of majority will: seven of the district's 10 schools either like the current code or are comfortable with it. Dyed hair and facial piercings were also raised as something to review, even though "current practice is that neither are a discipline issue and are allowed as long as they are not disruptive nor a medical issue."
When students do break the rules—the very few times they do when the dress code is an issue—they are immediately given the opportunity to change at the nurse's office, or to call home and have clothing brought in for them. If the student continues to break the rule, lunch detention may follow, then a half-day in-school suspension, then a whole day in-school suspension, and so on. Those cases are rare to none.
In sum, the dress code in Flagler schools remains a hotter topic of discussion than it is a problem, though board members may yet be inclined to revive the divisive debate they had a few years ago over uniforms. John Fischer, the board's newest member, will be seated this month. He favors uniforms, and replaces Evie Shellenberger, whose last vote on the matter was against uniforms. On the campaign trail, Fischer said uniforms would be one of his priorities. Sue Dickinson has favored them in the past, and Andy Dance leans more toward uniforms than against.
The last time the board haggled over the issue, in 2007, it split, initially voting for uniforms until an outcry resulted in a 3-2 vote rescinding the decision. The only member of that majority still on the board is Colleen Conklin. The board's diminishing budget has limited its abilities to show the community that it can make changes that matter. The evidence is split over uniforms' effectiveness (numbers can be cooked either way to show uniforms' benefits or drawbacks), but as an immediate political issue, and with a new board member looking to show his effectiveness, the board might find the uniform matter difficult to resist. As in 2007, however, it's likely to cause some controversy. And the district's own research shows that, in the end, what and how students dress are not big concerns in schools.