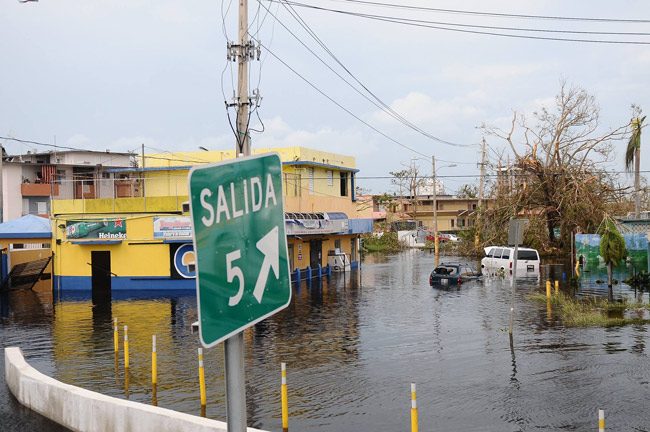 Palm Coast's Hispanic American Club is organizing a two-night drive to collect non-perishable goods, and other critical supplies and fill a container to ship to Puerto Rico to help the devastated island recover from Hurricane Maria's direct hit on Sept. 20.
The drive will take place Friday from 7 p.m. to 1 a.m. and again Saturday from 5 p.m. to midnight at the Hispanic American Club at 5 Commercial Court in Palm Coast, with music and festivities, but with a focus on collecting goods and money.
"Puerto Ricans are known to be very festive, we make a party out of everything, so we want people who go there to have a good time but to help us help Puerto Rico," says organizer Elizabeth Navarrete, a native of the Dominican Republic who grew up in Puerto Rico, of Puerto Rican parents, until she moved to Palm Coast four years ago.
People "can come and hang out, they can bring things, they can donate money," Navarrete said, noting there's no cover charge. "If you can only bring two cans of beans, two cans of beans is more than perfect." The items most needed are water (half the island's residents were still without potable water as of Wednesday), non perishable food, baby formula, diapers, baby wipes, personal hygiene supplies, batteries, and mosquito repellent. Cash donations will be accepted to help with the relief of purchasing supplies, food, and toiletries and to pay for transport of the supplies for delivery to a shipyard in Jacksonville, where they will then be transported to Puerto Rico.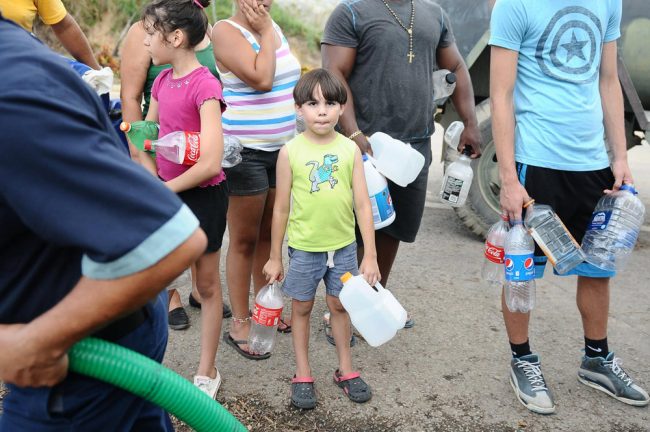 "We have a shipping company here," Victor Vazquez, president of of the Hispanic American Club, said by phone this afternoon as he was delivering 10 palettes of first-aid supplies to a shipping company in Jacksonville, with Navarrete. The supplies were donated by the Family Readiness program of the Florida National Guard. "It's going to be loaded in a container that's going to go to Puerto Rico in a boat and we have a contact in Puerto Rico that'll pick up the merchandise and distribute it."
Vazquez is organizing the drive with Navarrete and providing storage and sorting space at the club: all the supplies collected will have to be sorted and packaged appropriately for shipping.
"We have a lot of Puerto Ricans in the Palm Coast community," Vazquez said. "They come from there, they have family there, so it hit them right in the heart."
Of the Hispanic American Club's 222 members, 65 percent are Puerto Ricans, which may be an indication of the proportion of Palm Coast residents of Puerto Rican extraction. Some 10 percent of Flagler County's population identifies as Hispanic, according to 2016 figures from the Census Bureau. Though many Americans don't know it, Puerto Ricans are American citizens, though Puerto Rico is considered a U.S. territory. "Not everybody knows where PR is unfortunately," Navarrete said of the 3,500 square mile island, which is barely three times the size of Rhode Island. It has a population of 3.5 million.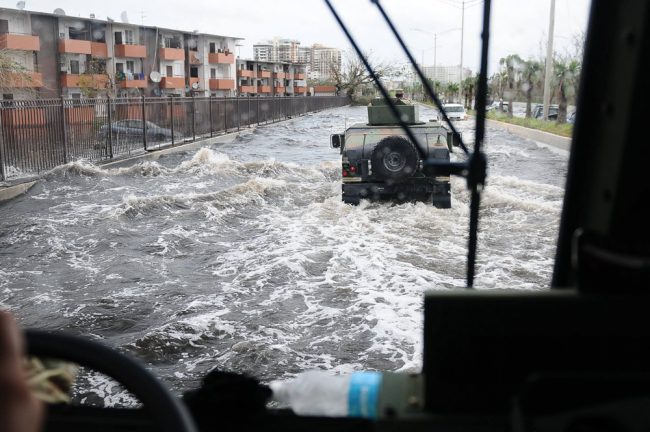 The hurricane, the strongest to strike the island since 1932, when it was much less populated, made landfall with winds of 155 mph, demolished the island's electrical and other infrastructure–as of Wednesday, 97 percent of the population was still without electricity–and all but eliminated supply lines for basic needs and gas. Getting aid to the island has been slow, and it was only today that President Trump waived a federal law called the Jones Act that requires most goods shipped between two American ports to be on American owned and operated vessels. Members of Congress have been asking for the rule to be waived since Monday to speed up shipments of basic necessities as island residents become increasingly desperate for food, water, medicines and gas.
"It is unacceptable to force the people of Puerto Rico to pay at least twice as much for food, clean drinking water, supplies and infrastructure due to Jones Act requirements as they work to recover from this disaster," Sen. John McCain, the Arizona Republican, said on Tuesday. McCain has been pushing a bill since early summer to repeal the protectionist law altogether.
Vazquez and Navarrete are hoping to fill a container's worth of goods for shipping. They say the local community will rally, no matter its origins. "we've got 21 countries there," Vazquez said of the Hispanic community's origins, all represented at the club, "but we are one big family."
Volunteers and contributions are needed. To contact Vazquez, call his cell at 386/569-4517. Reach the Hispanic American Club at 386/446-4552, and Elizabeth Navarrete by email at [email protected].