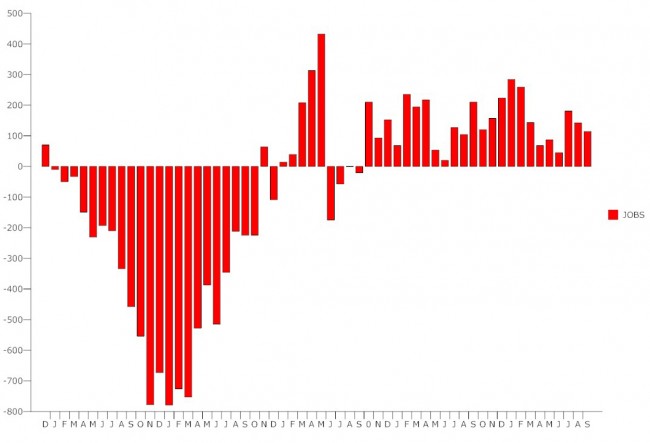 Last Updated: 9:33 a.m.
The national unemployment rate fell to 7.8 percent in September, its lowest level since President Obama's inauguration in January 2009, as the economy added 114,000 jobs in September, and revised figures for the previous two months boosted those totals by 86,000 jobs. In the last three months, the economy has added 434,000 jobs.
While September's job creation was slightly below economists' expectations, the revisions of the previous two months were above their expectations, and the sum total is certain to give the Obama campaign a psychological boost, now that the 8 percent unemployment threshold has been broken. There will be one more jobs report just five days before the election on Nov. 5. If that report produces 62,000 new jobs, then Obama will be able able to claim a net increase in jobs in his four years.
The economy stopped shedding jobs in February 2010. Since then, there's been a net increase of 426,000 jobs. But even that figure is likely to double once the Bureau of Labor Statistics is finished recalibrating the numbers: Last week, the bureau announced that its re-calculations had adjusted employment upwards, with a net gain of 386,000 more jobs than have been included in jobs report so far. The catch: that recalibration will not be part of the Labor Department's official statistics until February 2013. But it explains why, despite claims by Republicans that the economy is not as strong as it appears, consumers may be feeling a different reality. The BLS's recalibration took place despite a net decrease of 67,000 more government jobs than originally calculated.
Just as important: the trend is going the president's way, making Mitt Romney's argument that the economy is not mending more difficult to sustain. The timing of the jobs report is such that it could also upstage what the Romney campaign had hoped would be a weekend-long reveling in its candidate's thumping of Obama in the Denver presidential debate on Wednesday.
Unlike previous jobs reports this summer, September's better numbers were buttressed by improving underlying trends, too: total employment in the country rose by 873,000, while the employment-to-population ration increased steeply, by 0.4 percentage points, to 58.7 percent. That's the highest level since May 2010, and the steepest increase since before the recession. It's the strongest indication that the unemployment rate is not falling because people are dropping out of the job market (as has been the case in Florida), but because they are reentering it, and finding work.
The civilian labor force participation rate also increased, but more modestly, from 63.5 percent to 63.6 percent. It was in the 66 percent range for the entire decade before the recession, though the Bureau of Labor Statistics projects that, even as the economy goes back to full power, the participation rate will fall to 62.5 percent by 2020 as the nation's population ages and a larger share of it lives in retirement. In Palm Coast, for example, the civilian labor force participation is below 50 percent.
Finally, there is the so-called U-6 measure of unemployment and underemployment, the more accurate measure of the labor force as it takes into account all discouraged workers who've stopped looking for work and those who work part-time against their will (because they couldn't find full-time work). That combined rate remained flat at 14.7 percent. The actual number of persons employed part time involuntarily rose from 8 million in August to 8.6 million in September. Looking closer, the rate of those unemployed 15 weeks or longer fell fractionally, and the rate of discouraged workers fell by 0.3 points.
Some highlights from the jobs report: Health care added 44,000 jobs in September. Transportation and warehousing added 17,000, financial activities 13,000 (including 7,000 in real estate) , and government jobs, which had been a drag on the economy because of the severity of the cuts in that sector, added 10,000.
Manufacturing, however, once a strength of the recovery, again lost jobs–16,000 in September, on top of the 22,000 lost in August. The losses were mostly in computer and electronic products, printing and related
activities. Employment in other major industries, including mining and logging, construction, wholesale trade, retail trade, information, professional and business services, leisure and hospitality showed little change over the month.
The average workweek for employees on private payrolls edged up by 0.1 hour to 34.5 hours in September. The manufacturing workweek edged up by 0.1 hour to 40.6 hours, and factory overtime was unchanged at 3.2 hours. Average hourly earnings rose by 7 cents to $23.58. Over the past 12 months, average hourly earnings have risen by 1.8 percent.

[This is a developing story. More soon.]