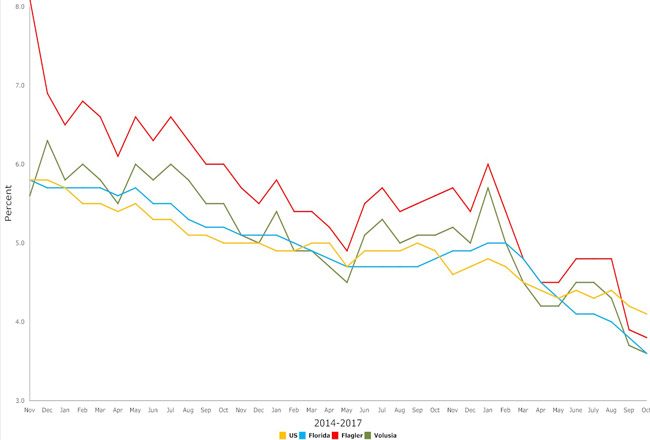 In some months during the economic expansion of the last eight years, the national economy would grow by around 125,000 jobs. In October, Florida achieved that feat by itself–the largest single-job gain since the Great Recession, sending the state's unemployment rate plummeting to 3.8 percent, another post-recession low.
Flagler County didn't do badly either, with its unemployment rate also falling a decimal point to another post-recession low of 3.8 percent (better than Germany or Norway, Europe's perennial best performers), although not because the county added jobs. Rather, its labor force shrunk by about 250 workers, to 46,000, just 550 more than at this point a year ago. The number of people holding jobs fell by about 200, but the number of unemployed also fell, to 1,766.
A year ago, Flagler's unemployment rate was at 5.6 percent, and Florida's at 4.8 percent. But almost two-thirds of Florida's job gain of 197,000 over the year took place in October. In essence, the state saw little negative effect from Hurricane Irma despite its severity and the disruptions it spread over Florida.
Gov. Rick Scott was in Naples this morning for the jobs announcement. "I am proud to announce today that Florida's unemployment rate has reached a more than 10-year low of 3.6 percent and that more than 127,000 private-sector jobs were created in October." As has been the governor's habit, he ignored public-sector jobs, which declined slightly last month.
"While Hurricane Irma was a devastating storm, we have worked day after day to help communities recover and send a message across the world that Florida is open for business. Today's announcement, and the creation of more than 1.44 million private-sector jobs since December 2010, shows the strength of our economy."
As of October, Florida's unemployment rate had dropped 7.1 percentage points since December 2010, largely hewing to the decline across the nation (the two lines have paralleled each other within a fraction or two along the way). In the last year, 216,000 people entered Florida's labor force, a growth of 2.2 percent, more than four times the national labor force growth rate of 0.5 percent.
On the other hand, Florida's quality of jobs remains low compared to the rest of the nation, with its ranks of underemployed at 9.5 percent, still well above the national average of 8.9 percent. That alternate measure of labor underutilization, as the federal Bureau of Labor Statistics defines it, includes discouraged workers who have quit looking for work and, more significantly, it includes people working part-time for economic reasons–meaning that they could not find full time work, either because their hours had been cut back or because the jobs were not available. That's a class of part-time workers separate from those who choose to work part-time.
Florida is heavily dependent on low-wage jobs that support its hospitality and agriculture industries. Wages in the state have historically been lower than in the northeast or Midwest largely because of labor conditions that tend to favor employers at the expense of workers, and because unions are few and weak in the state. The Legislature has fought municipalities that have attempted to institute living wages, or minimum wages that would nearly double the prevailing wage of $8.10 an hour.
Almost every sector of the economy added jobs in October, exceptions being in finance and insurance, a sector that shed a little over 1,000 jobs, and in local government, which lost 3,800 jobs.
The full employment report is below.

Florida Unemployment Report: October 2017