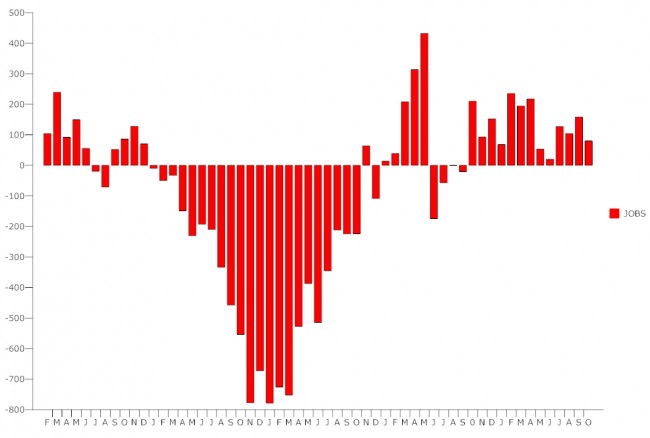 Last Updated: 9:32 a.m.
The U.S. unemployment rate dropped to 9 percent, the first drop in three months, as 80,000 jobs were created in October and figures for August and September were revised upward, adding 102,000 jobs to previous totals, for a three-month tally of 342,000 jobs. The figures are encouraging, but remain relatively anemic: In the 1990s, strong job creation totaled between 300,000 and 400,000 jobs a month.
The private sector added 104,000 jobs in October, government lost another 24,000 jobs.
The more accurate reflection of unemployment–the government's so-called U-6 calculation, which includes the unemployed, those who have quit looking for work, and the under-employed–those working part time involuntarily, because they can;t find full-time work–improved somewhat. That rate fell from 16.5 percent in September to 16.2 percent in October. The September rate had been the second-worst on record, after the October 2010 rate of 17 percent. See the table below for the complete break-down of traditional and alternate unemployment figures (click on the chart for a sharp view):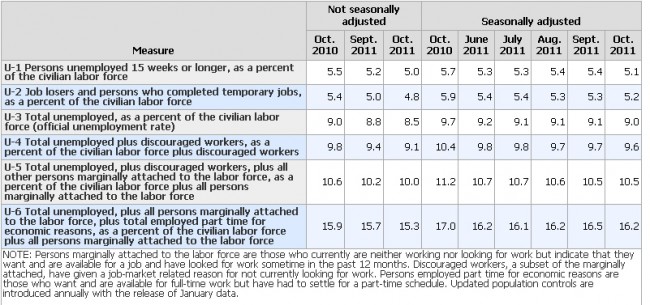 Overall, 13.9 million Americans remain unemployed.
Some highlights of the labor report:
Employment in professional and business services added 32,000 jobs, leisure and hospitality added 22,000, health care added 12,000, and mining 6,000. Manufacturing employment added 5,000. Retail added 10,000.
On the down side, construction lost 20,000, reversing September's gain of 27,000.
Employment in wholesale trade, transportation and warehousing, information, and
financial activities changed little. Government employment dropped 24,000, much of it in state government.
The average workweek for all employees on private payrolls was unchanged at 34.3 hours in October. The manufacturing workweek rose by 0.2 hour to 40.5 hours, and factory overtime remained at 3.2 hours. The average workweek for production and nonsupervisory employees on edged up by 0.1 hour to 33.7 hours. Average hourly earnings increased by 5 cents, or 0.2 percent, to $23.19. This increase followed a gain of 6 cents in September. Over the past 12 months, average hourly earnings have increased by 1.8 percent.