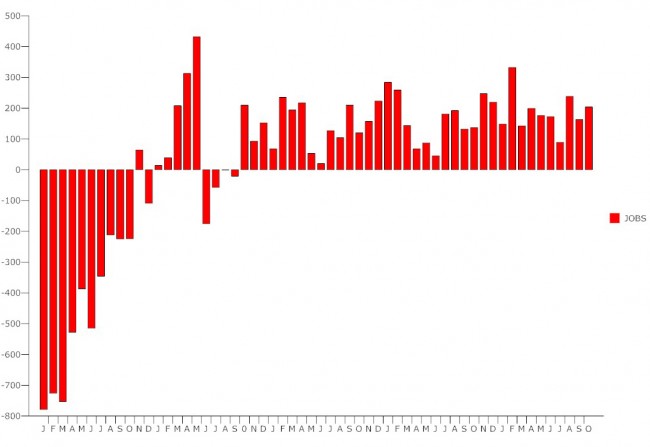 The unemployment report for October was delayed by a week because of the 18-day government shutdown, but it appears to have been little affected by the shutdown: the economy added 204,000 jobs in October, and figures for August and September were revised significantly upward, adding 60,000 more jobs to previous tallies, for a combined three-month total of 605,000 jobs, the best three-month stretch in almost two years. (In December 2011, January and February 2012, the economy tallied up 766,000 jobs).
The effects of the shut-down were not entirely absent from the jobs report, however: in October, the labor force participation rate shrank by 720,000, or 0.4 percent, a very large figure that resulted from the shutdown and the sudden but temporary elimination of federal workers from the job rolls: the number of people who reported being on temporary layoffs totaled 448,000 in October. The employment-to-population ratio also fell–by 0.3 percentage points, to 58.3 percent. As a result, the unemployment rate, calculated from a different survey than the job-creation numbers, went up by a decimal point, to 7.3 percent.
Some 11.3 million Americans remain officially unemployed, though that figure does not include the people employed part-time because they can't find full-time work, or those who have dropped out of the workforce altogether from discouragement. When those categories are included, the more accurate unemployment and under-employment rate stands at 13.8 percent, an increase of two decimal points from the September figure.
The unemployment rate among major work groups was as follows: adult men, 7 percent; adult women, 6.4 percent; teenagers, 22.2 percent; whites, 6.3 percent; blacks, 13.1 percent; Hispanics, 9.1 percent; Asians, 5.2 percent. The number of long-term unemployed (those jobless for 27 weeks or more) was 4.1 million. Those individuals accounted for 36.1 percent of the unemployed, though their numbers have declined by 954,000 over the year.
In October, job gains occurred in leisure and hospitality, retail trade, professional and technical services, manufacturing, and health care. Federal government employment continued to trend down (by 12,000) when shutdown effects are calculated out. There were no discernible impacts of the partial federal government shutdown on the estimates of employment, hours, and earnings. In October, average hourly earnings for all employees on private payrolls edged up by 2 cents to $24.10. Over the year, average hourly earnings have risen by 52 cents, or 2.2 percent, not enough to erase the effects of inflation or overcome increasing costs in such things as health insurance premiums.