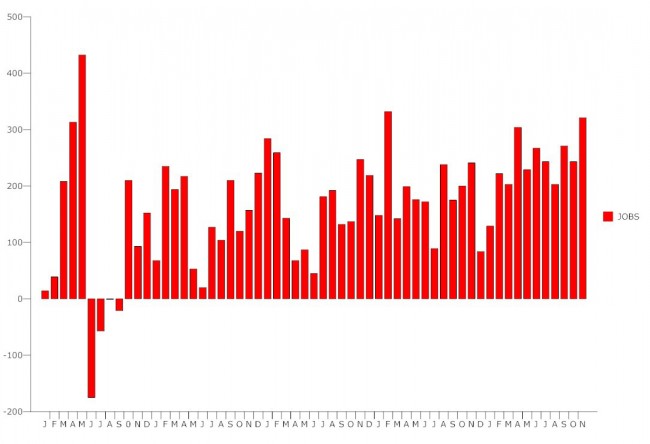 The national economy added 321,000 in October, the best showing since February 2012, when it added 332,000 jobs, and job-creation figures for September and October were revised upward, adding 44,000 jobs to the tally, for a total of 835,000 in the last three months. The economy is on pace to create the most jobs in 15 years, going back to 1999, when the Clinton-era boom peaked. But the unemployment rate, calculated from a different survey, held at last month's 5.8 percent.
The economy appears to have shed its anemic month-over-month performance of the last several years in favor of robust monthly job growth, sustained by strong growth in the economy, which grew at a seasonally adjusted annual rate of 3.9 percent in the third quarter after growing 4.6 percent in the second quarter. Lower oil and gas prices, now averaging $2.77 a gallon, have helped, adding dollars to consumers' spending stash, but not by much: growth in wages remains sluggish, with hourly earnings averaging gains of barely 2 percent for five successive years, not enough to overcome inflation and other factors that erode workers' take-home pay.
But some underlying economic factors have yet to change significantly for the better. Among those are the civilian labor force participation rate, which remains at a low 62.8 percent and an employment to population ratio at 59.2 percent , though the latter has shown improvements over the year, rising by 0.6 percentage points over the year. Overall, 9.1 million Americans remain unemployed, and when the 6.9 million people working part-time but looking for full-time work are included, the unemployment and under-employment rate is still in double digits, at 11.4 percent.
Otherwise, the economy grew across almost all sectors, defying suggestions that the surge is merely holiday related: rather, the pick-up in jobs has been cumulative over the years, benefiting broad swaths of the economy. Professional and business services increased by 86,000 in November, retail added 50,000 jobs, health care added 29,000, manufacturing added 28,000, financial activities, 20,000, transportation and warehousing, 17,000, restaurants and bars, 27,000, and construction, 20,000.
And yet opinion surveys still point to an unusual amount of gloom among Americans, chiefly because while the jobs lost to the Great Recession have all long since been made up, hundreds of thousands more Americans have joined the work force, and wages have remained low. Wages are not expected to pick up until the job market becomes a workers' market. That happens when the unemployment rate falls below 5 percent, and employers have less to bargain with: firing and replacing workers is not as easy, and workers are in a more commanding position to demand better wages and benefits.
All indications are that the economy is heading in that direction even as economies in Europe and Asia slow down.