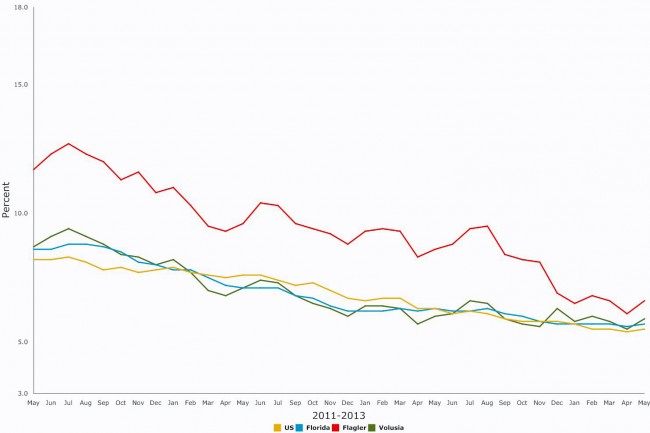 May was not a particularly bright month in Florida's or Flagler County's economies. Unemployment ticked up a decimal point in the state, to 5.7 percent, close to where it has been mired since the end of 2014, and 28,000 fewer Floridians held jobs in May, compared to April. But that's largely because Florida's workforce surged by 72,000, a reflection of new graduates entering the job market, as well as a reflection of job entrants' confidence to look for work.
In Flagler unemployment went up to 6.6 percent, from 6.2 percent the month before, despite a net gain of 220 people holding jobs. Again, the reason the unemployment rate went up is because of the growing workforce. Flagler's workforce added 412 workers in May, for a total of 43,112. The number of people without work also grew, however, by about 200 people.
But the last 12 months' trend is still more positive than negative in Flagler: the unemployment rate when down seven of those 12 months, and the net gain is still sharply, evident, with an unemployment rate a full 2 percentage points below where it was a year ago. The clounty is 13th from the top when it comes to counties with the highest unemployment rate, with Hendry leading the way at 8.6 percent, followed by Citrus (7.7) and Putnam (7.6). At the opposite end, the counties with the lowest unemployment rate are led by Monroe, at 3.8 percent, followed by St. Johns, at 4 percent. Volusia County has an unemployment rate of 5.9 percent.