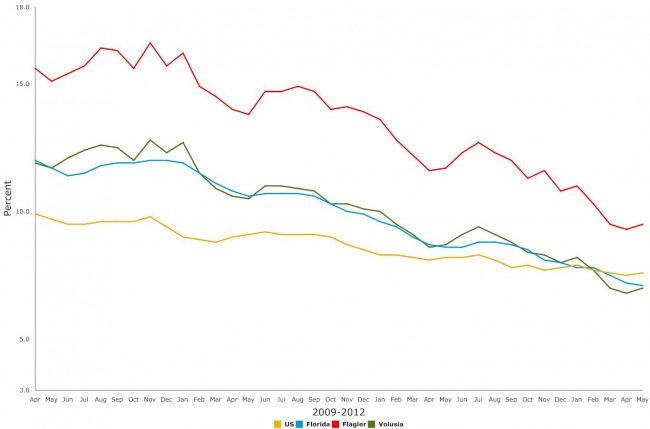 Flagler County's and Florida's jobs picture in May reflected the nation's as the economy appears to sputter more than to gain momentum, though longer-term trends remain encouraging.
Florida's economy lost a net 6,200 jobs in May, though the state's unemployment rate ticked down a decimal point, to 7.1 percent. Federal, state and local government payrolls all saw a decline in jobs. With government as the largest employer in many counties, the job losses continue to be a drag on the economy. But Florida's showing is still good enough to be the lowest rate since September 2008.
In Flagler County, unemployment ticked back up by two decimal points, to 9.5 percent, but not for entirely bad reasons: the local labor force shot up by 736 workers, a 2 percent increase, and local employment increased as well, by 141, but not enough to keep pace with the growing labor force. That growth suggests either that working-age people are again willing to move into Flagler, or that those who have stood on the sidelines of the labor force are joining it again, encouraged by a more active economy. Nevertheless, the county's total labor force of 37,733 is still a few workers short of where it was a year ago.
Flagler remains the county with the second-highest unemployment rate, after Hendry's 11.1 percent, and ahead of St. Lucie's 9.3 percent and Putnam's 9.2 percent. Monroe County has the state's lowest unemployment with a Germany-like 4 percent, with Walton at 4.1 percent and Okaloosa at 4.8 percent.
There were few winners statewide: professional and business services added 5,000 jobs, real estate, rental and leasing added 1,900, health care and social assistance–steady winners over the years–added 2,500, and private service providers added 5,000. Sectors experiencing job losses include construction (7,500) and goods production (7,300), finance and insurance (3,200 jobs), leisure and hospitality (2,400) and government (5,000), most of that among state workers.