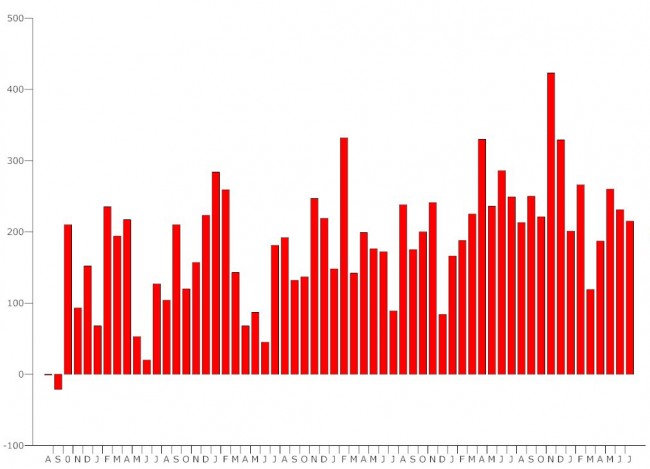 The national economy added 215,000 jobs in July and has averaged 235,000 new jobs each of the last three months, while the unemployment rate held steady at 5.3 percent for the second month, the Labor Department announced Friday morning.
Job-creation figures for May and June were revised modestly upward, adding 14,000 jobs. But The proportion of Americans in the workforce remains at a four-decade low of 62.6 percent, after declining 0.3 percent in June. The lower rate is driven in part by the migration of baby boomers into retirement. The employment-population ratio is also at a four-=decade low and was unchanged in July, at 59.3 percent.
On the other hand, the number of people working part-time because they cannot find full-time work, or because their hours have been cut back, is at 6.2 million, a healthy decline of 161,000 in a single month, and a decline of 1.3 million since last July. The total number of people working part-time is at 19.5 million, an increase of almost 2 million just in the past year.
There are also 8.7 million self-employed workers, an increase of 200,000 in the past year.
Those employed part-time for economic reasons are counted among the underemployed. When that figure is added to the number of unemployed and the number of those workers so discouraged from finding work that they've dropped out of the workforce, the actual unemployment and underemployment rate–the so-called U-6 alternative unemployment rate–stands at 10.4 percent. But that, too, is a significant improvement from the 12.6 percent rate a year ago, pointing to strengthening underlying trends in the economy.
In Florida, however, the unemployment and underemployment rate remains among the highest in the country, at 12.3 percent.
In July, 826,000 people entered the workforce for the first time, a decline from June's figure of 933,000. Some 843,000 left the workforce, a slight increase from the previous month. And 2.4 million people who had previously worked but been unemployed re-entered the workforce.
Average hourly earnings for all employees on private payrolls rose by just 5 cents in July, to $24.99, or just 2.1 percent over the year, not enough to overcome the cost of inflation and not nearly enough to improve workers' standards of living.