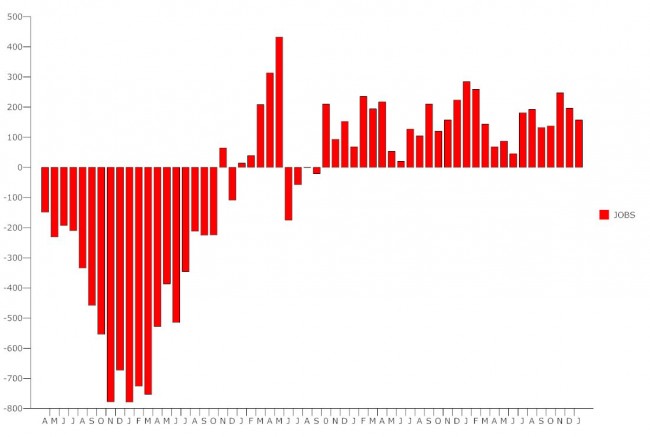 The nation's economy added 157,000 jobs in January, and revisions to November and December figures added 127,000 jobs to previous calculations, for a total of 600,000 new jobs in the last three months. Still, the unemployment rate went up a fraction, to 7.9 percent: job growth hasn't been robust enough to go beyond the natural growth in the workforce.
Yet the employment-population ratio (58.6 percent) and the civilian labor force participation rate (63.6 percent) remained unchanged in January, signs that people are not returning to the workforce in large numbers. Those are 30-year lows. If the labor-force participation rate was higher–if more people decided to seek jobs, but could not find any–the unemployment rate would be much higher. In other words, the unemployment rate is artificially low. And 8 million people are still working part-time involuntarily, because they could not find full-time work or because their hours were cut back.
The jobs report appears among a mixture of positive and negative signs.
On the positive side, there are 255,000 fewer discouraged workers today than there were a year ago–people who no longer search for work because they think they'll never find a job. Some 804,000 people are still in that category. Retail saw an increase of 33,000 jobs, construction saw an increase of 27,000, and health care, 28,000. Wholesale trade and mining saw smaller gains. Manufacturing, which had been shedding jobs lately, was flat. And government jobs were down slightly. Housing and car sales have seen sustained improvements.
On the negative side, the economy in the last three months of 2012 contracted fractionally, surprising economists despite one-time events, such as Hurricane Sandy, that contributed to the decline. Consumer confidence has been falling. In coming months, the resumption of a 2 percent Social Security tax and continued stagnation in wages may make it more difficult for 12.3 million people without work to get off the unemployment line.
In January, the average workweek for all employees was unchanged at 34.4 hours. The manufacturing workweek edged down by 0.1 hour to 40.6 hours, and factory overtime was unchanged at 3.3 hours. Average hourly earnings for all employees rose by 4 cents to $23.78. Over the year, average hourly earnings have risen by 2.1 percent, not enough to overcome rising costs such as health insurance.