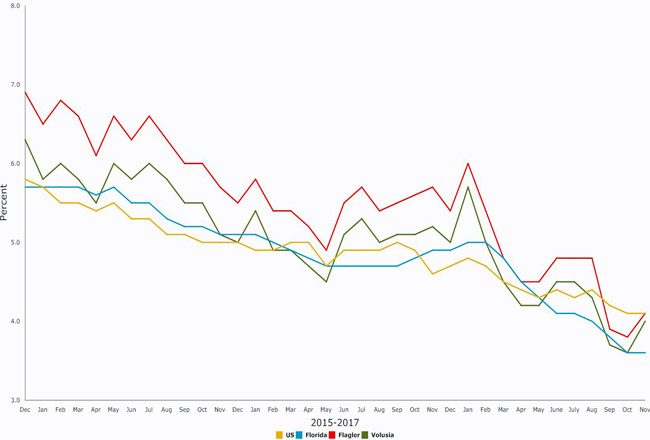 Flagler County and Florida are ending the year on an economic high note, with unemployment in the county at 4.2 percent, down from 5.6 percent a year ago, and state unemployment at a seasonally adjusted 3.6 percent, down from 4.9 percent a year ago.
The state is improving on a national unemployment rate of 4.1 percent and a post-recession economic expansion that has stretched over 86 months.
The labor force in Flagler grew by about 550 over the year, and employment grew by a shade under 1,200 for a total employed force of 43,810, a record for the county. The number of unemployed in November was at 1,942, down from 2,535 last year. But the labor force shrank somewhat in November and the number of unemployed grew by almost 200, raising the local unemployment rate from 3.9 percent in October to 4.2 percent in December. Fluctuations are frequent. The trend has been either flat or down for the past year and a half, preserving a generally bright outlook.
Florida added 13,100 jobs in November for a total of 195,000 over the year, though once again in his statement today, Gov. Rick Scott referred only to private-sector job creation, as if the thousands of Floridians employed in public-sector jobs–and those who gained jobs in that sector over the year–did not count. For example, when Scott said that "nearly 14,000 jobs were created for families across the state last month," he was accurate in terms of private-sector jobs, but inaccurate in terms of jobs overall: 800 people lost their government jobs last month, thus netting 13,100 jobs gained overall, not "nearly 14,000."
Scott's press release listed the various private sector industries that added jobs over the year, such as construction (41,800 new jobs), professional and business services (41,000), education and health services (15,200), but ignored the 12,000 new jobs created in the public sector.
As of November, Florida's unemployment rate had dropped 7.1 percentage points since December 2010, faster than the national decline of 5.2 percentage points. In the last year, 199,000 people entered Florida's labor force, a growth of 2.0 percent, which is nearly three times the national labor force growth rate of only 0.7 percent.
The healthy jobs report mostly echoes the Flagler County Association of Realtors' latest snapshot of the local real estate industry, with 162 single-family houses selling in December (down from 170 last year), at a median sale price of $213,750, up 7 percent over last year. Home prices are again creeping past affordability levels for middle class families even as the supply of local housing is pegged at just over five months, up from 4.6 months a year ago. Another caveat: The number of closings has fallen or stayed flat for the last five months in a row.
There were 39 closings for town houses in November, up from 37 at the same time last year, with the median sale price at $253,572, barely up from last year's figure of $250,000, and essentially flat when inflation is taken into account. There were just two sales of mobile homes in November, down from four at the same time last year, with the median sale price at $82,000, up from $72,000 last year.