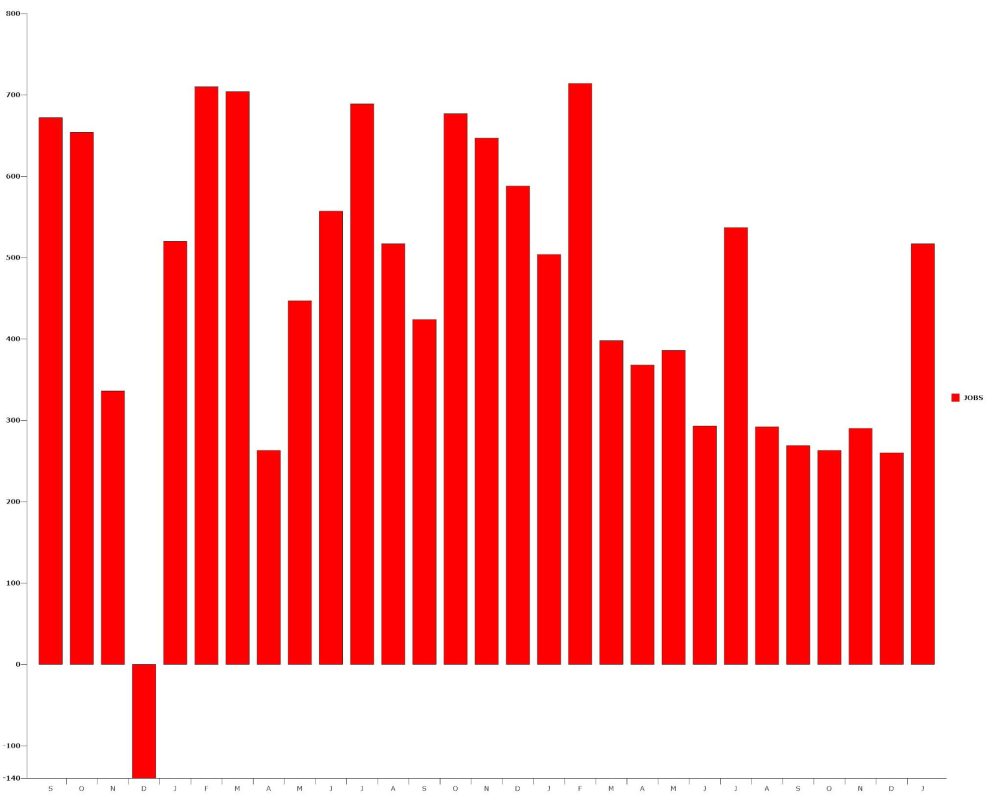 If the economy is heading for recession, as many economists have been predicting and local governments have been fearing, the job market isn't getting the memo.
The national economy added 517,000 jobs in January, and November and December totals were revised upward by 70,000, for a three-month total of 1.7 million jobs. The unemployment rate fell to 3.4 percent, its lowest level since a nine-month stretch at that same level between October 1968 and May 1969, when the Vietnam war was at its height.




The economy has added just shy of 5 million jobs in the last 12 months, continuing a historic performance since the recovery after the pandemic. Most job sectors grew, led by leisure and hospitality, which added 128,000 jobs, professional and business services (82,000), government (74,000) and health care (58,000).
As average mortgage rates have fallen back to around 6 percent, down from over 7 percent just last October, buyers have been returning to the home-buying market, though in Flagler County home sales continued their decline relative to a year ago, with a third fewer home sales closing in December compared to the previous year. The median time to a sale has surged back up to around 60 days, after spending over a year at below 20 days.
The economy grew at an annual rate of 2.9 percent in the final quarter of 2022, another sign that recession fears could be premature. Still, the Federal Reserve on Wednesday again raised interest rates, by a quarter of a point (to 4.75 percent).
Average hourly earnings rose 10 cents, to $33.03, a healthy jump, but still well below the rate of inflation when aggregated over the past 12 months: wages have increased only by 4.4 percent in that span, while the annualized rate of inflation ended at 6.5 percent in December.




It's not all rosy. The number of workers employed part time for economic reasons, meaning that they couldn't find full time work or their hours had been cut back, was at 4.1 million. Of those, 1 million couldn't find full-time work, and the rest were victims of slack business conditions. An additional 22 million Americans are working part-time by choice, up from 20.2 million a year ago.
Those most likely to be unemployed remain those with less education. The unemployment rate for those with a college degree was 2 percent. It was 3.7 percent with those who only have a high school degree, and 4.5 percent with those lacking a high school diploma. Notably, the labor participation rate, at 62.4 percent–a figure that reflects all able-bodied workers 16 and over who are not in prison, disabled or retired– is below pre-pandemic levels of over 63 percent.
So while there are 266 million people who are 16 and over and not unable to work, 165.8 million are in the labor force, and 160.1 million had jobs. Those workers are essentially supporting the 100.1 million Americans–children, the elderly, the disabled, the unemployed, the imprisoned–who are not working.

unemployment-january-2023