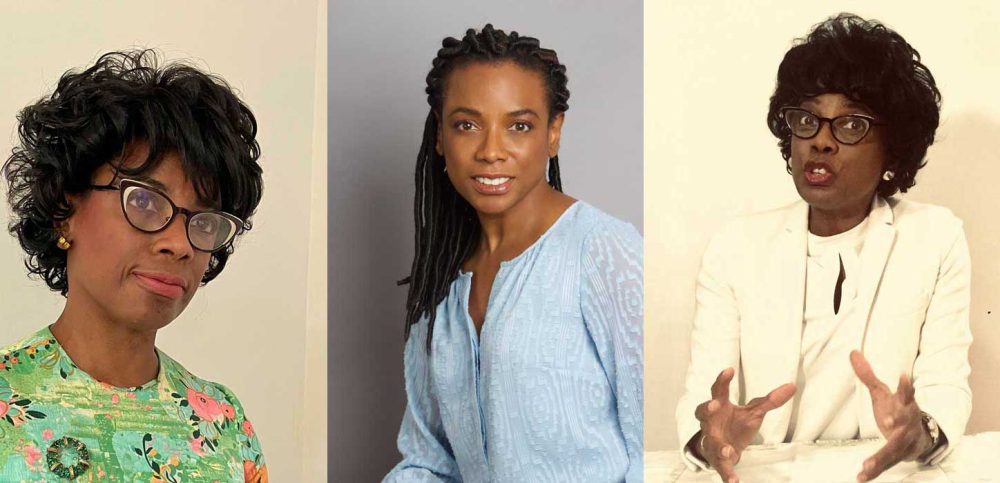 In the play "Unbossed & Unbowed," an historical docudrama to be staged Saturday Jan. 21 and Sunday Jan. 22 at the African American Cultural Society in Palm Coast, upstart Congresswomen Shirley Chisholm confronts U.S. Rep. Wilbur Mills.
Mills, a jowly white man and Arkansas Democrat, served as chairman of the House Ways and Means Committee from 1958 to 1974 and was often called "the most powerful man in Washington." Long before he tumbled into scandal in 1974 after his fling with Argentine stripper Fanne Foxe was exposed, Mills was a signatory to the 1956 "Southern Manifesto," a congressional document that opposed the school desegregation ordered by the Supreme Court's Brown v. Board of Education decision. (Mills claimed he signed because of political expediency and not because he supported segregation, the kind of reasoning many a Southern politician from Hugo Black to Robert C. Byrd used to justify past membership in the KKK.)
Chisholm made history in 1968 by becoming the first African-American woman to serve in Congress, representing the U.S. House district centered in Brooklyn, New York, where she was born in 1924. She spent her last years in Palm Coast, which is now home to the Shirley Chisholm Trail, and then Ormond Beach before her death on New Year's Day 2005 at the age of 80.
Mills and his fellow committee members consigned the newbie Chisholm to serve on Congress's Agricultural Committee. That "sounded like a ridiculous assignment for a black member from one of the country's most deprived city neighborhoods," Chisholm wrote in her 1970 autobiography, "Unbought and Unbossed." "… Then I found out what my subcommittee assignments were to be: rural development and forestry. Forestry! That did it."




In a virtually unprecedented move, Chisholm defied Mills and the good ol' boy system and instead got assigned to the Veterans' Affairs Committee. "As I told people, 'There are a lot more veterans in my district than there are trees,' " she wrote.
In "Unbossed & Unbowed," both Chisholm and Mills – and indeed more than a dozen other real-life characters — are all portrayed by Ingrid Griffith, a Guyana-born actor, writer, playwright and college professor who immigrated to New York when she was 12 years old.
"I didn't know anything about Shirley Chisholm until I saw this documentary in 2005 that talked mostly about her 1972 run for the presidency," Griffith said by phone from her home in Manhattan's Upper West Side. That run for the Democratic nomination found Chisholm, the U.S.-born daughter of a Guyanese father and Barbados-born mother, making history again, becoming the first woman and first African-American to seek the U.S. presidency via one of the two major political parties.
"I was at City College of New York college working on my master's thesis, writing my own immigrant story," Griffith said, referencing the text that would become the basis of her autobiographical one-woman play, "Demerara Gold."
"I saw this woman whose parents were immigrants. She just seemed like someone I knew. She looked like one of my great aunts and behaved that way. Very proper, very Caribbean in that prim and proper sort of way. I said, 'Oh my God, what is she doing running for president? How did that happen?' I wanted to know because I know how hard it is as an immigrant and as a Black woman. She was so strong in her will, and clear and well spoken. So I said I need to research her and find out what her circumstances were."




However, Griffith put her fascination with Shirley Chisholm "on the back burner because I graduated and started teaching at the John Jay College of Criminal Justice (in its communications and theater arts department)," she said, noting her grandmother, father and siblings were all teachers.
"And I started writing my one-woman show, 'Demerara Gold,' " Griffith added. Her parents, seeking the proverbial better opportunities of America, immigrated to New York from Guyana when she was 7 years old. She and her siblings were raised by their grandmother until they were reunited with their parents in Long Island five years later.
Griffith's autobiographical play is "about heritage, it's about perspective and it's also a bit about coming to America and that kind of false hope. Life got darker as I came to America. As a teen I was traumatized. My dad was abusing my mom and I couldn't do anything about it because we were so isolated and so shocked and stunned.
"I had a very, very heavy accent (which has since dissipated). I dressed funny. I looked funny. The kids laughed at me at school, which was mostly white, in a town called Wyandanch. I didn't really have a voice. It was a very different experience than I imagined. So the story does turn a little dark, but is very poignant, very satirical and also very entertaining. I haven't toured it lately but I plan to do that again."




What inspired her to become an actor?
"I don't know," Griffith said. But, after a brief pause for reflection, she proffered a theory: "Here's what I think looking back. I was always an observer. My nickname, what my mother called me, is Makho, which in Guyana is 'one who is quietly observant,' looking on but you don't know he or she's looking on. I've always had that way about me.
"After my parents left for the U.S., my grandmother was super strict. She kept us under her watchful eye. I was always at the window looking at people go by. We weren't allowed to go out. She was afraid we would get in trouble. She was overly protective. So, most of my life, especially those five years, was spent looking at people living, looking at kids playing, looking at people walk by. I would give them a name and think 'This is where they are going now' or 'This is where they work.' My imagination created my little world to stay busy. That led me to know that I can be different characters. I like being different characters. My imagination started to stir."
While teaching at John Jay College and writing "Demerara Gold," Griffith studied acting at several New York conservatories, including the T. Schreiber Studio & Theatre, and in classes with the venerated Wynn Handman. She performed the title role in Henrik Ibsen's "Hedda Gabler," played various characters in Eve Ensler's "Vagina Monologues" and worked in other productions.




She also took workshops that taught the specific techniques, approaches and nuances of staging a one-person show. After creating and staging "Demerara Gold," around 2015 she returned to her fascination with Shirley Chisholm with the idea of telling her story on stage.
Griffith began researching Chisholm's life, first by listening to audio recordings and watching television footage at Harlem's renowned Schomburg Center for Research in Black Culture, a part of the New York Public Library system. She also read Chisholm's two autobiographies, 1970's "Unbought and Unbossed," and 1973's "The Good Fight" (the former covering her life up to and including her time in Congress, the latter a "political memoir" chronicling her presidential run). Griffith also spent hours at Chisholm's alma mater, Brooklyn College, pouring through archives that included most of Chisholm's papers as well as magazine and newspaper articles.
"I had to do a lot of digging," Griffith said. "Then I had all this information. In a way it was like a data dump, because now I had to make a story out of all this information I collected."
That entailed, as she freely confessed, "taking some liberties as an artist because I needed to write a very effective solo show performance. The solo show genre has a format. A book can go on and on, you can write 500 pages and people will read it, put it down and pick it back up. There are nuances and subtleties. I can't do that in a solo show. There needs to be some drama. I have to condense things and make them work for the formula of the solo show genre.
"This story is so truthful and so rich. It's not just this big puff story either. You have to show the human side, the other side, the other colors. She was not always brave. She did have a big mouth. There are times when she wished she didn't say what she did. I'm bringing out the other aspects of a human being and not just this heroine."




Along with Chisholm and Wilbur Mills, the play's characters also include feminist and activist Gloria Steinem, Chisholm's parents, news reporters and others. The play also is an unflinching multimedia production that makes startling if fleeting use of "real news clips," Griffith said, about the assassinations of John F. Kennedy, Martin Luther King Jr., Malcolm X and Robert Kennedy, as well as audio clips of gunshots.
"I think we need to know what went on so we can battle what's going on now," Griffith said. "I think Shirley Chisholm's story needs to be heard because she was committed to being a catalyst for change. I'm a social justice activist. I want to help all of us – women, families, minorities. The story about Shirley Chisholm is about that – that fighting nature, that sense of purpose and that vision.
"We need more Shirley Chisholms today more than ever. With all that's going on now with politics, I want to believe that Shirley Chisholm helped prepare us for this moment. It cannot revert back to the 1950s. She helped women come into leadership positions. There is more diversity, more leaders of color in power, and I think that's going to help us through this whole McCarthy/Trump/white supremacist wave that is happening."
But, Griffith added, "While this show is a lesson and education, it's also entertaining and it's inspiring."
–Rick de Yampert for FlaglerLive

"Unbought & Unbowed" will be staged at 7:30 p.m. Saturday Jan. 21 and 3 p.m. Sunday Jan. 22 at the African American Cultural Society, 4422 U.S. Highway 1 North, Palm Coast. A VIP meet the artist event will be at 7 p.m. Friday Jan. 20. VIP event tickets are $75, which includes admission to one of the performances on Saturday or Sunday (there is no performance Friday). Show tickets are $30, students $15. All tickets are available by calling the venue at 386-447-7030, or online at aacspalmcoast.org.