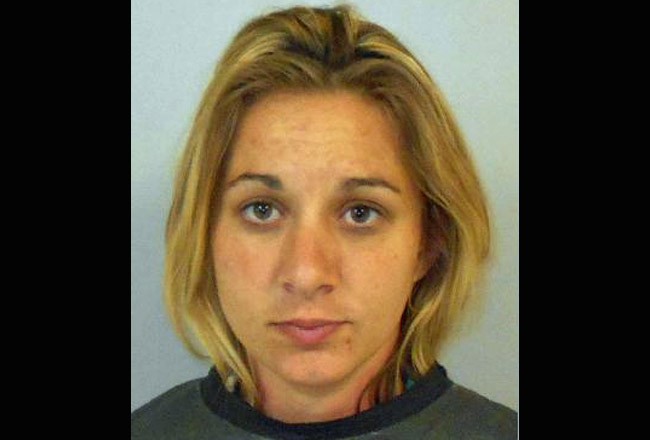 For the last 11 years or so, Lisa D. Tyson has had a few difficulties following the law, or respecting law enforcement officers.
Currently a resident of 79 Utica Path (a few doors down from where a plane crashed into a house two years ago), the 30-year-old Georgia native was first arrested as an adult in Flagler County in July 2004–for trespassing. She was found guilty of a first-degree misdemeanor, paid a fine and served six months' probation. Five days after that initial arrest she was arrested again for drinking while under 21. That charge was dropped as part of the guilty plea over trespassing.
In March 2001, she was charged with domestic battery. She pleaded guilty but got a deferred prosecution agreement, which she completed satisfactorily, so the charge was officially dropped. She was then cited for a series of traffoc infractions, from careless driving to failing to have a child wear a seat belt in her car to failure to carry the proper insurance and registration papers.
In April 2012 it got a bit more serious. She was charged with drunk driving, battering a law enforcement officer and resisting arrest. She was found guilty on all three charges. All three were first-degree misdemeanors. She was sentenced to drug court and probation, which she violated repeatedly and had to serve two months in jail.
On Thursday, she was back at the Flagler County jail, facing a familiar charge: battery on a law enforcement officer.
She had allegedly bitten a Flagler Beach police officer moments after she'd been dancing on stage at Finn's bar while apparently trying to evade the officer.
It started late Thursday night (April 30) when police got a report of a woman causing a disturbance at Poor Walt's Bar on Old Moody Boulevard. The report was that the woman was drunk. An officer located the woman–Tyson–in the parking lot of Poor Walt's, but as soon as Tyson saw the officer, she began walking east, on the sidewalk, toward Finn's. The officer, Crista Rainey, activated her cruiser's emergency lights and yelled at Tyson to stop. Tyson looked back and continued to run. Rainey, on foot, chased Tyson, then was told that the woman had gone into Finn's.
"I looked and saw [Tyson] dancing on the stage," the officer reported in Tyson's arrest affidavit. "I walked to the stage, grabbed [Tyson] by the wrist and began escorting her to exit by the patio. As we approached the exit door, [Tyson] began to struggle and kick the doorway with her legs in an attempt to stop me from moving her forward. [Tyson] was becoming more difficult to control, and I determined it would be more effective to effect an arrest on the ground."
So Rainey took down Tyson.
Tyson, according to the report, then "leaned forward and bit my left arm and would not let go," Rainey wrote. "I was able to yank my arm away to get out of the bite."
Rainey sought the help of a cab driver–Ron Bovino, owner of Ronnie B's Taxi and Limousine Service–to control Tyson until she was able to handcuff her. Bovino said, according to the report, that he saw Tyson trying toi punch the officer and witnessed the alleged bite.
On her way to jail in the back of Rainey's cruiser, Tyson, the report states, repeatedly called the police officer one of the crudest sexual slurs in the language and kicked the back of the car until Rainey shackled her legs.
Tyson has two young children. A few days before her arrest she'd posted a Facebook meme that read: "I fall, I Rise, I Make Mistakes, I Live, I Learn, I've been Hurt But I'mn Alive. I'm Human and I'm not Perfect But I'm Thankful…"