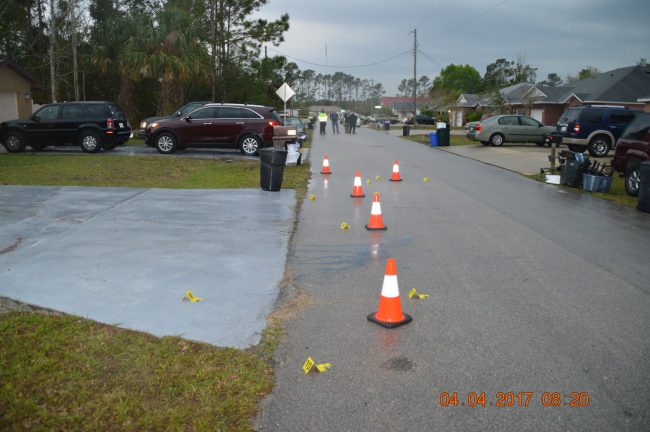 Just before 6 this morning a woman called 911 to report shots fired on Plainview Drive in Palm Coast. The woman soon realized that a bullet had struck her bedroom wall.
By the time Flagler County Sheriff's deputies had surveyed the scene, they discovered that one bullet had in fact pierced the woman's bedroom at 162 Plainview, and three cars had been struck in front of 160 Plainview, a duplex. Both houses appear to be occupied by renters. (An earlier version of this story, based on the information provided by the sheriff's office at the time, had incorrectly reported the shooting targets as being in front of 159 Plainview. Only the shell casings were found in front of 159.)
The woman, who is 65, told dispatchers that she'd heard several shots around 5:30 a.m. and had not immediately called 911 because she was afraid.
Deputies got to the scene shortly after 6 a.m., according to dispatch notes, and located shell casings outside of 159A Plainview. They noted that a bullet had been fired through the rear window of a vehicle parked in front of the house. Sheriff Rick Staly subsequently went to the scene.
Mark Strobridge, the sheriff's office's chief spokesman, said late this morning that "three vehicles were damaged." Those three vehicles were in front of 160 Plainview, also a duplex.
There were no injuries. Florida Hospital Flagler reported no gunshot wounds this morning.
The theory, he said, is that "one house was targeted, the second place was a completely innocent victim." The house being targeted, according to that theory, was 160 Plainview. The two houses are adjacent to other just past a curve on Plainview, where houses are lined in close-cropped succession, with numerous vehicles in driveways and some in the street. Plainview Drive branches off of the southern part of Parkview Drive, just north of Wadsworth Elementary. Plainview parallels the Wadsworth school and park property before looping east, north and west back onto itself. The two houses are near the latter part of the loop, where it swings back west.
"We are actively working the scene and Sheriff Staly responded to assess the necessary resources," the release stated. (The scene had been cleared by 10:45 a.m., but authorities were returning there in the afternoon.) "The investigators are looking for a possible motive. We do not believe this was just a random act."
If you have any information, please contact the Flagler County Sheriff's Office non-emergency line at (386) 313-4911. Or you can remain anonymous by calling Crime Stoppers of Northeast Florida at 1-888-277-8477 (TIPS). Callers may be eligible for a reward of up to $1,000.