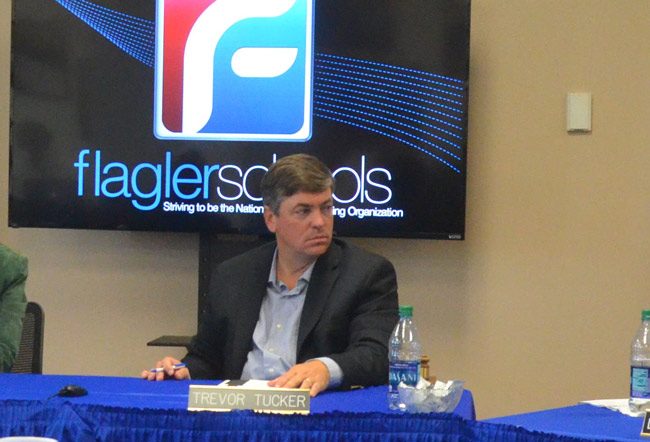 By Trevor Tucker
House Bill 7069 will change education in Flagler County for generations to come. The bill has some good points, but the overall effect will hurt the children in Flagler County.
Instead of listing all of the problems with this bill, I will try to give you one reason why taxpayers should urge Gov. Rick Scott to veto HB 7069.
Capital dollars are currently allocated to the school district to maintain the publicly held buildings the school district owns. This bill will take tax dollars and give them to building owners to renovate, remodel, or build additions to privately owned buildings that charter schools lease. If a given charter school moves out of the building or shuts down, the public does not get the building or the benefit of the taxpayer-funded renovations.
In order for Flagler Schools to expend capital dollars, the district must show a need for those dollars in a FISH (Florida Inventory of School Houses) report. Charter schools will not have to demonstrate the need for these dollars. They will receive them based solely on student enrollment. Charter schools will also have the flexibility to expend these dollars on digital instruction software and operating systems, license fees, and annual leave payouts.
Capital dollars should be used for taxpayer buildings, not to enrich the building owners of charter schools. Supporting the needs of charter schools should not be to the detriment of traditional public schools. The capital needs of charter schools should be addressed in legislation that allows taxpayers the ability to recoup the dollars invested in the building if the charter school fails. That could be achieved either through joint ownership of the building or a payback from the building owner for the improvements.
I urge all citizens to email or write Governor Scott to oppose using tax dollars to enrich private enterprises with tax dollars that do not benefit the public.
Email the Governor here, or call (850) 488-7146, or write: Office of Governor Rick Scott, State of Florida, The Capitol, 400 S. Monroe St., Tallahassee, FL 32399-0001.

Trevor Tucker is chairman of the Flagler County School Board and a business owner. Reach him by email here. This piece, which he sent to all local media, is separate from a letter to the governor opposing HB7069 and signed collectively by the Flagler County School Board.