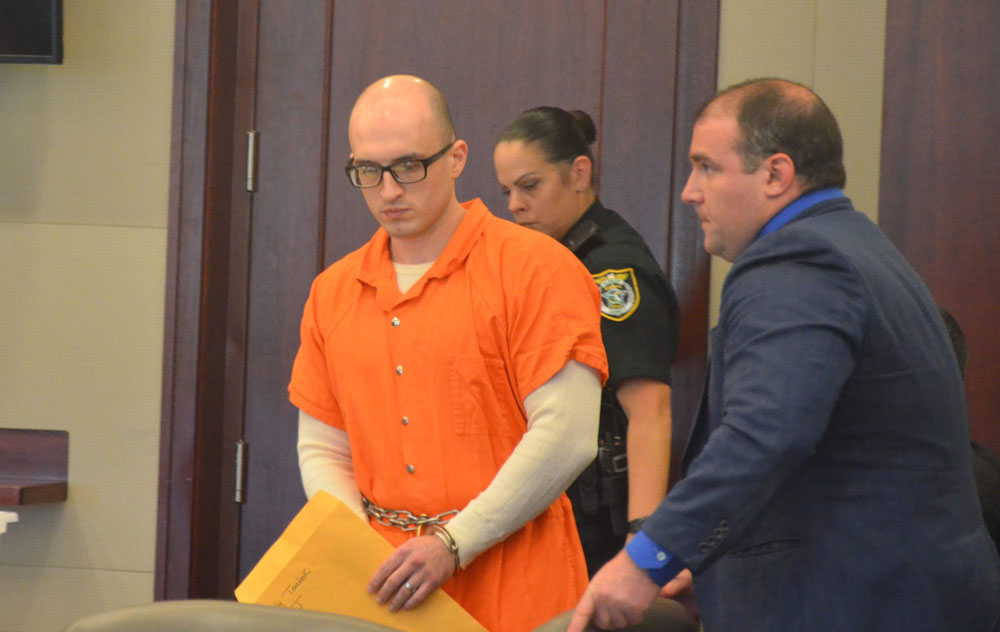 The F-Section house fire itself, and the crimes that led to former Palm Coast resident Vitaly Tsabak's 20-year prison sentence, are over five years old. Today, the Fifth District Court of Appeal rejected the latest of several attempts by Tsabak to contest his conviction. The court in a one-line ruling affirmed Circuit Judge Terence Perkins's ruling in November 2020 rejecting Tsabak's claim that he had received ineffective counsel from his attorney, Aaron Delgado of Daytona Beach. The decision leaves Tsabak with no option but to serve the remaining years of his sentence. He is not due to be released until 2035.
Thanks in part to DNA evidence, Tsabak was 28 and the bearer of a lengthy prison record, felony convictions and prison stints when he was arrested on charges of first-degree arson, burglary, grand theft and possession of burglary tools in November 2016.




Firefighters were immediately suspicious of the Fenimore Lane duplex fire, which had obvious marks of intentional ignition on a living room futon and kitchen. The occupant of the residence, a teacher, was not home when the fire started. He'd stolen her computer, among other items that connected him to the theft and that were found in his car. He was passed out, drunk, when cops found him at the wheel of his car. He faced up to life in prison if convicted. ("His exposure was astronomical," Delgado said in court at a hearing last year. "There was not a lot of weaknesses in the State's case.")
A year and a half later Tsabak, who had acknowledged in a letter how difficult it would be to overcome the DNA evidence, pleaded. The arson charge was downgraded to grand theft and the burglary charge lowered to a second degree felony. Delgado had asked for 15 years. Tsabak got 20. He is to serve 10 years on probation once released. Because he was sentenced as a prison-release reoffender, he had to serve his sentence day for day, meaning no "gain time"–no early release for good behavior. "The entire case was then formed by the PRR status. (See: "Sentenced to 20 Years in Prison, F-Section Arsonist Leaves Judge Craig Puzzled By 'Senselessness'."
He appealed. The Fifth District affirmed the conviction. In June 2020, Tsabak appealed on grounds that his counsel was ineffective–and opted to argue the case himself. "I'm still learning on the fly as we go," he told Perkins at a hearing on the appeal last March. He argued that confessions he provided sheriff's deputies should have been suppressed, and that the consequences of his status as a prison release reoffender had not been explained to him.




Perkins explained to him that even if he were to prevail by getting his re-offender status revoked, the conviction would still stand, the state could withdraw its earlier plea deal and the court could impose life in prison. Despite the warning, Tsabak opted to continue with his argument.
Perkins didn't grant Tsabak's motion, and stressed the effectiveness of his defense counsel. "I think, frankly, the State was looking for an excuse to revoke the offer," Perkins said. "Mr. Delgado craftily did not give them such an excuse, and they were forced to honor the offer that I'm sure that they regretted making." He described the plea deal as extremely favorable" to Tsabak.
That's the decision the Fifth District affirmed today.