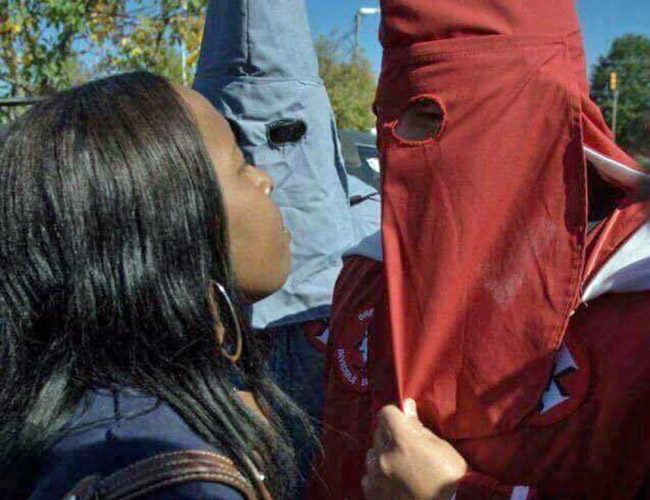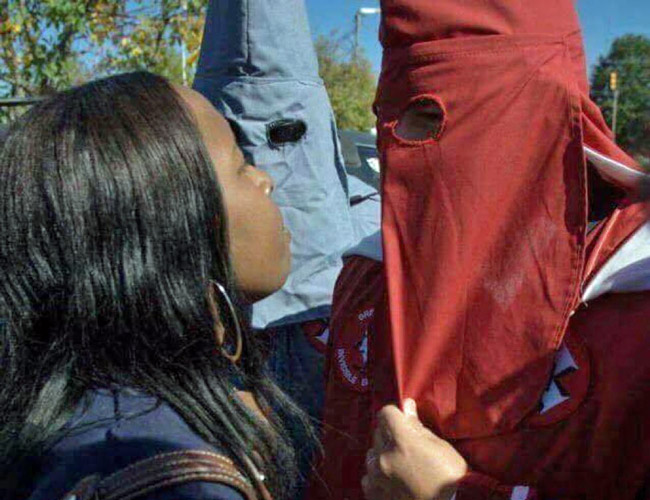 In the wake of the protests by neo-Nazis and white supremacists that turned deadly in Charlottesville, Virginia this weekend, President Donald Trump has come under fire for not immediately and clearly condemning American racists.
It's not the first time. In the weeks leading up to the protests, Trump and those close to him have often played down the real threat of violence being committed by white supremacists on a regular basis across the country.
Here are three stark examples of how the Trump administration positioned itself in the run-up to Saturday's act of terrorism and the associated violent protests.
Trump cuts funding for a group that fights white supremacy
It's a story that has largely floated under the radar, but the Trump Administration's gutting of the flagship Obama program Countering Violence Extremism should be a bigger deal.
Launched in 2014, the program originally sought to provide funding for grassroots groups with innovative approaches to fighting terrorism where it begins: in at-risk communities. In 2016, as Obama's second term drew to a close, Congress approved $10 million in grant funds for the program.
In January, after a lengthy approval process, the Department of Homeland Security announced grants for an array of organizations including Life After Hate, a group that helps white supremacists transition out of their racist lifestyle and start new lives.
But the Trump administration immediately froze the funding. For months, the organizations waited for its checks, unsure what was happening.
"The impact is that now we have to spend our time trying to raise money, instead of doing the work that we need to be doing," Life After Hate's Angela King told us in May.
Then, in June, the administration announced it was completely rejiggering the grants. Life After Hate's $400,000 award was unceremoniously cut, as was another $900,000 to researchers at UNC-Chapel Hill for developing a comprehensive program countering online white supremacist propaganda.
The decision is hardly surprising against the backdrop of rumors circulating for months that Trump plans to rename the Countering Violence Extremism program "Countering Islamic Extremism," a tacit acknowledgment of the administration's belief that all terrorism is rooted in radical Islam.
Trump adviser says all terrorism is rooted in ISIS or al-Qaeda
We know that the Trump administration believes all terrorism committed on U.S. soil is the work of radical Islamists in part because Trump's top terrorism adviser said exactly that, three days before the Charlottesville protests.
Sebastian Gorka, a self-described terrorism expert, told the Breitbart News Daily radio show on Wednesday that "(t)here has never been a serious attack or a serious plot that was unconnected from ISIS or al Qaeda."
Gorka's comments doubled down on what he had said previously on MSNBC: "There's no such thing as a lone wolf … that was a phrase invented by the last administration to make Americans stupid."
Then, what appears to be exactly that – a lone wolf white supremacist – attacked protesters, killing one, in Charlottesville.
Gorka's comments reflect the Trump administration's broader rhetoric on terrorism, which obsesses about violence perpetrated by radical Islamists, but seems to brush off the threat of homegrown terrorism committed by white Americans.
As we reported earlier this year, there have been at least six actual or foiled terror attacks in America in recent years committed by white supremacists who identify with Odinism, an ancient Nordic religion. In fact, in collaboration with Reveal the Investigative Fund reported in June that during the past nine years right-wing extremists were behind nearly twice as many domestic terrorism incidents as Islamist terrorists. And according to the New America Foundation, radical white wing extremists have killed at least 67 people in America since 9/11.
Gorka's comments also willfully ignore several high-profile lone wolf terror attacks committed by non-Muslim white men, including the Oklahoma City bombing in 1995 and Dylann Roof's slaying of eight African American churchgoers in Charleston in 2015.
Trump adviser says 'there are no white supremacists in America
Last month, Reveal's Al Letson talked with former Trump campaign adviser Roger Stone as part of his Al Letson Reveals series.
In an interview rife with hyperbole, perhaps the most eye-opening moment came when Stone insisted to Letson: "There are no white supremacists, my friend."
Stone went on to clarify that white supremacists are "a tiny microcosm of the United States." He also claimed that "The Ku-Klux Klan today is funded by the federal government."
Perhaps Stone would like to clarify (or retract) his statement, given the turnout of white supremacists in Charlottesville on Saturday? We'd love to know more about that government funding, too.
We have reached out to him on Twitter for comment.
–Will Carless, Reveal/The Center for Investigative Reporting

Reveal of The Center for Investigative Reporting is a nonprofit news organization based in the San Francisco Bay Area. Learn more at revealnews.org and subscribe to the Reveal podcast, produced with PRX, at revealnews.org/podcast.