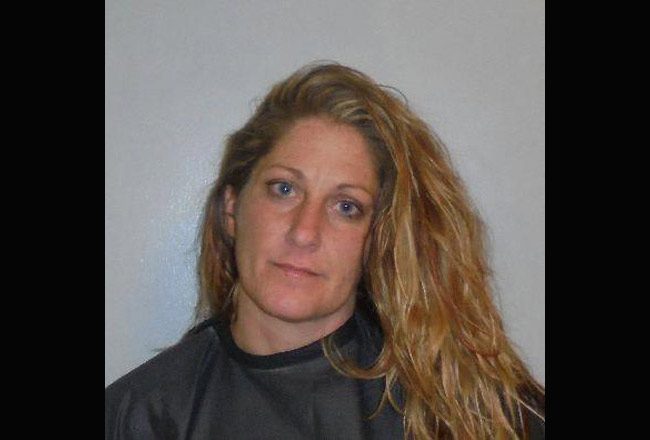 Kristin Trotter, 40, and Dominic Riccardi, 28, have been dating two years and share a place on Woodpecker Place in Palm Coast. Their relationship has required police intervention at least twice.
Last year Trotter was jailed and charged with domestic battery after a day-long argument and altercation with Riccardi that left his face, neck, chest and forearms bloodied or scratched, according to her arrest report. Riccardi blamed it on Trotter's drug use—she had been found guilty of using or possessing drug paraphernalia in 2014. Three weeks later the charge was dropped. (She has twice been found guilty of shoplifting and once been found guilty of habitually driving on a suspended or revoked license, a third-degree felony, serving 65 days in jail last year for that guilty verdict.)
On Tuesday, Trotter was back in jail, again facing a felony, this time for aggravated assault, along with charges of battery and criminal mischief after allegedly threatening Riccardi with a knife and slashing the tire on his scooter.
The incident unfolded around 8 a.m. Aug. 1. Riccardi had woken up late for work. He was upset, yelling at his girlfriend and blaming her for not waking him up, according to her arrest report. She proposed driving him to work on his scooter. He did not want her to do so. But she had his keys. He told sheriff's deputies that she then armed herself with a kitchen knife and allegedly threatened him, saying—as he told cops—"you aren't taking these keys to the scooter, or I'm going to use it."
He took the knife from her and ran out, but she followed him—again, allegedly, with the knife, knocking him off the scooter and slashing the rear tire.
Trotter put it differently in her account to Flagler County Sheriff's deputies. She said he woke up angry but "threatened to take the scooter to work" after calling her names and allegedly threatening her that "if she did not shut her mouth, he would come shut it for her," according to the arrest report. Fearing him, she told deputies, she grabbed the keys and a knife and retreated to a room, "just to keep distance." She says he jumped her and wrestled the keys from her, holding her down violently and causing her to soil herself. "So I came after him and punctured the tire," she told deputies, according to the report.
Trotter, however, "provided multiple conflicting stories," a deputy reported, at one point saying she did not puncture the tire and had only tried to remove it from the scooter, only to then concede that she had punctured it. Riccardi was described as having "multiple cuts and scrapes on his body, which were consistent with wounds he would have gotten from being thrown to the ground," and scrapes on his left elbow and both knees, and a large bruise on the middle of his back. The knife was never found.
Trotter posted bail this afternoon on $11,500 bond and was released.
The Sheriff's Office last month launched a domestic violence task force, which held its second scheduled meeting the day of the incident. Sheriff Rick Staly convened the task force to find ways to reduce the incidence of domestic violence, which has been rising to over 600 cases involving police each year, and 362 arrests last year. As of May this year, there'd been 327 incidents and 153 arrests.