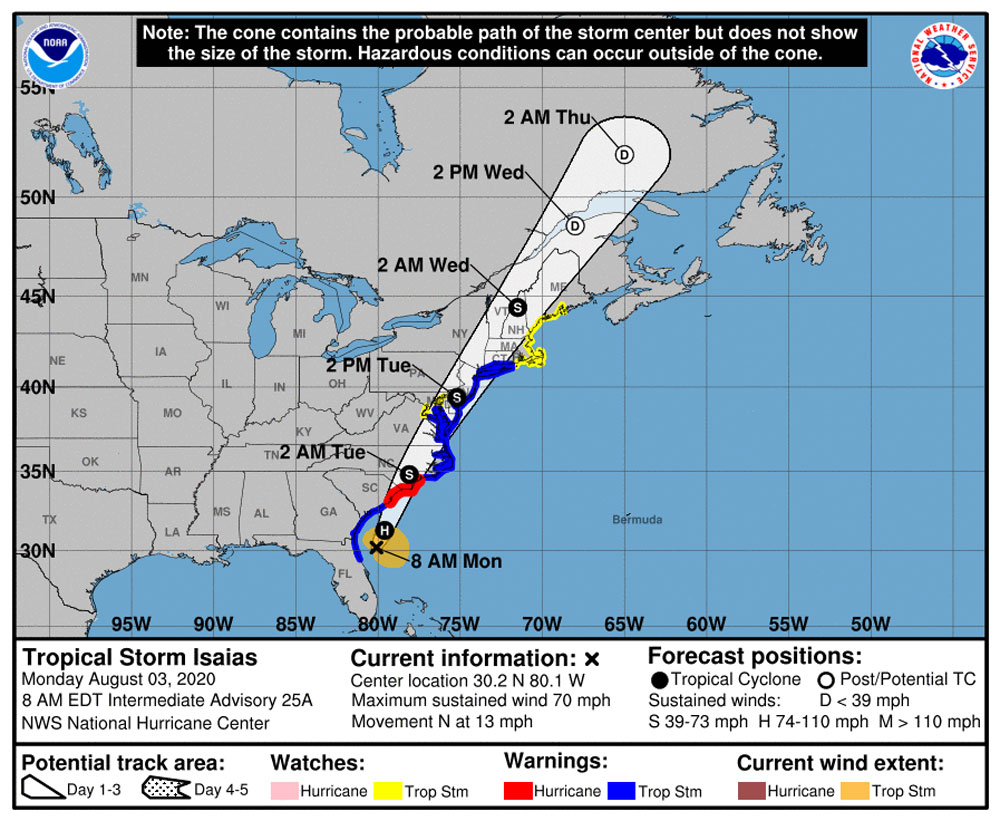 Last Updated: Monday, 9:47 a.m.
Tropical Storm Isaias was parallel with or just north of Flagler County around 8 a.m. Monday, its passage well offshore as it headed north resulting in only minor impacts for the county, and those limited to coastal areas.
Isaias is actually expected to regain Category 1 hurricane strength in the next 12 hours before it makes landfall along the Carolina coast–somewhere along the South Carolina-North Carolina line–where hurricane warnings and storm surge warnings have been issued. The storm is moving swiftly north, triggering a domino of tropical storm warning into New England.
The storm is far from done: "Heavy rainfall will result in flash and urban flooding, some of which may be significant in the eastern Carolinas and the mid-Atlantic, through midweek along and near the path of Isaias across the East Coast of the United States," the National Hurricane Center states. "Widespread minor to moderate river flooding is possible across portions of the Carolinas and the mid-Atlantic."
"We were ready should it have been something bigger than it was," Jonathan Lord, the county's emergency management chief, told the county commission this morning. "It looks like we have not sustained at this point any further damage to our dune system."

Sunday, 3:50 p.m.–When Isaias first troubled the waters of the Caribbean as the prosaic "Tropical Cyclone Nine" four to five days days ago, it was projected to amount to not much more than wind or rain in Flagler as it swiped by Florida–at the time, from the west. It appears it won't be much more than that after all as it swipes the peninsula from the east, after three days of seesawing between a tropical storm and a hurricane and briefly looking like it might cause enough damage and power cuts locally as to warrant the opening of one or two shelters.
Bob Snyder, the Flagler Health department chief, and Jonathan Lord, the county's emergency management chief, who together have become the county's Huntley-Brinkley anchors of the coronavirus emergency for the past five months, had occasion to anchor the potential Isaias emergency over the past 48 hours, with Lord poised to up the Emergency Operations Center's response level and Snyder preparing Rymfire Elementary as a shelter for special needs and others. But by early this afternoon, they were calling it all off.
"Phew…..we dodged one," Snyder wrote in an email just after 2 p.m. He wrote from the Emergency Operations Center to say that the decision was made "not to evacuate and open shelters, including Special Needs." The health department had prepared to deploy 20 staffers at Rymfire. They were sent home. Two classrooms had been set up with oxygen and supplies and enough cots to accommodate 10 patients (five in each, to account for social distancing). "We are grateful that this experience will serve as an effective exercise, training for new staff and we were ready. Pleased that Mother Nature cooperated."
Lord informed others shortly after a call with the Jacksonville office of the National Weather Service that "storm surge is no longer an issue, though localized coastal flood may occur" off the Intracoastal Waterway. The county's call center will shut down with the Emergency Operations Center at 7 p.m. this evening. Most calls to the center were covid-related over the center anyway.
Rain is still expected, with up to 3 inches possible along the coast, and wind gusts of 40 to 50 mph "may briefly make travel hazardous over bridges and immediate waterway areas," but otherwise the county is no longer looking at an emergency situation.
The storm was still churning at 65 mph this afternoon, just off the east-central Florida coast by Vero Beach, and moving at just 9 mph. It had sent a few bands of rain Flagler's way. The National Weather Service was projecting possible tropical storm conditions for Flagler Beach and the barrier island tonight, with rainfall amounts between 1 and 2 inches possible, and those conditions continuing into Monday. But the storm surge watch was cancelled, as was the tropical storm warning for inland Flagler. The warning remained in effect for the coast only.
[Previous updates are below.]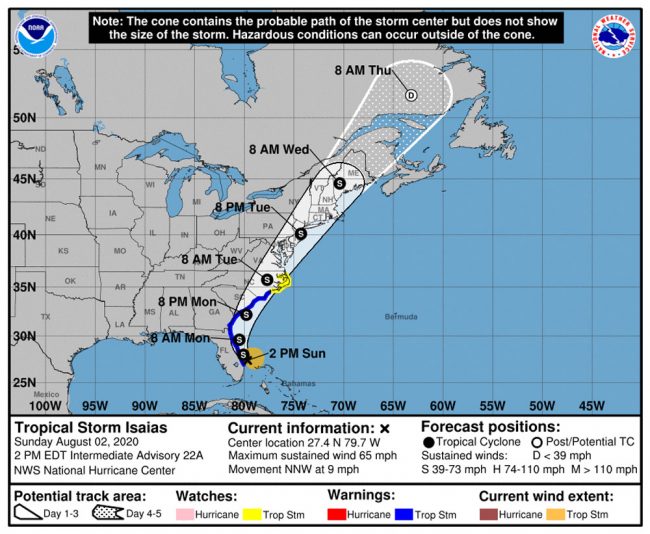 Weakened Tropical Storm Isaias Expected Offshore North of Daytona Beach, Storm Surge Concerns Remain
Sunday, 8:30 a.m.–The wiper-blading continues: A weaker tropical Storm Isaias, near West Palm Beach this morning, is no longer expected to directly threaten the Flagler County region. Impacts to Flagler remain, however, as the slow-moving storm travels north and veers off the coast around Daytona Beach early Monday morning. Its tropical-storm-force winds extend 115 miles, so even if the storm is well offshore, Flagler is in its cone of impacts.



Isaias never regained its hurricane strength after it was downgraded Saturday, nor was it expected to strengthen as it moved closer to Florida this morning. "Since Isaias has not shown any signs of re-organizing overnight, it appears that the window of opportunity for it to re-strengthen is closing," the National Hurricane Center reported at 5 a.m. Sunday. "Later in the period, gradual weakening should occur as the storm moves northward along the east coast of the United States."
A tropical storm warning remains in effect for Flagler County, with tropical Storm force winds peaking at 45 to 55 mph, with gusts to 70 mph, along the barrier island, from early this evening until Monday morning. The storm surge window, with a potential for a 2 to 4 foot surge, is through Monday evening.
Residents should plan for dangerous wind and have completed their preparation efforts today. The National Weather Service predicts "Some damage to roofing and siding materials, along with damage to porches, awnings, carports, and sheds. A few buildings experiencing window, door, and garage door failures. Mobile homes damaged, especially if unanchored." Trees may be uprooted and roads made impassable, and power failures are possible.
The Flagler Health Department and emergency management prepared the shelter at Rymfire Elementary during the day Saturday, in case it was needed for special needs and others: though the storm won't strike Flagler directly, power failures could affect a segment of the population that relies on electricity for medical needs. "Our biggest concern would be folks on [the] barrier island who lose power and are dependent on oxygen," Health Department Chief Bob Snyder said.
Emergency management was to decide later today whether to open the shelter or not.
Flagler County is likely to get rain of 1 to 3 inches.
See the weather service's full briefing:
Surfers have been taking advantage of Isaiais' waves since Saturday. The National Weather Service is cautioning of dangerous rip currents the rest of the day Sunday. (Contributed by Troy Powell.)
Previous updates are below.

Hurricane Isaias Downgraded to Tropical Storm By the Time It Hits Flagler, But Now Closer to Shore
Saturday, 5:30 p.m.–Hurricane Isaias is now expected to weaken to a tropical storm by the time it reaches Flagler County, but the National Hurricane Center at 5 p.m. Saturday was forecasting a more easterly path, placing it right along the Flagler County shore by the time it gets here overnight Sunday. The indecisive storm currently has downgraded to a tropical storm, but it is expected to regain hurricane strength before long.



The new National Hurricane Center model "has shifted slightly westward, with some of the more reliable models now showing landfall along the east-central Florida coast in about 24 hours," the center reported at 5 p.m. A tropical storm warning is in effect in Flagler County.
The good news-bad-news scenario does not not change the messy and potentially damaging effects of the storm Flagler County would sustain, and if anything, because of the storm's eastward shift, the damage in Flagler could be greater than if the storm had remained a hurricane offshore. Another problem: the storm is slowing down, so even though it will be less violent, its slower movement will give it time to be more damaging. Tropical storm force winds mean winds of between 39 and 73 mph.
While the hurricane will weaken, the storm surge is still at 2 to 4 feet in Flagler, and the tropical storm force winds that were expected in previous forecasts now may extend further west of I-95. In previous reports, tropical storm force winds had been expected to be limited to the barrier island and areas just west of the Intracoastal Waterway, up to I-95.
Tropical storm force winds can also down trees and power lines: Hurricanes Michael in 2016 and and Irma in 2017 were felt only as tropical storms in Flagler, yet most of the county's residents and businesses lost power, some for a week or more.
Both the American and European models are now in close agreement about the path of the storm over the next 36 hours, with both placing Isaias' path almost exactly over the Florida coastline, but all the way through Flagler, whereas previously, the storm was seen veering off the coast well before it reached Flagler. See an animation of the European model here, and of the American model here.
"Hurricane conditions are expected along portions of the Florida east coast on Sunday with tropical storm conditions expected to begin tonight," the hurricane center cautions. "Dangerous storm surge is possible along the Florida east coast from Jupiter Inlet to Ponte Vedra Beach where water rises of 2 to 4 feet above ground level are possible along the immediate coastline and adjacent waterways."
[This is a developing story. Previous updates are below.]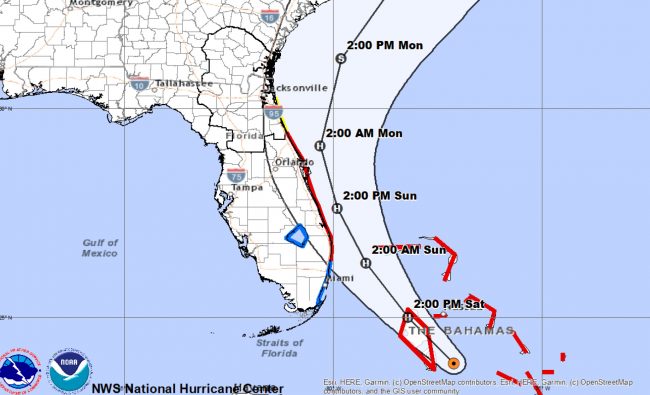 No Landfall, But Hurricane Isaias Could Cause 'Significant Storm Surge' Flooding Sunday Night in Flagler
Saturday, 8:30 a.m.–As of 8 a.m. Saturday, the National Hurricane Center and the National Weather Service in Jacksonville are projecting that Hurricane Isaias will approach Florida's east coast but not make landfall, and pass by Flagler County at enough of a distance that the local impact would be limited to tropical storm conditions, but with "significant storm surge inundation possible during times of high tide Sunday."




The "dangerous" storm surge–in the hurricane center's description–in Flagler is expected to be 3 feet or more, with nearshore waves of 10 to 13 feet, which would be damaging to the county's relatively new dune system. Tropical storm-force winds are expected along the coast Sunday night and Monday, with rainfall of 2 to 4 inches along the I-95 corridor.
Flagler County Emergency Management's Jonathan Lord said this morning that Friday's direction to residents is unchanged for now: residents on the barrier island and in the low-lying areas along both sides of the Intracoastal and canal zones impacted by tides are asked to be prepared to evacuate. But no evacuation order has been issued. If it were to be issued, it would be on Sunday.
Friday's projection was that Hurricane Isaias would downgrade to a tropical storm around the time it would parallel Flagler County, but the storm is now expected to weaken only after it heads further north. On the other hand, it will not intensify to more than a Category 1 hurricane at any point–and hurricane force winds are not expected onshore, according to the current projection.
Projections between the American and European models for the next 48 hours have become closely aligned. (See an animation of the the American model here, of the European model here or below.)
The projections can change. All of Florida's east-coast counties north of Miami Dade, including Flagler, remain very much within the hurricane's cone of uncertainty. The hurricane has shifted east and west several times. It can do so again, either further away from the coast or closer to it at any point in its trajectory north.
The National Hurricane Center described Isaias as "ragged" this morning, with maximum winds of 75 mph, while its track "has shifted a little to the east near the Florida coast and calls for a slower forward motion that the previous guidance. Thus, the new forecast track has been adjusted a little east of, and slower than, the previous track."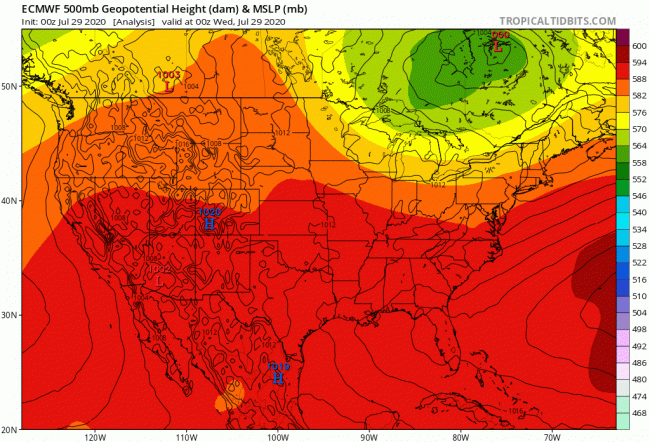 Hurricane Isaias Path Moves Closer to Flagler, With Highest Impacts Expected Sunday Night
Friday, 6:05 p.m.—Flagler County Emergency Management Chief Jonathan Lord on Thursday described Hurricane Isaias's unpredictable path as "wiper-blading," as the Category 1 storm's path was shifting east and west every hours. It did it again this afternoon, this time shifting back toward, if not onto, Florida's east coast, as a better organized storm with an eye developing.



In what could be a messy situation for Flagler County if the projection holds, the storm is now expected to churn along the coast in a northerly path reminiscent of Hurricane Matthew in 2016 and Hurricane Dorian in 2019. But Isaias is also expected to weaken, transitioning from a hurricane to a tropical storm around the time when it is traveling nearest Flagler County between early Sunday afternoon and early Monday morning.
At this point, Flagler County's most critical interaction with the storm would be Sunday late afternoon and Sunday night.
"Hurricane Isaias is approaching the east coast of Florida, and its current path includes potential impacts to Flagler County," Lord said in a mid-afternoon press conference, before the 5 p.m. update that shifted the storm a bit closer to shore. "These impacts will likely include tropical storm force winds, primarily east of I-95, and some potential for storm surge to primarily include flooding on properties that back up to the Intracoastal Waterway and the canals and waterways that run to the east of it. Based on the current forecast we expect to see tropical storm force winds as early as Saturday night but more likely starting Sunday morning, lasting until Monday morning. The flooding, which may be similar to what we experienced with Hurricane Dorian, may begin as early as Sunday's first high tide, at 1 a.m., or more likely, the second high tide around 1 p.m., and repeat until the next couple of high tide cycles along the Intracoastal."
The path for now is closer to shore than either that of Matthew or Dortian. But Isaias is a weaker storm: it's not expected to exceed the Category 1 level for now. On the other hand, it's also a very broad storm, its hurricane-force winds extending up to 35 miles from the center and tropical storm-force winds reaching out 205 miles. And as was the case with Matthew and Dorian, the storm's path could and likely will change with every few hours' report.
The latest projected path, released by the National Hurricane Center at 5 p.m., is a consensus projection that combines an American-model forecast of the storm shaving the Florida coastline from around Fort Lauderdale to Volusia County before moving somewhat offshore, with a European-model forecast seeing Isaias actually moving inland and north up the peninsula, as if paralleling I-95, but west of the highway.



If the storm were to move inland, it would rapidly degrade into a tropical storm. The European and United Kingdom models both project that path (the European model has consistently been more accurate than its American counterpart over the years). Those models, the National Hurricane Center states, "explicitly show Isaias making landfall in 36-48 hours along the southeast Florida coast, but appear to weaken the system below hurricane strength."
"The NHC track forecast lies close to a blend of the consensus models," the center states. As a result, a Hurricane Warning and Storm Surge Watch have been issued for portions of the east coast of Florida. A hurricane watch was issued from north of Deerfield Beach to the Volusia-Brevard county line. Hurricane conditions are expected along portions of the Florida east coast late Saturday and Saturday night. Dangerous storm surge is possible along the Florida east coast from Jupiter Inlet to Ponte Vedra Beach where water rises of 2 to 4 feet above ground level are possible along the immediate coastline and adjacent waterways. That includes Flagler County's low-lying areas such as the Barrier Island and communities along the Intracoiastal. Residents in these areas should follow advice given by local emergency officials.
The Flagler County Sheriff's Office made inmates available to fill sand bags at the Flagler Technical Institute at 5633 North Oceanshore Blvd in the Hammock. Self-serve sandbag stations are available at Santa Maria Del Mar Catholic Church in Flagler Beach, 915 North Oceanshore Blvd., and at Palm Coast Public Works Yard, 1 Wellfield Grade, Palm Coast.
"All residents of Flagler County should be prepared to shelter in place at home while Isaias passes by or through our community," Lord said. "Those residents in hurricane evacuation Zone A, which is our barrier island, and those residents in hurricane evacuation zone B, specifically those that live along the Intracoastal Waterway, should be prepared to evacuate Saturday afternoon, should the situation change. When deciding where you may evacuate to, we encourage your primary option to be with friends, family or at a hotels and motels out of hurricane evacuation zones A and B. However, if we do order an evacuation, we will open a shelter for those that are unable to make alternative arrangements. While at this time we don't believe that there will be a need to order an evacuation, the county, school district and our other sheltering partners have prepared a shelter should the situation change."
At that shelter there'll be entry screenings, enforced social distancing and enforced mask-wearing within the shelter to limit the potential spread of covid-19.
Gov. Ron DeSantis on Friday issued a state of emergency for all counties along Florida's East Coast in response to Isaias, as did Flagler County.
While no state-run shelters are currently open (nor are any open in Flagler), DeSantis cautioned people to take the system seriously and have seven-days of food, water and medicine on hand. "You should presume that if you're in the path of this storm, you could lose power, so prepare accordingly," DeSantis said during a press briefing at the state Emergency Operations Center on Friday.



Isaia's impacts are expected to be felt in South Florida, one of the hardest-hit spots for covid-19, starting Friday night. DeSantis said there doesn't appear to be an immediate concern about the storm's impact on hospital personnel, but that could change if the hurricane's track changes. State and local emergency operations workers have been at a heightened state of alert since March because of the coronavirus pandemic.
In addition to food and water stockpiles, the Division of Emergency Management has amassed 20 million masks, 20 million gloves, 10 million personal-protection gowns, 1.6 million face shields, and 20,000 thermometers, DeSantis said Friday. The division also purchased 50 additional generators, he said.
The pandemic has prompted the state and counties, including Flagler, to redraw plans for emergency shelters that could include using available hotel rooms or putting smaller groups into classrooms rather than housing large numbers of people in a single large locale. Flagler County will open its first shelter at Rymfire Elementary, if necessary. The shelter will include special needs. The decision to open the shelter had not been made as of Friday afternoon. The county's stance echoed the governor's.
"While we do not currently believe shelters will be necessary for this storm, we will be ready if they do become necessary," the governor assured Floridians Friday.
The state Department of Emergency Operations had announced Thursday that all state-supported drive-through and walk-up covid-19 testing sites would be closed for the storm. But as Isaias took a more eastern trajectory on Friday, DeSantis said testing sites on the west coast will continue to operate. The U.S. Coast Guard on Friday placed Port Canaveral under condition "X-ray," meaning tropical-storm force winds within 48 hours. Port Key West and PortMiami have been placed under condition "Yankee," indicating tropical-storm force winds within 24 hours, with cargo operations to be halted within 12 hours.
State-backed Citizens Property Insurance advised people that, in addition to a disaster supply kit, they should ensure key property and family information — insurance policies, health records, financial records, pet records and identification documents — are stored in a safe, waterproof and easy to access location.
–-The News Service of Florida contributed to this report.
[Previous updates are below.]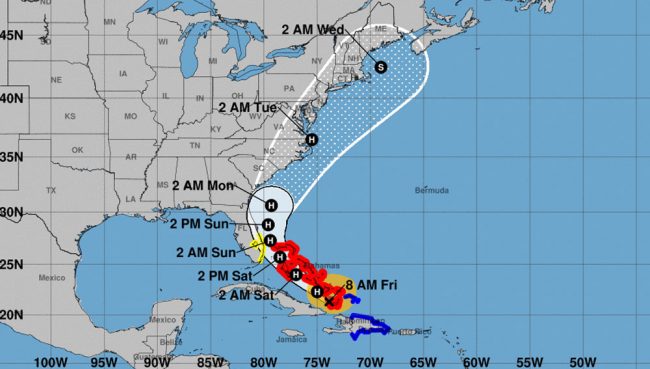 Hurricane Isaias Expected to Stay Offshore, Paralleling Flagler Sunday, But Uncertainty Remains
Friday, 10 a.m.–Flagler County remains within the Hurricane Isaias's cone of uncertainty a two days ahead of the Category 1 storm's expected pass offshore. But the National Hurricane Center's current forecast has the storm staying offshore and veering northeast, further away from the coast, as it approaches Northeast Florida's 30th parallel.



There is some disagreement between the American forecast and the European forecast. The latter has the storm edging closer to Florida's east coast, grazing it around Merritt Island, before pushing off further east. The European model has generally been more accurate than the American model.
"Guidance is in fairly good agreement over the first couple of days of the forecast, so little change is made at that time, other than a small westward adjustment near the Bahamas," the National Hurricane Center stated Friday morning. "After that time, there is a considerable spread, growing to over 700 miles, in the reliable models on how quickly Isaias moves northeastward near the east coast of the United States."
The concern for Flagler is the storm surge: the closer the storm is to the coast, the more of a concern, with discussions kicking in of potential evacuations of the barrier island and other low-lying areas. No such evacuation orders have been issued.
"It may be a Category 2 hurricane sooner rather than later, unfortunately," Flagler County Emergency Management Chief Jonathan Lord said this morning, but if the center of the storm stays on its current path, "it won;t be a great weather day" on Sunday, with "mild" flooding in low-lying areas. "We are preparing as if a tropical storm or maybe as if a Category 1 storm is heading our way."
"The eye of the storm could travel anywhere within that cone of uncertainty," Lord warned.
If flooding occurs, "it will not be a wall of water," Lord said, but "flooding over a period of hours."
No evacuations are planned "at this point in time," a phrase Lord uses repeatedly. "But people must be prepared."
Referring to the acronyms of the American (GFS) and European models, the center added: "There are no obvious reasons to choose either the fast GFS or slow ECMWF right now, so the official forecast will remain close to the previous one and the model consensus. It should be noted that given this large spread, the extended forecast could be subject to large speed/timing changes if either of those solutions become more likely."
Isaias had maximum sustained winds of 80 mph this morning, moving northwest at 17 mph. It is expected to strengthen over the next 24 hours before weakening again. "The details are not very clear at all, especially considering the track uncertainty," the center cautions, "but there is a notable chance of a hurricane moving close to the U.S. East coast, so the forecast continues to show that scenario."
[Previous updates are below the latest weather briefing.]


Isaias Upgraded to Hurricane Starting Saturday as It Moves Near Florida's East Coast
Thursday, 6:43 p.m.–It was not the development anyone was hoping for: the latest forecast, issued by the National Hurricane Center at 5 this evening, projects Tropical Storm Isaias to become Hurricane Isaias by early Saturday morning and the rest of the weekend as it parallels Florida's east coast on a north-northeast trajectory. But significant uncertainty remains.



The latest path, which has been changing sharply and is expected to change again, has the storm edging away from Flagler and the Northeast Florida coast Sunday afternoon, though Flagler and the eastern half of Florida remains in the cone of uncertainty, with a wide swath of rain and wind expected on either side of the storm's eye. The closer the storm to the coast, the higher the effects of storm surge, which have been an issue repeatedly in Flagler since Hurricane Matthew in 2016.
The storm's current tropical storm force winds are extending up to 240 miles from the center, suggesting that the storm's broad reach may be as much of a concern as its force even if it remains offshore.
The hurricane center's observations placed the storm over the north end of the Dominican Republic at 4 p.m., struggling to reorganize itself into a more defined storm, which had not significantly degraded in its journey over land. There had been a possibility of it dissipating when the center issued its report this morning. "Now that Isaias is expected to become a stronger and deeper cyclone,
that also favors a more eastward track," the center reports this evening. "Since the new center is still in its formative stage some additional shifts in the track may occur. In addition, strong winds and heavy rainfall will extend far from the center."
The hurricane center is not projecting a particular category for the storm, other than that Isaias will strengthen into a hurricane but not strengthen much more after that. "here are mixed signals regarding the amount of southwesterly vertical wind shear and the models
generally do not show much additional strengthening," the center reports. "Therefore, the NHC intensity forecast shows a leveling off in intensity after 48 [hours]. It still needs to be stressed that that there is a higher than usual amount of uncertainty in the intensity forecast."
This evening the storm had maximum sustained winds of 60 mph, not any different than earlier this afternoon, moving northwest at 20 mph. But its forward speed was expected to slow down.
The previous update is below.

Tropical Storm Isaias Takes Concerning Turn for Florida's East Coast, But Path's Uncertainty Is High
Less than 24 hours ago the forecast path of a disorganized Tropical Storm Isaias was west toward the gulf. Overnight the storm, now stronger and better organized, shifted east and now appears headed for Florida's east coast, including a possibly close shave of Flagler County's shore. That path sharpened slightly this afternoon, with the storm center edging closer to the coast in the three-day forecast.
But the National Hurricane Center says the storm is sending "mixed signals," its intensity forecast "tricky," its long-range path uncertain. Flagler County Emergency Management Chief Jonathan Lord said this morning the storm was "wiper-blading, as we call it, it could go back and forth," but that "tonight really is key for us with our decision making. Hispanola could make a big difference for what this means for our community–the Dominican Republic and Haiti." The storm is expected to cross that island, weaken over its mountains then either dissipate or reorganize as it hits water again.



By 2 p.m. today, the National Hurricane Center was cautioning that "the confidence in the track forecast remains lower than usual due to the expected land interaction and possible center reformation in the short term."
Lord says the main concern with Isaias would not be a wind event but, if it continues to travel up the coast, a storm surge that would potentially require evacuations of the barrier island and the area just west of the Intracoastal. "The big thing for us no matter what, we need to see what the storm may do to us, and obviously the big risk for a hurricane anywhere in the U.S. is the potential storm surge," Lord said.
"There is a risk of impacts from winds, heavy rainfall, and storm surge along portions of the U.S. east coast beginning this weekend
in Florida and spreading northward to the Carolinas and southern mid-Atlantic states early next week," the hurricane center stated at 2 p.m. "Due to Isaias interacting with Hispaniola, the details of the track and intensity forecast remain uncertain and it is too soon to determine the magnitude and location of these potential impacts."The county's approach to this emergency is always to plan for one level ahead of the storm's forecast: if, for example, the storm is on a path up the coast as a tropical storm, the county will be preparing as if it were facing a hurricane, since the storm could potentially turn into one (as some models show).
On Wednesday, Palm Coast's fire chief said the city would activate its second emergency operations center in preparation for the storm. The county's Emergency Operations Center is at Level 2 already but has been so for months because of the covid emergency. In the next 24 hours Lord will decide, based on the coming forecasts, whether to raise the level of the emergency. triggering what, for Flagler County, could be a two-front emergency: the county is in the midst of a coronavirus surge.



Speaking at a Palm Coast town hall on the virus Wednesday, Flagler Health Department Chief Bob Snyder said gatherings should be limited to 10 people or less. With power cuts and other disruptions possible, a tropical storm emergency could require the county to open some emergency shelters. Both emergency management and the health department have prepared for the possibility, redesigning shelters at Rymfire and Bunnell elementaries to account for social distancing and the separation of people between those who are known to be negative for the virus, and those who have either tested positive or are under monitoring or quarantine.
Lord said the county is stressing to people who may need to evacuate to first seek shelter with friends, family or at hotels and motels before seeking refuge in a public shelter, though obviously no one would be turned away from a shelter. The first shelters to open would be Rymfire for special needs and Bunnell for the general population. Mask-wearing would be mandatory in the shelters, Lord said. Those who are known to be covid-positive would use a separate entrance and be taken to separate areas. Because of social distancing rules, the shelters' capacities have been lowered by a third to a half of their usual capacities. Once a shelter reaches 80 percent of that diminished capacity, then the county would open an additional shelter. If Bunnell were to fill up, for example, the shelter at Buddy Taylor-Wadsworth would open up.
"Right now there is no need for evacuations," Lord said. "That could potentially change with every single forecast update." He added: "What happens over the next day or so is key, there's still models showing it could be highly impacted by land and dissipating."



There is considerable disagreement between models. The European forecasting model, for example–a consistently more accurate model than its American counterpart–still has the storm veering crossing the southern tip of Florida, veering slightly west then back east across the peninsula in the area of the I-4 corridor. Either models at the moment would mean significant rain for Flagler County toward the end of the weekend and the beginning of next week, assuming Isaias doesn't lose force over the Dominican Republic as it crosses it today and tonight.
"There is good agreement that Isaias will move across Hispaniola later today, and its low-level center will likely become disorganized over the high terrain," the National Hurricane Center predicts. "However, the strong burst of convection currently near Puerto Rico is associated with a mid-level circulation, which should pass along the north coast of Hispaniola later today. Most of the model guidance suggest that this feature will cause the re-development of a surface center over the northern part of the broader system while the mid-level circulation moves close to the southeastern Bahamas. Afterward, the cyclone would then move northwestward until the weekend, and gradually turn northward and northeastward close to the U.S. East Coast into early next week ahead of a mid-latitude trough."
The center cautions that some models show "hurricane strength near the U.S. but, given the large amount of uncertainty, it is preferred to stay on the conservative side for now," with more clarity expected later Thursday, after the storm crosses the Dominican Republic.
As of 8 o'clock Thursday morning, Isaias was 105 miles southeast of Santo Domingo in the Dominican Republic, with winds of 60 mph.
"We want people to be aware, be watching it, be prepared and think about where you may go if you were told to evacuate," Lord said. For those in areas not impacted by potential evacuations, the word is to just stay home. For those in evacuation zones, don't take chances. "If you're in an evacuation zone we don't want people to make the wrong decision."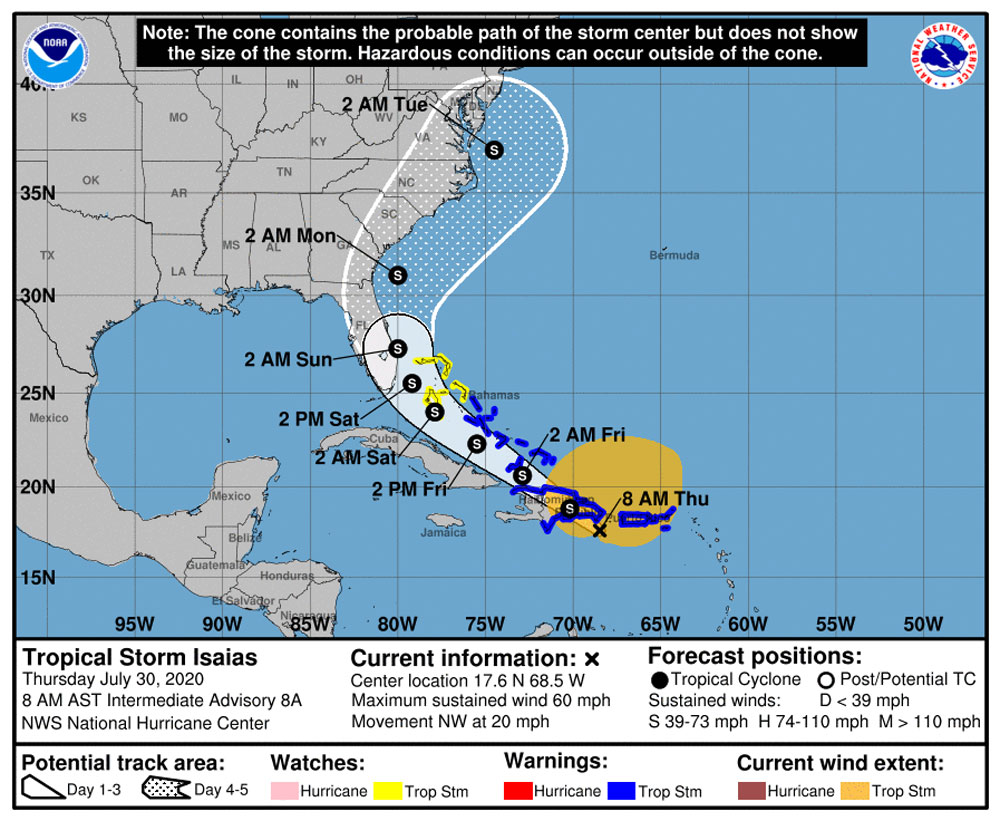 Reader Interactions