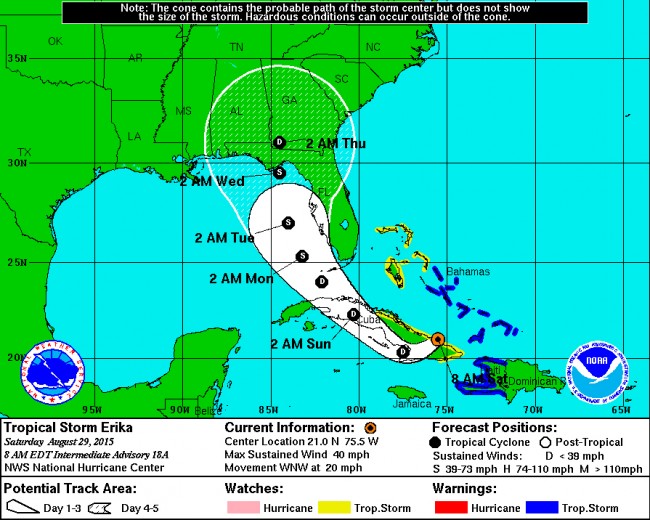 Last Updated: 9:45 a.m. Saturday
Saturday, 9:45 a.m.Tropical Storm Erika is no longer a threat to most of Florida, and certainly not to Flagler County, except as a distant generator of rain bands. The storm's path has continued moving westward, pushing its cone of probability clear of most of the Florida peninsula and placing the storm's survival past its Cuban sojourn in doubt.
Saturday morning Erika had been downgraded to a tropical depression, with maximum winds of 35 mph as it moved at 22 mph across wide swath of Cuba, where it was expected to further weaken.
The storm is now a serious rain event only in the Caribbean, with its remnants expected to produce total rainfall accumulations of 3 to 6 inches, with maximum amounts of 10 inches possible across portions of the Dominican Republic, Haiti and eastern and central Cuba through Sunday. Rain could cause life-threatening flash floods and mud slides. Rainfall amounts of 3 to 5 inches, with locally heavier amounts, are possible across southern and central Florida beginning on Sunday.
As of this morning, however, a state of emergency remained in effect in Flagler County even as the Emergency Operations Center had returned to normal procedures and city and county officials had ceased all sand bag distributions.
"We did leave the declaration in place in anticipation of potential localized flooding in the early part of next week," Kevin Guthrie, Flagler's emergency services director, said at mid-morning Saturday. The county had been expecting up to 14 inches of rain. That's been downgraded to about half that, if Erika maintains its current course. If the storm continues to shift west, as it steadily has, Guthrie said, then the emergency declaration will be rescinded. Otherwise, it would be in place until next Friday.
The declaration has no effect on the public. It's an administrative measure that enables local governments more easily to recoup emergency expenses should they go beyond a certain threshold. Flagler is nowhere near that at the moment.

Sputtering Erika Slouches Toward Depression as It Veers Further Away from Flagler and Florida
Friday, 10:03 p.m.–Erika the tropical storm–and feared hurricane–proved less able than her namesake Erika Slezak: she barely had one life to live, and that life appears to be nearing its end stages.
Friday night, after 24 hours of putting much of Florida through various stages of anxiety, the storm was proving to be a better excuse for an exercise than an actual, damaging weather event (and as such, authorities in Flagler will likely consider the exercise a relative success). At 8 p.m. Friday the storm making its way out of Haiti more destitute than it had entered it, and was struggling to keep the name of a worthy tropical storm as it neared the Cuban coast more as a tropical depression than as a serious storm.
Forecasters were still giving it a few more days of activity, but its path was taking it west of South Florida, across a few Keys and up toward Tampa Bay by Monday afternoon, where it could make landfall and rapidly become a tropical depression again–that is, a weather event more notable for its heavy rains than its damaging winds. The westerly arc had become so pronounced that, if sustained, it would send the storm's activity almost clear of Flagler County, which would be reduced to expecting some significant rainfall but not much else by way of sustained, severe weather.
The cautionary state of emergency Flagler County declared earlier today may prove to be just that: a caution that, like Erika, may not survive its full seven-day lifespan.
At 8 p.m., Erika was 25 miles past Port Au Prince, the Haitian capital, packing 45 mph winds and moving at a slightly faster clip than it had previously–21 mph–though it was expected to slow as it moves out of the island–if it moves out intact. That's now in doubt. "Erika is forecast to weaken to a tropical depression on Saturday," the National Weather Service reports, "but there is a good possibility that Erika could even degenerate into a trough of low pressure while it is moving over the high terrain of Hispaniola and eastern Cuba."
What is certain is that Florida's nearly 10-year streak of going hurricane-free will continue. But hurricane season does not end until Nov. 1. And as always with dangerous weather, cautions about dramatic changes remain part of every advisory.

Weaker Erika Arcs West as Flagler Joins Statewide State of Emergency; 5-7 Inches of Rain Predicted for Flagler
Friday, 3:10 p.m.–Flagler County declared a state of local emergency effective at 9:30 a.m., the county administration announced in a news release issued more than four hours later, at 2 p.m. The declaration was part of a statewide declaration announced by Gov. Rick Scott earlier today.
This even though the storm is weakening, with possibilities that it may not survive the Caribbean islands. "The storm is very disorganized," Bob Pickering, Flagler County Emergency's weather technician, said in a 3 p.m. news conference Friday.
Locally it will be mainly a rain event, with some wind, but not as much as expected Thursday. Rain would be sustained, with much of the week next week seeing persistent rain–itself a potential problem, if flooding develops. The worst weather would occur on Monday, Tuesday and Wednesday, with the percentage of tropical-storm winds at 25 percent.
Some 5 to 7 inches of rain are now in the forecast for Flagler.
Kevin Guthrie, the director of Flagler County Emergency, noted the transformation of Erika from a projected Category 1 hurricane to a tropical storm that may "die out" over the island of Hispaniola. "We are not going to stand down our posture," however, Guthrie said, until stronger indications from the National Weather Service allow the stand-down.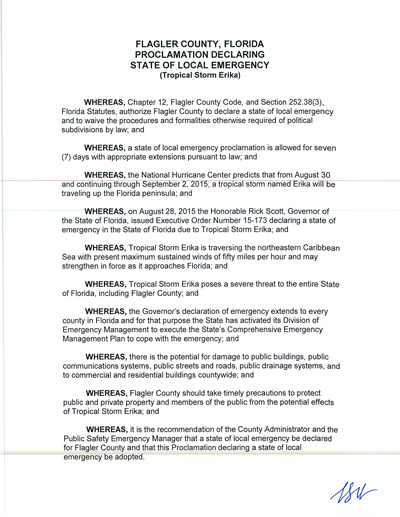 So at 8 this morning the Emergency Operations Center went to a Level 2 state of emergency, which means that the EOC is staffed with a command-level staff from fire rescue and some law enforcement commanders. Planning, logistics, finance, supply and a safety officer are also involved. "Those are the folks we have in place right now as part of what's referred to as Level 2 emergency staffing," Guthrie said.
At 9 a.m. EOC held a countywide conference call, roughly about the time when Scott declared the statewide state of emergency. That was done locally as well because the county was starting to incur some expenses. (County Commissioner Charlie Ericksen signed the state of emergency.) Those expenses must be tallied and may be key in ensuring some reimbursements if the expenses end up crossing a certain threshold. But that threshold is in the six figures.
"We have not jumped the gun, we may have some people out there thinking we jumped the gun, but we are in lock-step with the state," Guthrie said.
Guthrie said it is unlikely that the county will decide whether there will be any school cancellations until Sunday.
Meanwhile, the state of emergency will have no effect on residents. It affects government powers only–for example, giving Guthrie certain command and control responsibilities. It also allows the county to waive certain procurement policies. Typically, the state of emergency is in effect for seven days. But it can be rescinded at any point.
The declaration at this point applies only to Flagler County government. Palm Coast and Flagler Beach have not declared such an emergency. "I don't know if the city will make a decision today or will wait until tomorrow," Palm Coast spokesperson Cindi Lane said. The declaration has been drafted in case the city does go that route.
The county's Executive Policy Council, which gathers the top county and city officials in emergencies, is scheduled to meet at around 4:30 p.m.
"The county is ready to put our sand bags," Guthrie said. Palm Coast has five locations where sand is available. (Those will be posted here shortly.)
In Flagler Beach, firefighters will assist residents in providing bags and sand at the Flagler Beach Fire Station at 320 S. Flagler Avenue, anytime through 6 p.m. each of the next four days. Residents will be provided with the bags, assistance in filling the bags and loading them into your vehicle.
The locations for sand bags throughout the county are as listed below by municipality:
CITY OF BUNNELL
Sand and bags:
Old City Hall (the coquina building), 201 West Moody Blvd., Bunnell.
CITY OF FLAGLER BEACH
Sand and bags:
Fire Station 1, 304 South Central Ave., Flagler Beach, in the front parking lot.
FLAGLER COUNTY
Sand and bags:
Fire Station 41, 5593North Ocean Shore Blvd., Palm Coast.
Fire Station 71, 89 E County Road 2006, Bunnell.
Emergency Operations Center, 1769 East Moody Blvd., Building 3, Bunnell.
CITY OF PALM COAST
Sand only:
Palm Coast Public Works Yard, 1 Wellfield Grade, off U.S. 1just north of Palm Coast Parkway.
Indian Trails Sport Complex, 5455 Belle Terre Parkway, Palm Coast.
Palm Coast Community Center, 305 Palm Coast Parkway NE, at the corner of Palm Coast Parkway and Club House Drive.
The Intracoastal Park across from European Village Palm Harbor Drive, under the Hammock Dunes Bridge).
Sand bags only:
Palm Coast Community Center, 305 Palm Coast Parkway NE, from 8 a.m. to 5 p.m. Monday through Friday; 8:30 a.m. to 11 a.m. and 12:45 p.m. to 5 p.m. Saturday; and, 9 a.m. to noon Sunday.
Palm Coast Public Works Yard, 1 Wellfield Grade, off U.S. 1, bags will be made available daily.
Palm Coast city offices, 160 Cypress Point Parkway, Suite B-106, during regular business hours, 8 a.m. to 5 p.m. Monday through Friday.
Palm Coast Utility Department, 2 Utility Drive, Palm Coast during regular business hours, 8 a.m. to 5 p.m. Monday through Friday.

Erika Continues Westward Acr Over Florida as Weakened Tropical Storm, Sparing Flagler
Friday, 11:39 a.m.–Tropical Storm Erika is becoming less of a threat to Flagler County and more of a concern for South Florida as its projected path continues to arc westward, well away from the east coast of the state.
The National Hurricane Center's latest forecast, released at 11 a.m., now has the storm crossing the heart of the Dominican Republic and Haiti before skimming past the northern coast of Cuba and crossing the strait toward south Florida, where it would make landfall at 8 a.m. Monday, somewhere between Naples and Marco Island. The storm would then move north through the center of the state, in weaker conditions, before arcing back a bit toward the east as it crosses into Georgia.
That may still mean a lot of rain and wind for Flagler, but if the forecast holds, conditions now appear much less dire than they did less than 24 hours ago. Conversely, because unpredictability is in the nature of such storms and their forecasting, the path could still change, as could the levels of severity. But it is unlikely at this point that Erika will turn into a hurricane.
Reports from an Air Force Reserve Hurricane Hunter aircraft indicate that maximum sustained winds are near 50 mph (85 km/h) with higher
gusts, NOAA reports. Some weakening is forecast this afternoon and tonight as Erika moves over land, followed by little change in strength through Saturday night. Tropical storm force winds extend outward up to 150 miles (240 km) to the east of the center. Punta Cana at the eastern end of the Dominican Republic recently reported a wind gust of 40 mph (64 km/h).

Friday, 8:15 a.m.–The latest track of Tropical Storm Erika brings more reassuring than bad news. While the storm has again shifted considerably west and is now projected to make landfall in south Florida and make its way north through the center of the state, it is no longer expected to develop into a hurricane.
On Thursday evening, projections had seen the storm become a hurricane after leaving the Bahamas, and remaining so as it sheared up the eastern coast of the state, leading Flagler County officials to consider summoning an emergency meeting of local city and county leaders this morning to discuss measures such as school closures and, in the extreme, evacuations. Today's forecast reduces pressure to make such decisions. The meeting of that council, known as the Executive Policy Group, is not taking place this morning.
But the storm, if it continues on its current path–and it remains a big if: projections three and four days out are notoriously unstable–will still cause heavy rain, flooding and wind. The rain would come on the heels of a couple of weeks of steady showers, so it won't take long for the ground to saturate and water levels to rise.
Understanding that all projections are subject to dramatic variations, it is also possible that Erika, as it goes through the Dominican Republic, does not survive as a storm.
Erika on Friday morning was just beginning to strike the Dominican Republic, its maximum sustained winds at 50 mph and moving west-northwest at 17 mph. Some weakening is forecast today as Erika moves over land, the National Hurricane Center predicts, followed by little change in strength through Saturday. Tropical storm force winds extend outward up to 150 miles (240 km) to the north and east of the center.
Kevin Guthrie, Flagler County's director of emergency management, is scheduled to discuss the storm on WNZF's Free For All radio show with David Ayres Friday morning at 9 a.m.
Previous stories and tracking maps are below.

Tropical Storm Erika Shows Signs of Muddle, But Flagler Officials Aren't Taking Chances
Thursday, 3:50 p.m.–Tropical Storm Erika weakened today and shows signs of disorganization and a possibility that it may not withstand the landmasses of the Leeward Islands as an organized storm. At 2 p.m., it had weakened back top 45 mph as it moved toward the Virgin Islands.
Nevertheless, its five-day track still has it moving over the Antilles. Then, if it survives the Bahamas, the forecast sees it strengthening into a hurricane over open water as it approaches the Florida land mass. This afternoon's forecast shows Erika's eye closer to the Florida coast than it was in this morning's forecast, but only by a few dozen miles. For now, the forecast still has the storm remaining offshore, but not so far as to prevent serious consequences for the coast.
"This is going to be a wind event even if it stays 50 miles offshore," Kevin Guthrie, director of Flagler County's emergency services, said in a 3 p.m. conference call. But, he added, "We are not calling for evacuations, we're not calling for anything major to happen." He noted that "This is not a major hurricane, it's not going to make direct landfall."
Sill, local officials are not taking chances. City and county governments are taking inventory of their emergency equipment. Based on this evening's and tomorrow morning's forecasts, Guthrie may call a meeting of the Executive Policy Group, the de-facto local government that would have heightened authority to make certain decisions in case of an emergency, such as declaring a state of emergency. The policy group includes the county's city managers, the county administrator, the sheriff, the school superintendent, the mayors of Beverly Beach and Marineland, and Guthrie. The policy group also decides whether and when to open shelters and call for evacuations. (For details about the Executive Policy Group, see the story: "In Flagler Emergencies, These Are The People Who Hold Your Fate In Their Hands.")
None of that is in the forecast for Flagler, however. "We don't open shelters too soon but we don't want to open shelters too late, it's a very delicate balance," Guthrie said. But because of the projected path of the storm, up the eastern coast of Florida, it may trigger evacuations further south, which would, in turn influence the timing and nature of decisions in Flagler.
"We're not going to wait until Saturday to pull the trigger," Guthrie said.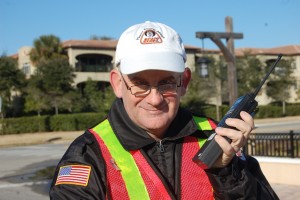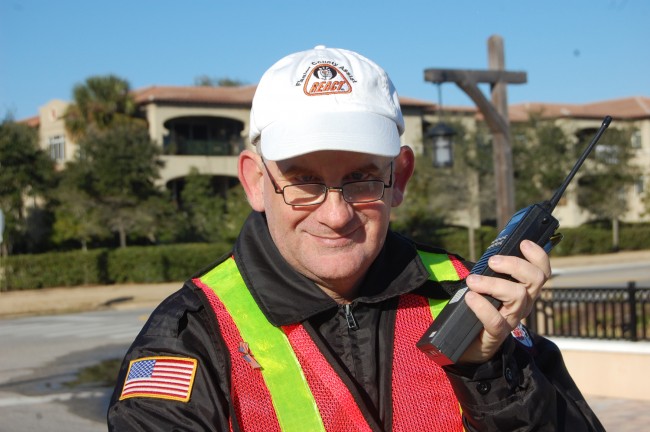 For now, Bob Pickering, the weather technician at emergency management, the storm is 1,400 miles away from Flagler, with the chance of it causing tropical-storm force winds in Flagler at the beginning of next week placed at 25 percent, and the chance of triggering winds of 58 mph or higher at 5 percent. Pickering stressed that all the forecasts could still change "dramatically."
So for all the preparations–and the strong advice to residents and businesses to be prepared and have storm kits updated–the county is in a monitoring mode for now. That gives residents a chance to stock up on the sort of supplies that become useful in case power outages hit the area, as they are very likely to do in a wind event. Guthrie suggests people stock up on the sort of food that doesn't need electricity for preparation, for example.
Emergency management plans to conduct 3 p.m. calls as long as Erika remains a threat. The National Hurricane Center releases its next forecast at 5 p.m. today.
Previous stories are below.

Still Turning Into Hurricane, Tropical Storm Erika Now Seen Edging East of Florida Coast
Thursday, 8:05 a.m.—The National Hurricane Center's latest five-day tracks for Tropical Storm Erika–released at 5 and 8 a.m. Thursday–show the storm still developing into a hurricane by Monday, but edging east of the Florida coast by a wide enough margin that landfall anywhere in Florida now appears less likely. That's a significant change from previous tracks, which had projections of the storm first striking south Florida, then shifting north toward the Central Florida coast. Fortunately for Flagler County and surrounding areas, the storm is continuing its slow shift east.
The hurricane center's 8 a.m. advisory was calling Erika "poorly organized."
All of that could still change, of course: path predictions beyond two days are subject to wide variations. The cone of probability still includes the entire Florida peninsula in the storm's path. And sudden moves in any direction by temperamental storms are possible. Nevertheless, the trend, for now, looks more favorable for Flagler and Florida, though the storm would still be churning up the coastline and dumping heavy rain on the area.
Conversely, as the storm is projected to convert into a hurricane after battering the Bahamas, it is now projected to remain over open water, where it generally gains strength as it moves. The storm is moving slowly. The strength it may gain would be that much greater as it moves north. If that persists, and the storm does not move further east, it would then make landfall in Georgia or the Carolinas, as a hurricane, where damage would be considerable.
As of 5 a.m. today (Thursday, Aug. 27), the storm was just striking the Leeward islands after gaining a little strength, to winds of a maximum of 50 mph (up from 45 mph yesterday) and moving at 16 mph in a westward direction.
A turn toward the west-northwest is forecast later today, the National Hurricane Center's latest advisory reports. This general motion should continue for the next 48 hours. On the forecast track, the center of Erika will move near or over portions of the Leeward
Islands this morning, move near the Virgin Islands later today, move near or north of Puerto Rico tonight, and pass north of the
north coast of the Dominican Republic on Friday.
Little change in strength is forecast during the next 48 hours. Tropical storm force winds extend outward up to 105 miles, or 165 km, mainly to the north and east of the center.
Previous stories and tracking maps are below.

Tropical Storm Erika May Develop Into Hurricane As It Approaches Central Florida
Wednesday, 6 p.m.The National Hurricane Center's latest projection about Tropical Storm Erika sees the storm developing into a hurricane after gaining strength Sunday over the Bahamas, and before it approaches the Florida coast Monday afternoon, south of Cape Canaveral.
The latest projections were released at 5 p.m. this afternoon, but projections three, four and five days out are subject to wide variations and path changes. The cone of probability for now has the Florida coast at its center and northeast sections in the middle of the cone of probabilities. But the previous advisory had the storm striking south Florida as a hurricane. The shift north was significant, and could continue.
Erika Wednesday afternoon was just east of the Leeward Islands, with maximum sustained winds of 45 mph, placing the Dominican Republic and the Bahamas under tropical storm watches.
If the storm makes landfall as a hurricane, it would be the first hurricane to strike the Florida land mass since Hurricane Wilma struck Cape Romano in October 2005. But numerous less severe tropical storms have hit the state since.
The quietude of the past decade has lulled Floridians into a false sense of security, but conversely heightened anxiety with the approach of storms that may or may not develop into hurricanes threatening the area. For now, no warnings or watches have been issued anywhere in Florida. Because of the heightening awareness of the storm, Flagler County Emergency Management officials have been fielding calls about Erika, and will open a call-in center  to answer questions about basic preparedness as the storm continues westward with the potential to make landfall in the state.
"The phone has been ringing off the hook," said Kevin Guthrie, Flagler County's Public Safety Emergency Manager. His office has called in volunteers to field questions.  "People have been calling with the whole gamut of questions from what should I have in my disaster kit, to what can I bring to a shelter and where can I bring my pets," Guthrie said.
The call-in center will be accessible from 9 a.m. to 5 p.m. Thursday and Friday. You may call 386-586-5111. Up-to-date information is also available at FlaglerLive and at Emergency Management. 
"The National Hurricane Center is only monitoring the storm right now," Guthrie said. "No warnings or protective actions have been issued." Guthrie has been involved in conference calls with Florida Department of Emergency Management since Erika became a named storm. Conference calls locally with senior and elected officials started Wednesday afternoon.
The Disaster Preparedness Guide – created through a cooperative effort of Flagler County Emergency Services, Palm Coast and Flagler Beach – is available at all fire stations throughout Flagler County and online at www.flagleremergency.com. It contains information about how to create a disaster plan, how to create a disaster supply kit and how to sign up for CodeRED weather warnings – a free service available to all Flagler County residents and local businesses.
Sign up for the service by visiting www.flagleremergency.com and clicking on the CodeRED icon. Those without Internet access can call 386/313-4200, Palm Coast customer service at 386/986-2360, or Flagler Beach Customer Service at 386/517-2000, ext. 243.