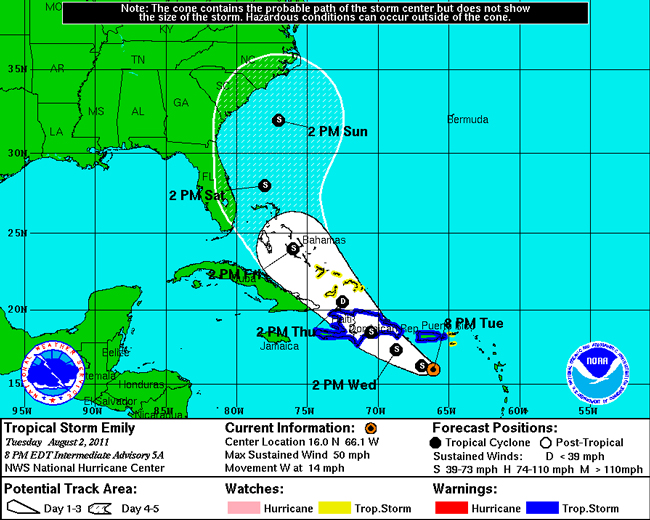 A tropical storm is defined as having winds between 39 and 73 miles per hour. Emily is not expected to turn into a hurricane, nor is it expected to strike the eastern coast of Florida, at least not directly, as it whirls north quite a distance from the coast this weekend.
For now, the National Weather Service is not predicting unusual weather for Flagler County, even when the storm will be closest to the state. The forecast is the same from Thursday on, with temperatures in the upper 80s to low 90s (95 on Thursday) and rain chances ranging from 30 to 50 percent, and winds barely breaking double digits. That's not quite tropical storm weather.
But the National Hurricane Center said "there is considerable uncertainty as to where Emily will be and how strong it will be in 3 to 5 days."
Early Tuesday the storm was 245 miles southeast of San Juan, Puerto Rico, with winds of 40 mph, moving west at 16 mph. By 8 p.m. Tuesday, the storm had maximum winds of 50 miles per hour and was moving west at 14 miles per hour.
You can keep up with the storm in great detail at NOAA's hurricane center.