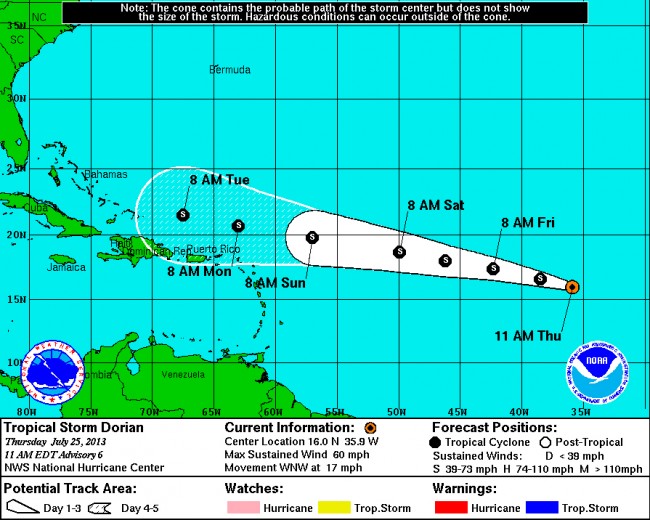 It's still a very long way off: Thursday morning Tropical Storm Dorian was closer to its nursery grounds in Africa than to either North or South America, but it was making a beeline west for the northern part of the Antilles, which it is forecast to reach by early next week. The National Hurricane Center's predictions don't go past Tuesday, because the probabilities that the storm's track will change between now and then grow exponentially.
Puerto Rico, Haiti and the Dominican Republic are still drying up from Tropical Storm Chantal, which dumped many inches of rain on the islands before dissipating around July 11, somewhere between Jamaica and Haiti. For now, Dorian looks to drop rain on those same islands, but appears headed for a more northwesterly route, toward the Bahamas. If it is to reach any portion of Florida, that would not likely happen until a week from now, if then.
At 11 a.m. Thursday the storm was packing sustained winds of 60 mph and moving west-northwest at 17 mph, with tropical-force winds extending 60 miles from the center. The storm was located near latitude 16.0 north and longitude 35.9 west, with Dakar in Senegal its nearest neighbor, from which it was moving away. See the map below.
The hurricane center sees the storm weakening tomorrow to around 50 mph, then strengthening to 70 mph in the two successive days. It is moving toward warmer waters, which are fuel to storms' intensity. Whether it becomes a hurricane is still quite uncertain. Forecaster at the Weather Channel are seeing the odds against it becoming a strong hurricane at this point, but also note that "It is far too soon to either rule out or speculate about a U.S. threat."
In Flagler County, grounds are considerably more moist than they were a year ago at this time, with the drought index a relatively wet 139, on a scale of 800, with 800 being bone dry and zero being the saturation point.

Trpoical Storm Dorian's location as of 11 a.m. Thursday, July 25:
View Larger Map