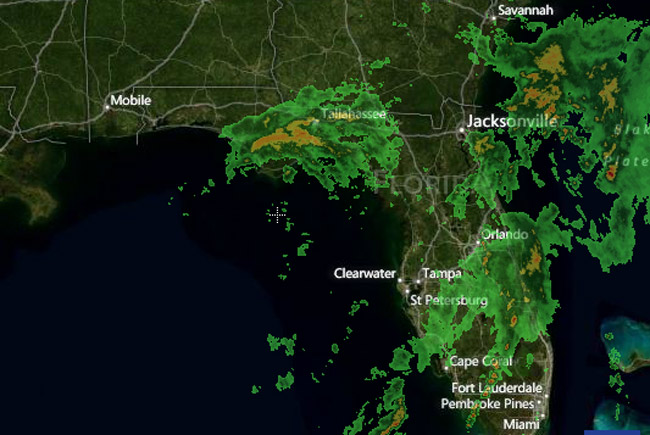 Tropical Storm Debbie has been slowly churning across the Florida Peninsula since the weekend, and isn't done yet, with areas of Northern Florida expected to get 10 to 15 inches of rain, and some perhaps getting as much as 25 inches.
In Flagler County, the weather system had dumped from 3.5 inches to 4.25 inches of rain, depending on the region. The county's Emergency Operations Center released the following precipitation figures, gathered by EOC's Bob Pickering:
East Bunnell-Flagler County EOC: 3.51"
Northeast Palm Coast (Skywarn): 3.08"
Northwest Palm Coast (Skywarn): 2.48"
East Palm Coast (Skywarn): 3.53"
Bunnell: 4.25"
Daytona North: 3.50"
The storm's damage has been limited in the county, other than a couple of downed power lines (on South Central Avenue in Flagler Beach, on Ramblewood Drive in Palm Coast). Maximum winds of 44 mph were recorded just before midnight Sunday in Flagler Beach, and again at 9 a.m. this morning, also in Flagler Beach, when winds reached 40 mph.
A tornado watch is in effect for northeast Florida, until 2 p.m. Monday. In Flagler, the sun might peek out from time to time around noon and through 2 p.m., but thunderstorms, wind and heavier rain may return for a few hours from mid-afternoon until early evening, with rain showers expected through the night and continuing on Tuesday.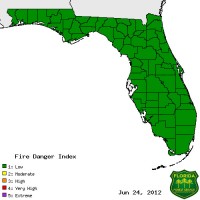 The heavy rains have had major benefits for Florida, which had been in an extended drought. The state was also facing a recurrence of last year's busy wildfire season. But Tropical Storm Beryl around Memorial Day and now Tropical Storm Debbie have resulted in a rarity for a Florida fire map this time of year: an all-green map, meaning that the fire danger in every one of Florida's county is low.
As of June 24, the fire danger in Flagler County was a wet and low 89 on the 800-scale drought index. (800 being the driest, and zero meaning that the ground is saturated.)
Other parts of Florida have had to contend with more severe damages from the storm, however, including tornadoes in Highlands County, one of which killed a woman, and the evacuation of about a quarter of of all oil and gas rigs in the Gulf of Mexico near Tampa-St. Petersburg.