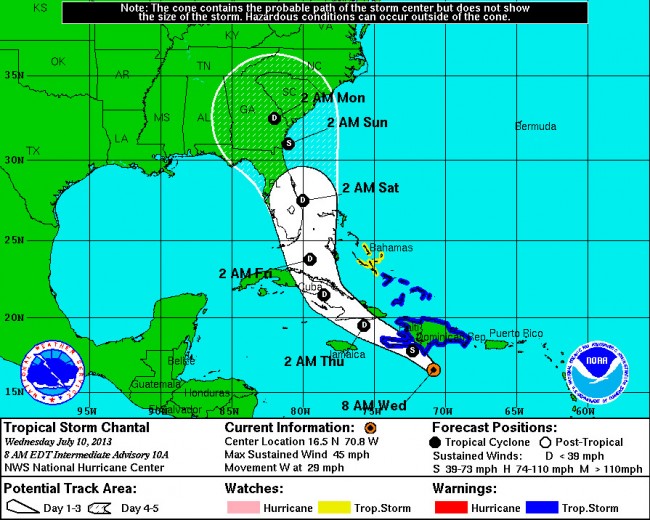 Last Updated: July 10, 8:20 a.m.
Note: Chantal dissipated in the Caribbean between June 11 and 12.
Tropical Storm Chantal's path is edging closer to Florida's east coast, which it would skirt on Saturday, but the National Hurricane Center is downgrading the storm to a tropical depression when it reaches the Florida Peninsula.
That means the storm would have sustained winds of less than 39 miles per hour, reducing it mostly to a rain event. The National Weather Service is forecasting merely scattered thunderstorms and a 60 percent chance of rain for the Flagler region Saturday.
The storm's path has changed since Tuesday, when it was expected to cross over a majority of the Dominican Republic and Haiti. This morning, the Hurricane Center has the storm 155 miles south of the Dominican Republic's Santo Domingo, heading for Cuba, where, crossing over much land Thursday into Friday, it will lose strength.
Wednesday morning, the storm was moving at 29 mph in a westerly direction, and packing maximum sustained winds of 45 mph, considerably less than Tuesday's 65 mph.

Previously:
Tropical Storm Chantal: More Soggy Than Worrisome Weekend Likely for Flagler
July 9–Tropical Storm Chantal is on track to skirt the east coast of the Florida Peninsula this weekend, passing offshore of Flagler County, but the National Hurricane Center's forecast so far raises few alarms about the storm's severity: if it maintains its current track–a big if–it is likely to do no more than drench the area with rain and kick up some winds. The storm is not expected to upgrade to a hurricane at any point, even though hurricane watches have been triggered in some regions.
Tuesday evening, Tropical Storm Chantal was about 220 miles south-southeast of San Juan, the Puerto Rican capital, moving west-northwest at the considerable speed of 26 mph. It's not a weak storm: current sustained winds are at 65 mph, not far below the level of a Category 1 hurricane. But Chantal is expected to slow down in the next 24 hours, and shift northeast, causing it to cross the Dominican Republic and Haiti–enough land to lessen the storm's energy considerably before it returns above water and passes over Guantanamo Bay in Cuba late Wednesday.
Chantal is then expected to move over the Bahamas on Thursday before heading for the waters to the east of South Florida by midday Friday, reaching the waters off Flagler by evening Saturday. All of that, of course, can change: the forecast's accuracy drops with distance in days and geography from the starting point.
The islands in the way of the storm will all experience tropical storm winds and storm surges ranging from 1 to 4 feet. Puerto Rico is bracing for up to 6 inches of rain. The U.S. Virgin Islands and portions of the Dominican Republic and Haiti could get up to 8 inches of rain. The storm is too far out to predict rainfalls for Central Florida, but a soggy weekend is likely.
As of Tuesday evening, Flagler County's tropical weather threat was rated low by Flagler County Emergency.

Tropical Storm Chantal as of Tuesday, July 10, 8 p.m.: