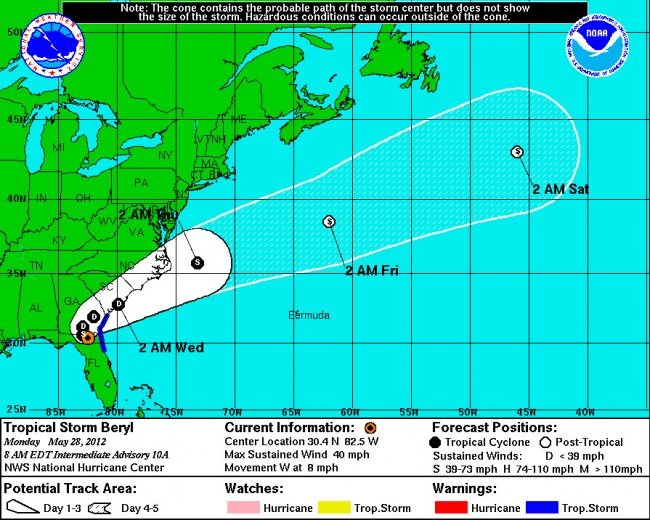 Last Updated: Monday, 9:24 a.m.
Monday morning update: After Tropical Strom Beryl made landfall near Jacksonville Beach just after midnight, with wind gusts of up to 60 mph, the storm moved inland, slowly, weakening as it made its way to the Florida-Georgia border, and dumping most of its rain there.
Rainfall in Flagler County proved less intense, with periods of calm alternating with downpours. The rain forecast for the county has been revised, with expectations of mostly cloudy skies the rest of the day and very low likelihood of rain. Winds will range between 15 and 20 mph, from the south. Thundershowers may return in late afternoon and evening.
But as far as Flagler County is concerned, this weather event is over.

Sunday evening, 8:08 p.m.: At 8 this evening the National Hurricane Center released its latest analyses and imagery of Tropical Storm Beryl and found it to have become a better organized storm, with higher winds than predicted earlier in the day.
As of 8 p.m., Beryl was 77 miles east northeast of Palm Coast, moving west at slightly more than 10 mph. Beryl this evening is just below hurricane strength, with maximum sustained winds of 70 mph, but higher gusts. Any additional change in strength would make Beryl a Category 1 hurricane. That change is not expected before landfall, according to the hurricane center.
The highest winds on land so far have been reported at Jacksonville Beach's pier, with winds of 50 mph and gusts of up to 58 mph.

Sunday evening, 7:49 p.m. update: Some of tropical storm Beryl's heaviest rain bands began making landfall in Flagler County and Palm Coast at about 7:30 Saturday evening, with more of the same predicted for the next several hours as the storm's outer bands swirl over this portion of Northeast Florida.
The National Weather Service has a tropical storm warning in effect for Flagler County, along with other counties along the coast north to Georgia, and some inland counties.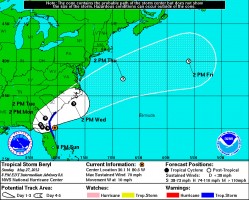 The probability of tropical storm conditions has been elevated to 99 percent. Sustained tropical storm force winds are expected to begin this evening, with maximum winds in the 35 to 50 mph range with gusts to hurricane force possible, but mainly along the coast.
Minor damage may occur to older mobile homes. Residents should move loose items such as garbage, recycling cans and patio furniture indoors. Newly planted or young trees and shrubs may be uprooted if not secured properly. Scattered power outages will be possible. If you still have access to the internet, you can report power outages at Florida Power and Light here, as well as check on the status of your power outage.
As of 7:45 p.m., there were no outages in Flagler County. There were a few in St. Augustine and in Ormond Beach.
Storm surge and storm tide: As Beryl approaches the coast, there is an increasing chance for combined storm surge and astronomical tide waters up to 4 feet above mean sea level within the surge zone, but those high tides won;t affect Palm Coast or Flagler Beach. The zone stretches from Saint Augustine northward to Brunswick. Higher levels will be experience in the estuary system in these areas as well. Palm Coast canals and Flagler Beach and other areas along the Flagler coastline may experience a surge of 1 to 3 feet above mean level.
The locations most likely to realize the greatest coastal flooding will be along the beaches and Intracoastal waterways as well as estuaries and inlets. Elevated water levels will start tonight and continue Monday.
Moderate to major beach erosion will occur. That erosion may become substantial if tropical conditions extend through multiple high tides. Several roads in flood-prone areas may be closed due to flooding. That includes stretches of State Road A1A that typically flood during heavy rain events. Strong rip currents and elevated surf condition will continue tonight through Monday.
There is a potential for locally heavy rainfall on the order of 4 to 8 inches, possibly higher in some locations as rain bands continue to move inland tonight. Periods of heavy rainfall are expected to continue through Tuesday as the storm slows down once it makes landfall and stalls over Northeast Florida. A flood watch has been issued for the entire forecast area, including Flagler County.
See the latest forecast for the latest information. Listen for possible flood warnings for your location and be ready to act if flooding rains occur.

Earlier today: Be cautious, but Beryl is no bear, and it may prove to have more benefits than drawbacks despite dampening Memorial Day plans and grills, at least for Flagler County. Beryl is expected to make landfall late tonight around the Florida-Georgia border. It'll then stall over northeast Florida for quite a while, make a hairpin turn and crawl northeast on Tuesday and Wednesday.
The biggest danger is for beachgoers, who should beware of severe rip currents.
At 8 this morning, subtropical storm Beryl was 192 miles (310 km) east of Palm Coast, and 165 miles east of Jacksonville, moving west-northwest at 10 miles per hour, with maximum sustained winds of 50 mph. A tropical storm warning is in effect for the entire northeast Florida coastal region and quite a distance north, from the Volusia-Brevard county line to just north of Hilton Head in South Carolina.
By 10 a.m. in Palm Coast, blue skies were replaced with the disheveled, dirty-gray outliers of Beryl's cloud bands in advance of the day's earliest thunderstorms, which should not begin in earnest until after 3 p.m., though a scattered few might drop some rain any time from here on. (Some areas of Palm Coast were getting their first rain from beryl around 11 a.m.)
Here's what you can expect in the hours ahead:
It should be mostly dry, hot but with surprisingly low humidity until about 3 p.m, with winds from the north no stronger than 10 mph. Thunderstorm activity will begin to pick up about then, but not too seriously, at least not until well after sunset: playing the odds, you could likely get in a grill in late afternoon to early evening. Thundershowers and rain begin more steadily after 7 p.m., when the likelihood of precipitation will rise to 50 percent, then much higher as the night wears on.
Based on current storm tracks, the storm's strongest activity over Flagler County will occur after midnight. But because the storm is slow-moving, the rain and thunder may persist and drench the area for about 24 hours after that, possibly longer. By then Beryl will have dropped to a tropical depression. Winds will begin to pick up in the earliest hours of Monday and will keep blowing in the 20 to 25 mph range until early afternoon. Rain isn't expected to taper off entirely until mid-morning Tuesday, at least according to current forecasts.
Rainfall could add up to 3 to 6 inches. That's the good news: Northeast Florida is in drought conditions. A burn ban is in effect in Flagler County because of the dry soil–a soil much drier than last year. Slow-moving tropical storms usually make firefighters smile: the storms are not going to cause hurricane like damage, but they are going to drop the kind of serious, steady rain that also lowers the drought index, which this morning stood at a rather elevated 565 in Flagler.
Rip Current warning: "The National Weather Service has advised that rip currents will become dangerous over the next few days due to increasing waves and winds along the coast associated with Beryl. Rip currents are responsible for more deaths along Florida beaches than all other incidents combined," Flagler County Emergency Services warns. "If going to the beach, do not enter the ocean during hazardous conditions. If caught in a rip current, signal for help then swim parallel to the beach to escape the current. Once free from the current, swim at an angle away from the current back to the beach. Remember: 'If in doubt, do not go out.'" For more tips on rip current safety click here.