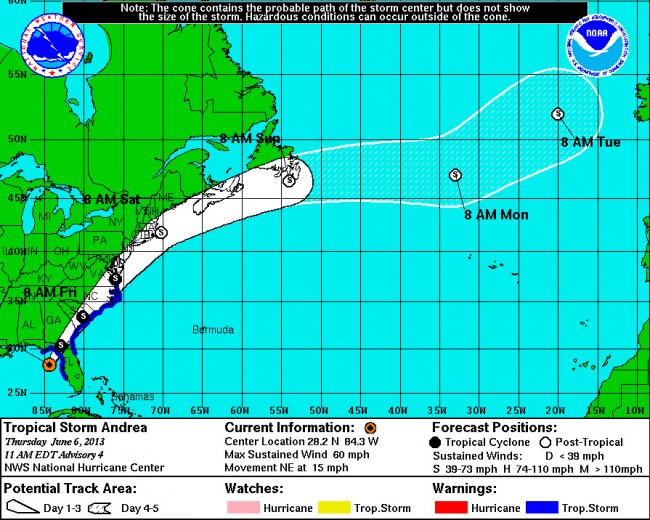 Last Updated: 3:32 p.m. Thursday
Tropical Storm Andrea is here to stay for a few hours. Meanwhile, Florida Gov. Rick Scott, who seldom misses an opportunity to attack the Obama administration, on Thursday named–and blamed–President Obama as the reason why a potential response to storm emergencies needing National Guard personnel would be delayed.
---
Gov. Scott's Storm Conference
"One thing I still remain very concerned about is President Obama's sequestration efforts," Scott said Thursday in comments made during a storm update from Tallahassee. "They are forcing our National Guard–50 percent of our full-time National Guard to be furloughed part of their time. On top of the fact it's going to impact their training. It's also going to have a dramatic impact on their readiness in case of a hurricane."
"Now today we've talked to FEMA, their liaison is here, we've talked to the National Guard, they're on standby. But as this goes along, they'll be less ready if we have a major storm," the governor said, without specifying. He also blamed the Pentagon for making the decision to cut National Guard members' pay as part of the furlough.
The agreement that led to sequestration passed with bipartisan support. Florida National Guard members face an 11-day furlough this year. That will not start before July, and would be spread over several months, resulting in few, if any, disruptions should National Guard members be required to respond to an emergency, though Scott said that "As this goes along, they'll be less ready if we have a major storm."
At 11 this morning, Andrea was about 110 miles west of Tampa in the Gulf of Mexico, churning at maximum sustained winds of 60 mph and moving northeast at a 15 ,ph pace, a considerably more brisk pace than last night, when it was crawling at 3 mph. The storm will continue to accelerate over the next 48 hours, which is good news for the region: the faster the storm moves, the lower the rain accumulations, though the storm is still expected to dump several inches locally.
For Flagler County, the tropical storm watch overnight has been upgraded to a tropical storm warning, which means that tropical storm conditions–higher winds, heavier rainfalls, possibilities of dangerous thunderstorms and isolated tornadoes–are expected within 36 hours. The tropical storm warning area extends from Flagler Beach to Cape Charles Light, Va.
At 12:35 p.m., the National Weather Service issued a tornado warning for east central Orange County, South-eastern Seminole and extreme southeastern Volusia County, in effect until 1:15 p.m. The warning was triggered by the detection of a severe storm moving at 35 mph through the area, with a high likelihood of spinning off tornadoes.
The Weather Service said Thursday that three tornadoes may have touched down in South Florida earlier in the day, with confirmed damage to houses in an isolated area of Palm Beach County. During his update, Scott said there has been eight reported tornadoes in the state.
From 6 p.m. Wednesday to roughly midday, into 2 p.m., Thursday, Flagler County Emergency Operations' Bob Pickering had picked up the following reports of rainfall: 1.19 inches in Bunnell, 0.57 inches in Flagler Beach and 0.79 inches in Palm Coast.
The heart of Tropical Storm Andrea is expected to make landfall later today, but its winds are not going to pick up much more than its current 60 mph, according to the National Hurricane Center. Still, tropical-storm force winds extend as far as 140 miles from the center of the storm, so Flagler County will be directly affected–if it's not being affected already: rains since early morning have been steady in many parts of the county, but with relatively light winds.
Rainfalls for the Florida peninsula will range between 3 and 6 inches.

It's Now Tropical Storm Andrea, On Track to Skirt Flagler and Drench It
June 5–The weather system formerly known as a weather system was upgraded to Tropical Storm Andrea late Wednesday afternoon, making it the first named storm of the season. Andrea is on course to slowly cross the state, from the northwest (south of the Panhandle) to the northeast, only skirting Flagler County.  But the storm's rain bands will affect the majority of the Florida Peninsula and soak Flagler.
Andrea is not a particularly violent storm, but its path over Florida will be slow moving, resulting in drenching, persistent rain Thursday into Friday.
In Flagler County, some rain will fall Wednesday night,   with most precipitation forecast for after 10 a.m. Thursday, and into the evening, with winds in the 12 to 15 miles per hour range. The National Weather Center currently sees 1 to 3 inches falling in Flagler's coastal areas, with 3 to 5 in ches inland, adding to May's healthy rainfall totals.
Palm Coast saw May totals add up to close to 10 inches (in central Palm Coast) to 15 inches in east Palm Coast, and 11 inches in Flagler Beach, according to Flagler County Fire Rescue's Bob Pickering. It was the second-wettest May in 18 years. Those totals enabled Flagler County to be drought-free for the first time in many years. The drought index has remained low, ensuring that the wildfire season has been a quiet one. The next 36 hours' rain could briefly saturate parts of the county, with possibilities of localized flooding. The National Weather Service is  warning that flooding is likely in the direct path of Tropical Storm Andrea.
At 8 p.m. Wednesday, Andrea had winds of 40 miles per hour and was about 300 miles southwest of Tampa, moving north at an anemic 3 miles per hour. A tropical storm warning was in effect for the west coast of Florida, from Boca Grande to Ochlocknee River, while a tropical storm watch was in effect from Flagler Beach north to Surf City, N.C. The storm is expected to reach Florida's Big Bend area late Thursday afternoon or in early evening.
The Miami-based National Hurricane Center warns that isolated tornadoes are possible in the state late tonight through Thursday.