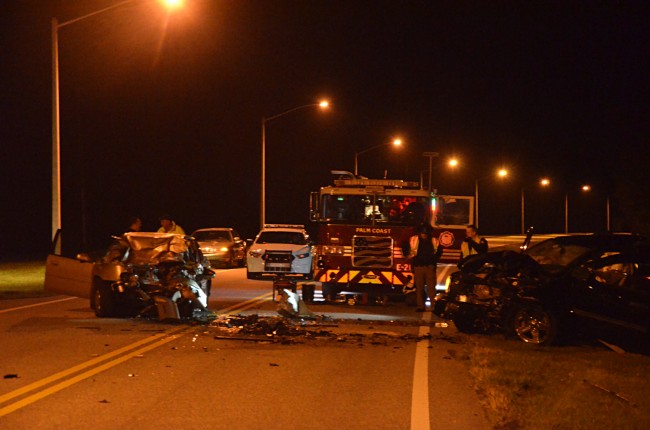 Note: Funeral services for Tricia James are scheduled for Friday, Dec. 6, at Newcomer Cremation and Funeral Service in Titusville (2400 South Washington Avenue). Visitation is at noon. The service is at 1 p.m.

Tricia A. James, 22, of Ormond Beach, was killed at 1 a.m. Thursday in a head-on collision in Palm Coast as she drove  on Pine Lakes Parkway. Her car collided with an SUV driven by James J. Rumph of Palm Coast. Rumph, 18, is recovering from serious injuries at Florida Hospital Flagler.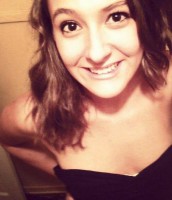 James was traveling south on Pine Lakes, at the wheel of a tan 2001 Chevrolet Malibu. Rumph was driving a 2007 Dodge Durango. Neither had any passengers. According to a Florida Highway Patrol investigator at the scene, James, who had reportedly been driving erratically, crossed the center line at the point of impact, into Rumph's lane.
The collision was devastating to both vehicles,  but the Durango weighs 5,000 pounds, the Mailibu just 3,000 pounds.  The Malibu's front was compacted into a coil of metals that pushed against the driver's side, where James was entrapped. The left-front of the Durango was severely damaged. The impact, which took place the length of two light poles south of Woodbury Drive, left the Durango in the middle of the road, while the Durango was shoved into grass on the  west shoulder, where the SUV ended up facing east, perpendicular to the road. James was pronounced dead at the scene by Flagler County Fire Rescue paramedics.
The road was dry and lit. The medical examiner was at the scene before 2 a.m., but as the investigation at the scene continued, the extraction of the victim did not start until 3 a.m. Because of the severity of the wreck, it was a laborious, careful process that was over at 3:30 a.m., on the coldest night this fall: it was 38 degrees by the time Palm Coast Fire Department rescuers completed their work.
Pine Lakes Parkway remained closed until past 4 a.m. in both directions, between Woodbury Drive and at Westhampton Drive. The Palm Coast Fire Police controlled traffic.
The Florida Highway Patrol reported that both drivers were wearing their seat belts (and both vehicles' air bags deployed). No alcohol was found in Rumph's system. Rumph, who suffered a broken ankle, had volunteered a blood sample at the scene.  A determination on alcohol regarding James is pending, according to the FHP. In August, James was arrested in Flagler County on a disorderly intoxication charge.