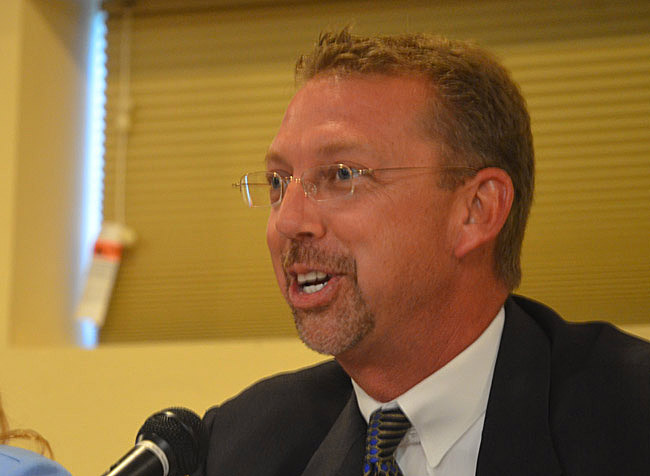 In a footnote to one of the most contentious local elections of 2012, Trey Corbett, a candidate for Flagler County Supervisor of Elections, was cleared of alleged ethics violations by the Florida Commission on Ethics, the commission announced earlier this week.
The issue stemmed from a complaint filed by Joan Affatado, an Ormond Beach resident and occasional gadfly in Flagler County politics, and an ally of Kimberle Weeks, the elections supervisor who eventually won reelection. Affatado alleged that Corbett had listed a home that no longer belonged to him on his financial disclosure form (which all candidates are required to file), and that Corbett had failed to disclose rent and medical bills as liabilities, and so had allegedly not accurately disclosed his net worth.
The allegations were sufficient to warrant an investigation, but Corbett gave investigators the same explanations he gave publicly during the campaign–that his ex-wife had been unable to re-finance the house he had co-owned with her, because the house was financially upside down (meaning the $320,000 owed on it was more than the $184,500 it was worth), and so she was unable to remove Corbett's name from the mortgage. The commission accepted the explanation, as it did Corbett's explanation of why there may have appeared to be discrepancies about the apartment where he'd lived after moving out, "to live in different locations, such as a friend's house, in which he paid little or no rent with no written lease or rent agreement," according to the commission's report of the investigation.
An advocate for the ethics commission submitted her findings and recommendation (against probable cause of any violations) to the commission on Dec. 21. The commission, meeting on Tallahassee on Jan. 25, ratified the findings, which were then announced publicly on Jan. 30. The commission at the same meeting ratified the settlement agreement with former Sheriff Don Fleming, who was found to have violated Florida's gift law by failing to disclose his gift membership to the Hammock Beach Resort. But those details had been previously and extensively reported. Fleming was fined $500 and required to reimburse the club $3,800.
Corbett, who'd won a four-way Republican primary, weathered various issues and questions during his campaign against Weeks, with Weeks frequently alluding to those issues. Weeks won re-election with 59 percent of the vote.