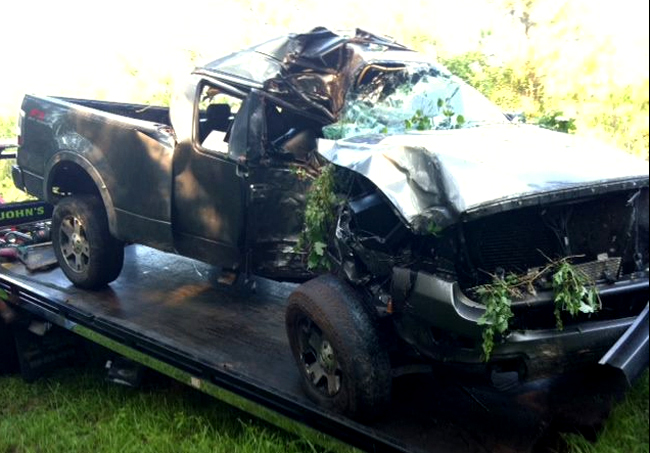 For the third day in a row, Flagler County was the scene of a calamity as a young man at the wheel of a pick-up truck lost control early Sunday morning and smashed into a tree on State Road 11, south of Bunnell.
Trevor White, 19, was driving south alone in a dark-gray Ford F150 when the pick-up, judging from tread marks at the scene, veered off to the left. The truck took its most brutal impact on the passenger-side door, where the truck wrapped itself around a tree, shattering the cab of the truck. White was trauma-evacuated by ambulance.
On Saturday afternoon, 55-year-old James Palmer drowned while swimming in Beverly Beach, where he'd been vacationing with his family. On Friday evening, 15-year-old Kirt Smith was left in critical condition when, bicycling down darkened Seminole Woods Boulevard, he was struck by a Ford F150 similar in make–but in make only: there is no other connection between the two vehicles–to the one involved in this morning's wreck.
The wreck on SR11 took place around 5:45 a.m.