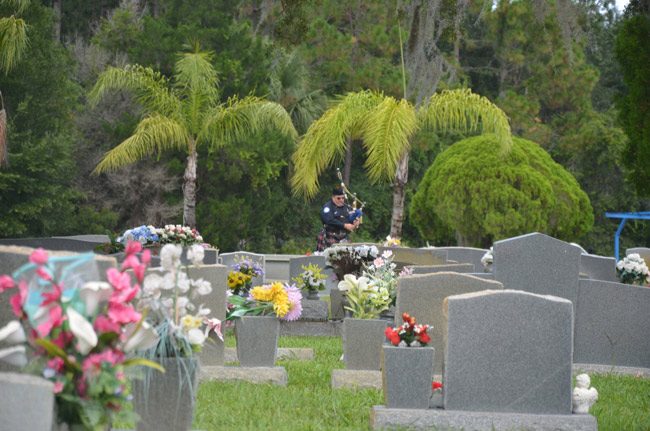 Craig Flagler Palms Funeral Home, Memorial Gardens and Crematory is hosting the annual Candlelight Service of Remembrance on Sunday, Dec. 4 at 6 p.m. at the Garden of Memory Mausoleum located at 511 Old Kings Road, South in Flagler Beach. The event, now in its 13th year, usually draws between 300 and 400 people.
"We have had so many families over the past decade share with us how much this service brings them comfort during the holiday season," says Allen Whetsell, general manager at Craig Flagler Palms, where he just marked his 15th year. "We are fortunate to be able to offer such a special event to the community." He said it takes three people two full eight-hour days to decorate the tree at the center of the remembrance. The tree is 15 feet tall.
People are encouraged to bring a favorite ornament in remembrance of their loved one to help decorate the tree. They are also asked to bring a chair as the event has grown so large that the facility sometimes runs out of chairs. The Tree of Remembrance decorating will begin at 5 p.m. The tree will remain decorated and lit until Jan. 15. The service is non-denominational and will be held rain or shine. Hot chocolate, light refreshments and Cupcakes by Jessica will be served. The Flagler Palm Coast Formality singers will perform for their milestone 10th year at 6 p.m.
The event started in 2003 when a Christmas tree showed up mysteriously in the Memorial Gardens. Another one arrived in 2004 and staff found out that it was from the Russo/Walsh families. Their son is buried in the cemetery. Christmas was his favorite holiday and bringing the tree to him helped them grieve.