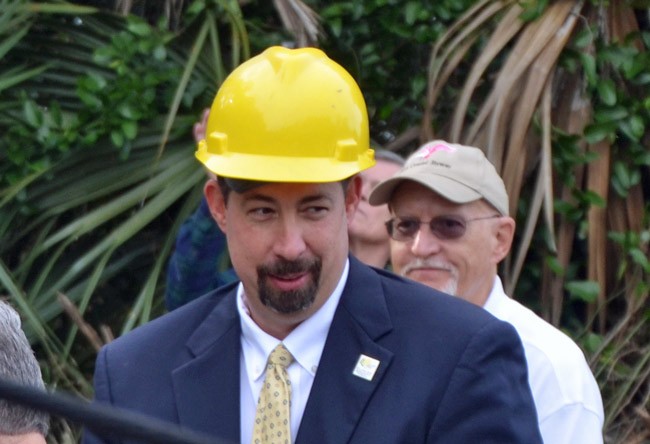 Impact fees are the one-time tax levied on new construction to defray the cost of the "impact" of new businesses and residents. Impact fees are levied for transportation, fire rescue, parks and recreation, schools, and so on. The idea is to ensure that existing residents aren't saddled with the cost of infrastructure imposed by new residents. But there hasn't been too many new residents lately: the county, including Palm Coast—which has its own slate of impact fees—is growing by about 1,500 people a year, a fraction of the growth before the Great Recession.
Flagler County's impact fees had been in place since the early 1990s. Three years ago the Flagler County Commission suspended impact fees for transportation, parks and recreation. It was a response to the recession. There was little construction. To spur activity, commissioners saw a moratorium on impact fees as an incentive for more economic activity. There's conflicting evidence regarding the effectiveness of such moratoriums. But they're popular with builders, who often hold sway over local officials. The moratorium was for two years, but last year, commissioners renewed it at the request of the Flagler County Home Builders Association.
The suspension of the fees cost the county $810,000 in transportation impact fees and $145,000 in parks and recreation fees as a result.
The transportation impact fee was due to kick back in by mid-October. On Tuesday, however, the Flagler County Commission suspended the transportation impact fee indefinitely, or pending a new study. And According to County Administrator Craig Coffey, with Palm Coast dominating the east side of Flagler, "it may not be practical for us to ever implement the impact fee again on the eastern side of Flagler County when we actually study it. Right now, to say never, I would not rule that out now where we sit today until I've studied it."
Impact fees by law may not be levied arbitrarily, but only in accordance with studies that show outline why revenue is needed and how much is needed as a response to new growth. Coffey told the county commission today that Flagler's study is outdated. Its inventory of roads is not what it once was. Palm Coast took over some 600 miles when it incorporated. It's getting ready to take over more mileage, such as Matanzas Woods Parkway.
"We did have an updated study, as far as the county, that we chose not to implement," Coffey said. "For our standpoint, from a legal standpoint, we feel ultimately we need to redo a study if we're to continue transportation impact fees. But a lot of our roads are in better shape. We have a smaller number of roads, even like John Anderson we just redid. We're going to redo Old Kings, we're going to redo Old Dixie, we're going to do County Road 13, we just did 302, we're resurfacing 305, and we're going to do also Colbert Lane. All of those are in our mix, resurfacing, not necessarily widening—widening due to growth."
The widening of very few roads would be growth-driven, except perhaps for Old Kings Road, Coffey said, or along John Anderson. "Colbert Lane is eventually slated to be four-laned," he said. "But we need a much more smaller study and scope and to redo the study we believe before we bring it back."
Commissioners had different interpretations of the suspension of the transportation fee. Commissioner McLaughlin said it was only pending the new study, though the commission is leaving silent when that study is to be conducted: there is no deadline, which, in effect, makes it a more indefinite than definite suspension, though Coffey appears willing to move forward with a study.
Commissioner Barbara Revels, at any rate, disagreed about McLaughlin's qualifier. "I thought that the intent was to suspend it indefinitely until such time as we saw the need for transportation funding, wherein then we would bring forward a new study," Revels said.
"The problem with that is the need may slowly be accruing with house after house after house, with even existing subdivisions in palm Coast. At some point you'll say oh, we've got to widen Colbert Lane, but it'll be too late. You won't have the money."
"If you do a study now it will be useless when you want to re-implement a transportation impact fee, you'll have to start over, so why do I want to spend money on a study now?" Revels asked.
"No, it won't be useless. I'm saying we're proposing to start a study now, but you would do a study now based on the impacts and the growth that would eventually impact that road," Coffey said. "You always do a study based on your future improvements that you would require for growth. It's no different than a water and sewer impact fee. You do not wait until you need to build the new plant. You anticipate building a new plant based on a build-out of the area. It's the same kind of concept. Then  you make sure as growth occurs that everybody is paying that impact fee to pay for that growth." The challenges are how to weigh the county's fair share of fees with Palm Coast collecting its own.
Revels returned to the charge, concerned about the nature of the eventual study.
"A lot of time an impact fee study consultant they find out what the governmental jurisdiction wants and they create the statistics to match what the government entity wants," she said.
"To a certain extent," Coffey said.
"Well, it's happened a bunch," Revels said. "I hope we can find somebody who seriously studies the numbers appropriately, the way they should be."
"Well, this is something that staff is not rushing out to get into tomorrow, so it'll be something we evaluate over time as far as our long-range planning, and we do have some structural issues that we have to work out with the city long-term."
"We think it's a really good idea," Jason DeLorenzo, the government affairs director of the Flagler Home Builders Association and a Palm Coast City Council member, told commissioners of the indefinite suspension. "We're still recovering, doing a little bit better than last year, but more importantly it's not what's being built now but what you have remaining to build in your road network. That's the key to this here."
As has become the method of the county commission and its administrator, the commission ended its workshop, where it may not vote, and moved directly into a business meeting at which it took several votes one after the other, among them on Coffey's impact-fee proposal. The commission approved it, 5-0.