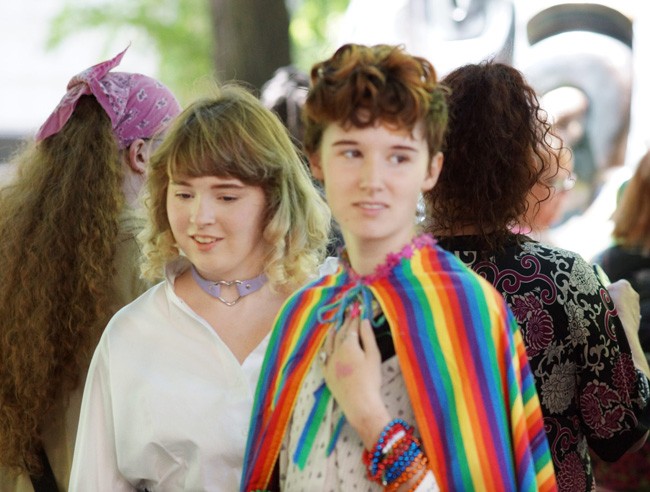 A few years ago transgender issues, like transgender individuals, were all but invisible to school officials across the country. No longer. Transgender student access on athletic teams and in locker rooms at public schools is now a matter districts are confronting directly as more and more teenagers feel increasingly comfortable enabling what they feel is their true gender identity.
In states like Illinois, Texas and Missouri there have been high-profile cases involving student access to locker rooms and bathrooms, and in most cases legal rulings have come down forcing school districts to make accommodations for the transgender student. This fall in Illinois, federal education officials have ruled that an Illinois school would illegally discriminate against a transgender student if it did not let her use the girls locker room without restrictions, rejecting a plan to have her change beyond privacy curtains.
Nothing that dramatic has yet happened in Flagler County. But the district is hoping to be at the forefront of the issue, even though for now there is no official district-wide policy regarding transgender student access to locker rooms or sports teams of a gender different from that on a student's birth certificate. Situations are handled on a case by case, school by school basis, usually a recipe for missteps or discrimination, especially when following state guidelines.
An examination of the state of transgender understanding and accommodations, including a state policy on transgenders and some local attitudes about the policy, strongly suggests that the state and, to some extent, Flagler County, have a long way to go to ensure that transgender students are treated not only fairly and equitably, but that the environment they face is more nurturing than questioning, more welcoming than inhibiting.
Kristy Gavin, the attorney for Flagler County schools, has a special interest in this topic and gave a presentation to the Florida School Board Association in Tampa on Thursday (Dec. 3).
Gavin, who said she was asked to be on a panel explaining and exploring transgender issues by the superintendents' association, said that dealing with transgender questions in schools will be become more and more common, so it's imperative that school officials learn how to properly handle them.
"We can't ignore this topic just because in Flagler County it is just starting to surface as a subject matter," Gavin said. "You can't get caught flat-footed."
The main focus of Gavin's remarks were telling administrators that there's no reason physical education needs to be a curriculum area separated by gender.
"P.E. is P.E., it's all co-ed now, and gone are the days where if a girl wants to play on the football team, she can't do it," Gavin said. "So when it comes to transgender, make it a non-gender issue. Take gender out of the equation in terms of it being curriculm for everyone."
Officials at both Matanzas High School and Flagler Palm Coast High School say that transgender access issues haven't really cropped up, and School Board President Colleen Conklin said that "we as a board really haven't had much discussion about the issue, and it hasn't been brought up to us by parents or students, either." That said, she spoke from Tampa, where she was attending the same statewide school board association meeting that included Gavin's panel discussion.
Both FPC principal Dusty Sims and Matanzas principal Earl Johnson said there had not been an issue that they were aware of in recent years of a student wanting to compete on a sports team for a gender other than their birth gender.
Johnson said there was one transgender student this year, a female, who asked for an accommodation in the locker room because "she didn't feel comfortable dressing for gym class in either locker room," Johnson said.
The accommodation that was made for the student was that she was allowed to leave her fourth period class, the one before physical education, 5 to 10 minutes before the bell and change in the empty locker room.
---
The state athletic association and, to some extent, Flagler County, have a long way to go to ensure that transgender students are treated not only fairly and equitably, but that the environment they face is more respectful than questioning, more nurturing than inhibiting. .
---
"I think our first goal has to be to provide equal and fair opportunities for our kids," said Sims, a longtime baseball coach at FPC. "I'm not one to define gender. My goal is that if a kid wants to participate in athletics, how can I allow that kid to be successful, and to be comfortable."
Gavin said locker rooms may be "a hot-button issue," but maintaining everyone's safety and making sure they have a safe space can be accomplished by simply meeting with the transgender student and finding out "where that individual's mind is, and what they are comfortable with when it comes to that.
"A transgender girl still has girl parts, a transgender boy still has boy parts," Gavin said. "What we recommend is that you take each situation step by step; if the transgender student is OK changing in the girls or boys locker room, maybe he or she does it in a separate area. Each situation is different." But the separate-but-equal standard is precisely the standard the Illinois case led to federal intervention.
Gavin brought up an interesting point about transgender-school issues that isn't talked about much: What happens when a teacher has gender identity issues?
"That would be a harder thing to deal with, having a kindergarten teacher, Mr. Smith, come in one day and tell the students that he's now Mrs. Smith," Gavin said. "How you explain that to the students is something (school administrators) have to start thinking about."
While locker room access and accommodations issues are still murky in Flagler County and elsewhere, the issue of transgender athletes playing on sports teams has been thoroughly legislated and discussed.
The Florida High School Athletic Association saw several state athletic associations in the past decade lose lawsuits over lack of transgender athlete access and regulations, so in 2011, Executive Director Roger Dearing said, he and his fellow administrators at the Tallahassee-based regulatory body went to work to craft a coherent policy.
Dearing said they consulted with doctors, lawyers, psychologists "and everyone else involved in these issues," and came up with a policy that he said replicated nearly exactly what the NCAA had put in place for college sports.
What resulted was rule 4.3 in the FHSAA rulebook, with guidelines for "Gender Identity Participation." What a transgender student has to go through to be declared eligible to compete in a sport of a different gender than they were born with sounds remarkably rigorous, if not burdensome to the point of discrimination.
First, after the student has notified his or her athletics director and principal that they wish to play a sport opposite of their birth gender, the student needs to provide a birth certificate, proof of residency and a written statement affirming their desire to play on the new team. Next the student needs to provide written documentation from friends, teachers and other adults who have known the student for more than a year testifying that "this change is consistent with who this person is, how they have been acting and behaving for a while now," Dearing said. (The requirement is no less absurd than Sharia or Islamic law's requirement that a rape victim prove that she was raped through the testimonies of four male witnesses.)
Then, in what appears to skirt the violation of medical-privacy laws, the student has to put forth a list of all prescribed or non-prescribed medications they take, show written verification from a health-care professional of the student's intended gender change, and finally, have a hearing before what the FHSAA calls "The Gender Identity Eligibility Committee."
This committee is made up of a physician with World Pro Association for Transgender Health (WPATH) experience, a mental health professional with experience in transgender issues, a school administrator, athletics director and coach in that sport from outside the applying student's administrative section (i.e., people from a Tampa school in a case involving a Jacksonsville-area student), and an outside individual chosen by the FHSAA.
The committee interrogates the student via a webinar, and a vote is taken among the six committee members that day, declaring whether or not the student is able to compete in the sport they're comfortable with.
Dearing said there have been "fewer than 10" hearings under the policy so far. If a student's request is denied, they can file a second appeal. Dearing said of the students who've been rejected so far, none have asked for a second appeal.
Asked if this is all a bit much for a transgender student to have to endure, Dearing replied: "not at all."
"A student who is born a boy has every chance to play on boys sports teams, and a girl who is born a girl has every chance to play on girls sports teams," Dearing said. "The federal courts have established the rules for this, as has the NCAA, and we're just following that. We've not had one complaint from anyone (having a hearing) that it was too embarrassing or humiliating to go through."
But the low number of hearings in itself suggests the FHSAA process is inherently intimidating.
Daniel Tilley, an attorney for the American Civil Liberties Union who specializes in transgender cases, was aghast when shown the FHSAA policy.
"This policy is beyond the pale," Tilley said. "It humiliates transgender students by singling them out for scrutiny. A trans boy is a boy and a trans girl is a girl, regardless of what a "Gender Identity Eligibility Committee" says."
Matanzas' principal Johnson and FPC's principal Sims both said they had no problem with the FHSAA's policy.
"The policy is necessary and is in place because if it were not, you'd have athletes who'd want to go from a male sport to a female sport all the time," Johnson said, though without evidence to that effect. Asked if he really thought that would happen, Johnson replied: "you never know."
Clearly, transgender issues are not going away, and what school administrators need to be mindful of as well is the psychological damage such scrutiny can do to a transgender student. That's assuming the student is willing to come out of the shadows and reveal his or her chosen gender.
Dr. David Baker-Hargrove is a psychotherapist and president of Two Spirit Health Services in Orlando who specializes in dealing with transgender patients. He said his practice gets 5-6 new patients each week who are having gender identity issues, some as young as 4 years old.
"The locker room issue is a major concern for these transgender students," Baker-Hargrove said. "You have the shame issue, and the comfortability issue, because you never know how the other students are going to react. It's very hard standing out when you're a teenager, and because of the public stigma around being transgender, it's so much more stark for these kids."
Baker-Hargrove said he and his fellow psychologists work to give transgender students the "emotional tools" they need to cope with being in school, such as teaching them that how they carry themselves and creating their own level of comfort can go a long way toward acceptance.
"Visibility is what reduces stigma and fear, and I feel that for transgender students now it's a little like what gay students had to endure in the 1970s and '80s," Baker-Hargrove said. "Now I talk to gay students and they're completely accepted and a part of the student body, doing whatever they want to do. One day, I hope that will be the same for transgender students as well."