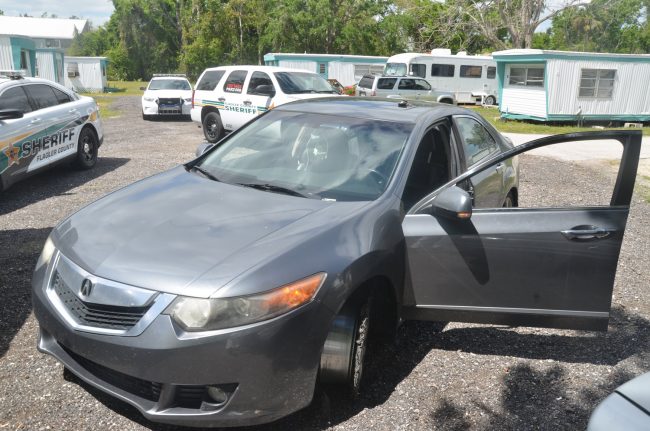 Last Updated: 1:32 p.m.
By the time the chase was over at 12:30 p.m. today and all suspects had been apprehended, three women and two men were either in custody or being interviewed by Flagler County Sheriff's detectives, and their car being processed for evidence.
A traffic stop that began on State Road 100 near the city limit between Palm Coast and Bunnell late this morning has turned into a chase on foot, by air, and with K-9 units.
But for an hour and a half, the individuals led sheriff's deputies on a chase that included air, foot and K-9 units, required the day care center at Palm Coast Praise Church at 3601 E Moody Blvd. to be on lock-down, and residents of the Z Section to be asked to stay indoors.
All five individuals involved in the incident are local residents, known to local law enforcement.
The exact sequence of events is still unclear. The incident originated in Bunnell, where one of the five occupants of the Acura involved in a traffic stop was either let out or jumped out, claiming that she had been abducted. The claim sounded fishy from the start, but Chief Paul Bovino, who was in command of the incident, and Cmdr. Jeff Stuart, said at the scene after the incident was resolved that the claim had to be taken seriously immediately.
The Acura was chased into the Capri trailer park, adjacent to the church's property, with stop sticks at one point deflating the Acura's front-left tire. The occupants of the vehicle seemed to know the area. They jumped out and fanned out, then, over the next 90 minutes, were each found–one by a K-9, one by Fire Flight, others by deputies.
"We're interviewing them all now," Bovino said. "They're all known to each other." He said some residents in the Capri park were evacuated and sheltered temporarily to keep them safe. By 12:30, the residents were back out on their porches, observing what remained of police activity, which included deputies processing the gray Acura toward the back of the trailer park.
Sheriff Rick Staly had at one point been at the scene. Traffic on State Road 100 was never impeded. The identities of the individuals will be released when they become available, along with charges.