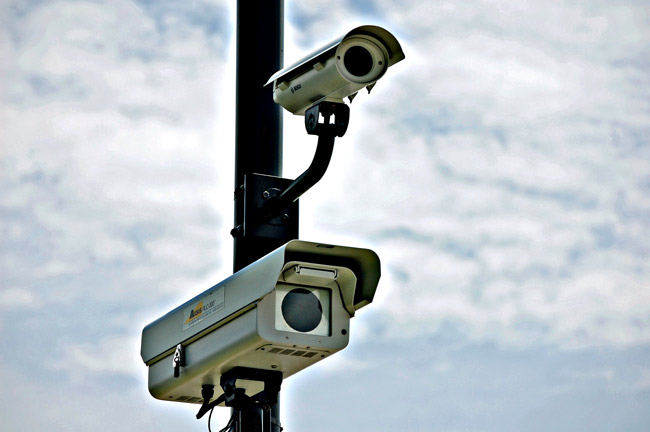 The Palm Coast City Council decided today to stick with the 10 spy-and-snap red-light cameras around town, and allow the company running them to install more of them—even though the city will barely break even for its role in the arrangement while the private company running the cameras will cash in on up to 86 percent of the revenue it is allowed to split with the city.
The Palm Coast City Council is ready to sign a seven-year deal despite those numbers, and questionable evidence that the cameras are improving safety.
Based on 2011 citations and a retroactive contract the city just worked out with its contractor, American Traffic Citations, the company running most of the spy cameras installed on Florida roads, will have taken in 72 percent of the revenue that didn't get sent to the state, while Palm Coast could hold on to just 28 percent. Palm Coast's proportion will decrease as traffic citations increase.
The arrangement Palm Coast City Council members settled on today calls for the city to make just $700 per camera per month, while ATS will make every dollar beyond that, up to $4,200 per camera per month—an 86-14 percent split. That revenue is based on the $75 net the city is entitled to split with its contractor, after the state has taken its cut out of each citation, which is $78. But state dollars are recycled through state spending on anything from roads to court operations to state policing. The money Tempe, Ariz.-based ATS makes is entirely taken out of the community and the state.
Break-Even Pennies
That 86-14 percent split assuming the city's cameras are generating 660 citations per month. That hasn't happened since 2009, when there were 745 citations a month, and a new state law regulating cameras and how citations could be issued hadn't yet kicked in.  In 2011, there were just 333 citations a month. The figure is about the same so far this year, City Manager Jim Landon says, netting the city no more than $7,000 a month, or $84,000 a year. The city's administrative cost is at least $54,000 (not including the extensive legal fees it's been spending to work out its long-running dispute with ATS), leaving $30,000 for its $12.5 million Street Improvement Fund, or 0.24 percent of that fund.
"I just want to make sure that we are protected as a city," Palm Coast Mayor Jon Netts said. "I want to make sure that $700 per camera per month covers our staff time. Not interested in making a profit, although it's nice to put money into safety improvements for our streets, but I'm not interested in subsidizing ATS business."
The city's own numbers show that the spy-and-snap camera arrangement does just that: subsidize ATS.
A presentation by the city administration to the council this morning listed the city administrative costs at $36,000, though Landon, when asked by council member Jason DeLorenzo, what the actual costs have been, Landon said: "Average monthly cost for us was just under $4,500."
Fictional Numbers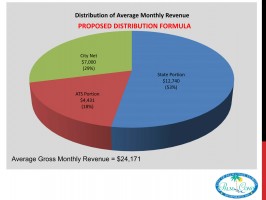 It wasn't the only discrepancy surrounding the way the administration presented the issue to council members. At one point, a pie chart flashed on the screen showing the "proposed distribution formula" for the money generated by the citations. The pie (see to the right) showed a monthly gross total of $24,171, with the state taking its share, leaving Palm Coast with 29 percent of the rest, considerably more than what ATS would be left with.
But the projection was based on an entirely fictional number: the monthly gross was artificially lowered to the $24,171 figure—which has nothing to do with the actual $60,000 a month being generated on average each month now—to make Palm Coast's proportion of the money look better than it really is. Since Palm Coast is guaranteed $7000 a month, lowering the total gross revenue artificially raises Palm Coast's share. In reality, the higher the revenue, the more Palm Coast's share stays the same, and the more profits go to ATS (and the state), making Palm Coast the perennial loser.
There is a provision that would start netting Palm Coast more money, after a certain benchmark. But for that to happen, the spy cameras would have to more than double the amount of citations they are currently generating, to 660 a month. Beyond that point, Palm Coast's revenue would theoretically increase some. Only theoretically, because ATS can ensure against that, too, by simply adding more cameras, and limiting Palm Coast's revenue to the flat $700 for each additional camera, cashing in on the rest.
The city council members appeared undisturbed by the discrepancies, relying instead on a different set of questionable numbers to say that the cameras are not there to make money—at least not for the city—but to change drivers' behavior.
Evidence vs. Assumptions
"When you put the red light cameras up initially, it's amazing how many people you catch running the lights, but after people figure out that there is a mechanism to catch you, the numbers go down," Landon said.
To buttress his point, Landon put up numbers showing a decrease in citations issued at every one of the 10 intersections around town from 2008 to 2011. But driver behavior may have little to do with it.
Citations, Clerk of Court Gail Wadsworth told the council a few months ago, have gone down on average 17 percent a year for the past three years across the state.
The reason? The economic downturn has reduced traffic on Florida roads substantially, and more so on Flagler County roads, where the boom was as pronounced as the crash has been. That's not anecdotal evidence: daily vehicle miles traveled in Flagler County, according to Florida Department of Transportation figures, dropped from 1.82 million in 2006, at the height of the building boom, to 1.71 million as of last June, a 6 percent decline (as opposed to a 5 percent decline statewide). In other words, Flagler County residents, overwhelmingly in Palm Coast, are driving, on average, 110,000 fewer miles a day locally.
The numbers provided by Landon's administration themselves (based on sheriff's office data) make the point that there is no co-relation between traffic cameras and reduced crashes. (Landon himself cautioned that he wasn't making such co-relations; he was merely presenting the numbers the council members had requested.
The numbers don't necessarily reflect crashes at actual intersections. They include crashes near intersections. But the relevant matter is the trend. That trend shows declines in crashes at five of seven intersections with spy-and-snap cameras. Curiously, the presentation did not show numbers from all 10 intersections. The crashes may have decline for the same reason that traffic citations declined: there's less traffic.
The presentation also included crash data from a list of Palm Coast 18 intersections where there are no traffic cameras. Traffic crashes declined between 2010 and 2011 at 14 of those intersections, again suggesting little correlation between spy-and-snap cameras and crash activity.
And the presentation included summaries from what studies on traffic cameras have been saying for years: that while one type of crash is decreased by the cameras, another type (rear-end crashes especially) increases, with an overall "modest aggregate crash-cost benefit."
Except, of course, for companies running traffic cameras.
For all that, the council endorsed more spy cameras. "ATS is confident and we are too that there are still some intersections out there that have a large number of runners," Landon said, "so they do plan on adding new cameras."
Spy-and-Snap Genesis
Until 2010, cities imposed whatever fine they chose, under whatever conditions they chose, and usually split the money between themselves and the company that runs the cameras. The system was sold as a means of making intersections safer, though evidence is mixed about cameras' safety benefits. More provably, the cameras were cash cows for local governments that installed them, and the company that ran them. Palm Coast at the height of spy-camera activity, before the depth of the recession took the winds out of local traffic, was making close to $1 million a year, and averaging close to 1,000 citations a month.
But local governments' use of traffic cameras was legally suspect because until the 2010 law, the state, by law, reserved for itself all such devices, and forbade local governments from infringing on state or policing functions involving traffic devices.
Local governments like Palm Coast sneaked around the prohibition through a scheme that placed traffic cameras under the government's code enforcement rules. The infractions weren't traffic citations, in other words (and there were no points leveled at drivers' records), but code enforcement violations. The Third District Court of Appeal in South Florida ruled last November that the scheme was legal.
In July 2010, the Legislature passed a law that made all traffic camera regulations uniform. The new law sought to minimize that sort of scheming by placing local courts, rather than code enforcement authorities, in charge of appeals, and by laying out strict rules according to which citations could be issued.
The new law made fines uniform, too. Previously, Palm Coast infractions resulted in a $125 fine. The city took $80 of that, ATS took $45. The state set the universal fine at $153, taking $78 for state coffers and leaving local governments to figure out how to split the remaining $75.
For all that, the cameras have been a legal nightmare across Florida and other states, where drivers have been suing, and frequently winning, as one did in Pasco County in March. There, Pasco County Judge Anne Wansboro threw out the $158 fine levied against Thomas Flippone, ruling that the camera "impermissibly shifts the burden of proof to the defendant and therefore does not afford due process, and is unconstitutional to the extent due process is not provided."

See the Powerpoint here.