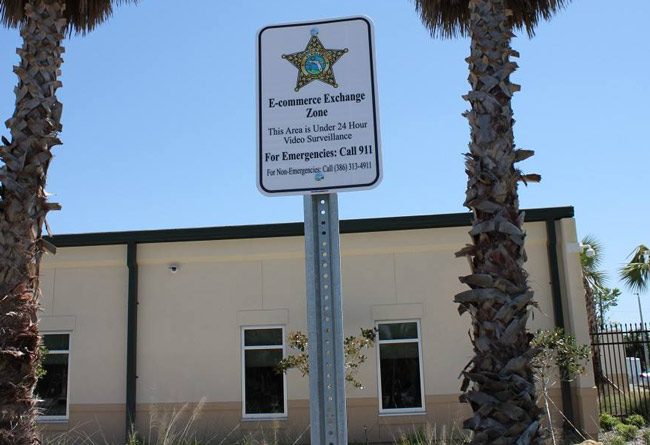 In January when local police authorities were battling a rash of incidents involving counterfeit money, one of those cases involved a 19-year-old man who was possibly defrauded of merchandise he'd advertised for sale on Craigslist.
The man was selling speakers and an amplifier. The transaction took place in the parking lot of the McDonald's at the corner of Old Kings Road and Palm Coast Parkway. The agreed-to price for the merchandise was $1,200–10 $100 bills and four $50 bills. The man was paid in cash, the money stashed in an envelope. But soon after the transaction, the seller realized that the money was fake. Deputies located the person who "bought" the merchandise, but also unraveled a case so murky as to make it difficult to determine who was telling the truth, and who was defrauding whom. The case remains open.
Swip-swapping goods based on transactions arranged between strangers online can be hazardous. To minimize such problems, the Flagler County Sheriff's Office just set up what it calls an "E-Commerce Exchange Zone." It's part of a growing trend of so-called SafeTrade stations designed to add a measure of security for people involved in transactions with strangers.
It's at the west end of the Sheriff's Operations Center in Bunnell, in the front, public parking lot. It's marked with a sign just planted there.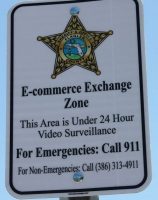 All it is is a safe zone where buyers and sellers can meet, exchange goods and money, and do so under video surveillance, which is on 24 hours a day. The video is not necessarily monitored. But if a transaction goes awry, it can be reviewed, giving those involved and sheriff's detectives more objective eyes on the situation. There is also an after-hours emergency phone at the entrance to the Operations Center in case of an emergency.
"If you are trying to buy or sell something from an online seller or on social media, we want all parties involved to be safe," Sheriff Rick Staly said. "The Sheriff's Office Operations Center at 901. E Moody Boulevard in Bunnell is equipped with cameras and is probably the safest place you can go to make any kind of exchange. If someone is hesitant about meeting you in front of the Sheriff's Office then you are probably better off not meeting them at all."
The Sheriff's Office plans to have a similar safe zone at its new Palm Coast Precinct, once that opens off Old Kings Road later this year or early next year.
The safe zone is not too different than similar safe zones or houses established in recent years for parents or guardians to safely meet for child-custody visitations or exchanges. One such place is Sally's Safe Haven, a few blocks from the Sheriff's Office in Bunnell, though all visits there take place under full supervision.
If you have any questions about preforming an internet exchange in front of the Flagler County Sheriff's Office, please call (386) 437–4116. To contact Sally's Safe Haven for more information on safe child exchange, call (386) 263-8771.
SafeTrade, the program helping traders exchange goods safely, offers the following suggestions:
Agree to meet the buyer or seller of whatever you're selling (or buying) only at a police station, sheriff's office or similar law enforcement facility.
Meet only during daylight hours, unless the police department has offered inside facilities 24 hours a day.
Meet inside the police office if possible. Many of them offer those facilities. Some require an appointment; others make their lobby or similar open-to-the-public area available.
If you cannot meet inside the lobby, meet in the parking lot. Typically, they have cameras, and a lot of police officers coming and going. It's not as safe as indoors, but it's much safer than the proverbial "meet in a public place."