It's agreed I think—I hope—that Flagler County's greatest tourist asset is its beach. Take that away, and there's not much left. The problem is that Hurricane Matthew did take away a good chunk of the beach, literally (and for once the use of this word is neither incorrect nor exaggerated). The county and Flagler Beach are trying to rebuild. It's going to be expensive, though the actual figure is fluid. The cost started at more than $60 million. It's now closer to half that amount depending on what dunes and beaches are rebuilt, how densely, how frequently they are maintained, and whether Flagler Beach's needs are included in the bargain (they have not been of late, per county snub).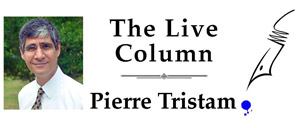 The state is willing to help. But local government must raise more matching dollars. Revenue sources are limited but not absent. We have a 4 percent surcharge on our sales tax that people who stay in hotels and motels pay. It generates about $2 million a year. That money is used to pay for the county's tourism budget: a small portion of it goes to beach restoration (10 percent). The largest portion goes to promoting the county so more tourists come here (a shade over 66 percent). Those splits are about to change.
The county administration is proposing to raise the tourism tax to 5 percent and shift more revenue to beach restoration. Great idea, until you look at the fine print. The shift would be temporary. Much too temporary: two years, at most. The administration is using the beach restoration bait to actually increase the promotion bite, which is absurd, giving the promotions budget's indefensible splurging (see below), and to do so at the expense of the beaches, of capital projects, and at the expense of Flagler Beach in particular, which is crying for help.
As it is, the county approved a $1.38 million promotions budget for this year. It wants to raise that by a couple of hundred thousand dollars, and more, if projected increases in tax revenue come in. The increase in beach spending would jump to $1 million next year, but would be cut in half by 2019, even though rebuilding these beaches will take several years. The increase in the promotions budget, to $1.5 million, would be permanent.
What's really going on here is that County Administrator Craig Coffey and Tourism Director Matt Dunn want to have more play money for their sandbox. But that sandbox is already more unaccountable slush fund than legitimate tourism spending. It's ripe for investigation, not more gluttony.
By promotional, you'd think that money means promoting the county—advertising it so tourists can be enticed to come here. The reality is that only a little more than a third of that money goes to promoting Flagler, if that. A quarter of the money goes to paying salaries and benefits, including Dunn's own more-than hundred-thousand dollar package (his salary alone is $82,000). Another $61,000 goes to travel, conferences and something euphemistically called "education and training," which is another excuse for travel. That's where Dunn gets to trek around the country on Flagler taxpayers' dime, with staffers and expense accounts in tow.
It's where the county robs Peter to rob Paul: last year the county ended its tourism contract with the Flagler Chamber of Commerce and moved its tourism offices into larger spaces, away from State Road 100 frontage, and into an office building on airport property. If that alone isn't idiotic enough for a tourism office, the rent the county was paying at the chamber was $18,000 a year. It's now paying nearly double that–$33,000, even though it's taking public money to pay another public entity: the county airport, and act as if it's filled another space on airport grounds. If the county was so indifferent to its tourism office having direct frontage on a main artery, it could have moved those offices to the Government Services Building and saved the money. But why deny county government its own swipe at the public troth.
---
The tourism bureau's "promotions fund" is ripe for investigation, not more gluttony at the expense of public dollars.
---
That alleged promotions fund is also how Dunn spends close to $300,000 bribing for-profit organizations to hold their sports events or conferences in the county. It's what the budget calls "discretionary event funding," subsidizing places like Hammock Beach Resort by giving dubious organizations $25,000 and $30,000 and $40,000 "bidding fees" to entice them to hold their events in the area. That has as much to do with exposing visitors to Flagler County as the Magic Kingdom exposes visitors to Orlando's John Young Parkway. That "discretionary" fund was non-existent three years ago. It was $150,000 in 2015. It jumped to $215,000 the following year. Now it's at $300,000. The accounting is bogus: there's no correlation between the money spent and lasting benefit to county tourism, though there's a clear profit to specific businesses benefiting from the splurge. They're not your mom and pop stores.
As the year-over-year figures show, Dunn's "discretionary" slush fund is out of control, and the Tourist Development Council, the county-appointed advisory board that's supposed to oversee the operation, spends its monthly meetings greasing its rubber stamp and pleasuring Dunn, whatever he asks for. That's what you get when such a board is made up by law mostly of cherry-picked individuals in the tourism business, with the county commission doing the cherry-picking. What government representatives do serve on the board are either outnumbered or blind. There is no clearer example of a legalized conflict of interest in local government. It's not oversight. It's another form of discretionary bribery.
This is the sort of bogus tourism spending that's gotten legislators in Tallahassee like our own Paul Renner rightfully suspicious of Visit Florida's bloated budget. It's no different than paying rapper Pitbull $1 million to "promote" the state, as one of Visit Florida's most egregious abuses of public money did. We don't need more of this locally. We need less. We need a beach that advertises itself, when it isn't ravaged by natural calamities. Meanwhile, we need a beach fix that will entice visitors better than any bribe to special event promoters segregated in clubbish enclaves.
County Commissioner Donald O'Brien is proposing a slightly better fix, shifting more money to beach restoration next year ($1.5 million) and less money to promotions ($1 million), though only for a year. Dunn, who clearly doesn't know his place, sees his play money threatened. As an email he wrote tourism council members indicated, he sought to politically and inappropriately lobby commissioners and members of the county's tourism advisory board to block O'Brien's move. County Commission Chairman Nate McLaughlin, who chairs the tourism board as well, saw that O'Brien had the votes, so he maneuvered for a delay in hopes of derailing it.
On Thursday, Dunn's name appeared alongside that of County Administrator Craig Coffey's in a memo to commissioners, ostensibly offering support either to his option or to O'Brien's. The memo would have you believe that the administration is seeing the larger picture. It isn't. It's a clean-up act, an admission of Dunn's political blunder, and a shrewd attempt to take the temporary loss of a year's fatter funding for promotions to preserve future years' fat funds. It's still a play for more promotions dollars, proportionally and substantially less for everything else, and a big lid on the real problem in the tourism bureau.
The memo also unwittingly reveals that the $1.38 million budget the county commission approved—the budget posted for public examination, the budget we assume is accurate and reliable until the county administrator decides it's not anymore–was a fantasy: Coffey now quietly admits that the actual budget is $1.61 million. Why that $230,000 in extra spending? To what projects? What "discretionary" bribes? He doesn't say, though last year he and Dunn used $300,000 of the public's money, out of tourism funds, to buy bleachers, floodlights and a stage, none of it having anything to do with promoting Flagler County, at least if we still agree to the English rather than Dunnish definition of "promotions." That money has to be made up somehow.
This is the larger problem, which would be scandalous under any supposedly conservative oversight (every county commissioner is a small-government republican, or at least plays one on community-access TV): this "promotions" budget is $700,000 larger than it was just three years ago, when it was $911,000. That's a $700,000 increase, or 76 percent. What government program anywhere, other than emergency funds following cataclysmic events, or maybe war or epidemics, can justifiably grow 76 percent in three years in this day and age?
Why, Matt Dunn's sandbox budget can. And did. And he wants more.
So Coffey and Dunn in their oh-so-accommodating memo now pretend that the "promotions" budget is not sustainable without dipping into reserves. And nowhere in their memo to commissioners do they mention the obvious: That if the promotions budget is unstainable, it's not because of lack of revenue, but because it's out of control. That if the promotions budget must be made sustainable, cuts, not more revenue, are the answer. Serious cuts. Lasting cuts. The cuts O'Brien proposes for next year, but would be necessary for several years after that.
There's something seriously wrong at Flagler County's tourism department, and no one in charge of oversight—not the useless Tourist Development Council, not the County Commission, certainly not the county administrator—is doing anything about it. Maybe that's an unsustainable problem for another day, though it's impossible to divorce it from the current false dilemma over how to split tourism revenue, and from how Flagler Beach is getting shafted.
The tourism council and County Commissioners all vote on the O'Brien proposal Monday. We'll find out which of them truly believe in beach restoration and the public interest, and which believe in Matt Dunn's junket-ridden slush fund.

Pierre Tristam is FlaglerLive's editor. Reach him by email here or follow him @PierreTristam. A version of this piece aired on WNZF.