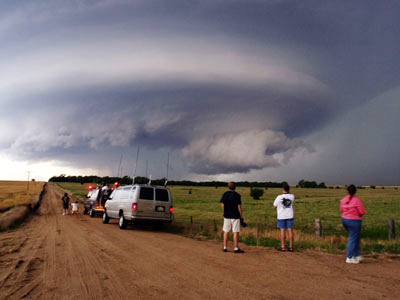 Updated: 4:19 p.m.
The National Weather Service has just upgraded from a tornado watch to a tornado warning for northern Flagler County, until 4:45 p.m. That means a tornado in the area either has been spotted or may be imminent.
Earlier today, the area was under a tornado watch. The northern half of Florida–33 counties, including Flagler, Volusia and St. Johns– was under a tornado watch until 8 p.m. this evening, according to the National Weather Service.
At noon today, a large swirl of severe thunderstorms was moving east-northeast across southern Alabama, southern Georgia and the Florida Panhandle. The south-central edge of the storm was approaching Jacksonville. Scattered thunderstorms were expected in the Palm Coast-Flagler County region by mid-afternoon, with a 70 percent chance of more sustained thunderstorms between 6 and 10 p.m.
Schools are not affected by the advisory since Flagler County schools are on spring break all week.
The weather system is the result of a low pressure area around the Gulf Coast. Cold air is flowing behind it. Cooler, drier weather is expected by Friday.
A tornado watch means that conditions are favorable for the development of severe thunderstorms and multiple tornadoes in and close to the watch area. People in the affected areas are encouraged to be vigilant in preparation for severe weather.
A tornado warning means that a tornado has been sighted by spotters or indicated on radar, and is occurring or imminent in the warning area. If a tornado warning is issued, people in the affected area are strongly encouraged to take cover immediately.