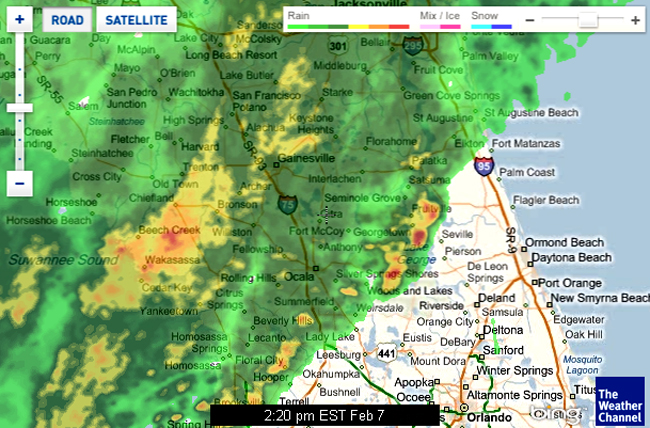 The National Weather Service has issued a tornado warning for southeastern Putnam County and northeastern Flagler County Monday afternoon, in effect until 3 p.m. The warning was canceled shortly after 3 p.m., remaining in effect for Volusia County. Heavy rain continues in parts of Flagler.
"We did not receive any reports of damage from any of our network," Bob Pickering of Flagler County's emergency services said at 3:10 p.m.
Pea-size hail was reported at 2:52 p.m. in Flagler Beach. "It was very brief," Pickering said. "Storm-spotters also reported two funnel clouds south of the county line at 2:52 p.m. That was in Volusia County, but they did not touch down. And that's it."
Pickering added that, as a reminder to "to folks that in Florida, tornado season is all-year round, and to have an emergency plan of action to put in place" should that prove necessary.
Here's how the storms unfolded:
At 2:12 p.m. the National Weather Service was tracking a severe thunderstorm capable of spawning tornadoes 8 miles southwest of Crescent City, or 7 miles east of Salt Springs. The storm was moving rapidly east at 50 miles per hour.
At 2:42 the weather service was reporting a tornado near Bunnell, moving eats at 40 miles per hour. Other locations in the warning include Palm Coast, Beverly Beach and Flagler Beach.
At 2:48 p.m. the Weather Service continued to indicate a line of severe storms with strong rotation: these are tornado-producing storms. They were located along a line extending from Palm Coast to 14 miles south of Bunnell, moving at 40 miles per hour.
In case of a tornado, seek shelter on the lowest floor of whatever building you're in in an interior hallway or a room such as a closet or a bathroom. Use blankets or pillows to cover your body and always stay away from windows.