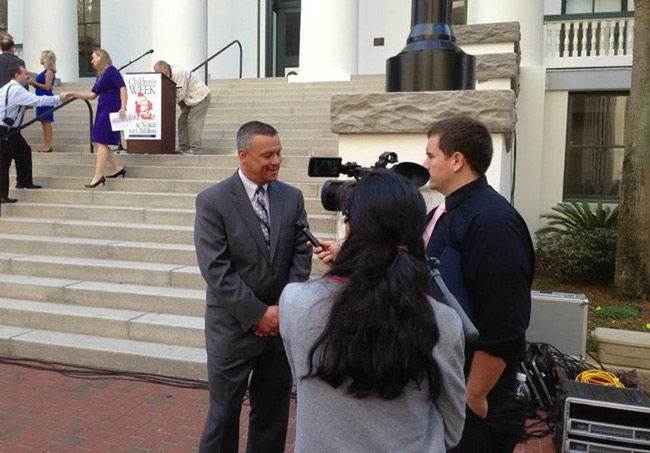 Florida Education Commissioner Tony Bennett is announcing his resignation today after revelations that he aggressively manipulated school grades in Indiana to favor a prominent Republican political donor, and a year to the day after his predecessor, Gerard Robinson, resigned amid another controversy over school grades.
The two resignations underscore the flammability of school grades resulting from high-stakes testing–a flammability opponents of such testing say belie the credibility of the testing and system.
Gov. Rick Scott gave Bennett the commissioner's job in Florida last summer after Bennett lost a re-election bid in Indiana for a similar position. Scott has now lost three education commissioners in less than three years. He had pushed out Eric Smith after winning the governorship. The instability at the education department is yet another set-back for the state's move toward the national Common Core standards, scheduled to go in full effect in the state–and in Flagler County–next year.
The Associated Press reported Monday that Bennett and his Indiana employees "frantically overhauled" the Hoosier State's school-grading system last year when it looked like one of his political contributors' schools might get a "C."
"We did nothing wrong, we did nothing covert, we did nothing secret," Bennett told reporters in a conference call on July 30. "The reports that came out of India a were reports that undeniably gave only part of a very important story." Bennett also defended his recent recommendation, adopted by the state Board of Education, to again pad school grades to prevent them from falling too drastically this year. "It was to make sure that we transition ourselves to common core," he said, "in a way that maintains the integrity of the grading system."
Bennett said he was happy to set the record straight with reporters on Tuesday. But his explanations did not put the issue to rest. Rather, the controversy built, calls for his resignation mounted, and Bennett appeared to become a liability for Scott, who is running for re-election. Thursday morning, the Associated Press was first to report that he would be announcing his resignation.
Robinson announced his resignation last Aug. 1 after facing a month-long controversy over FCAT grades, including grading errors that forced the Florida Department of Education to change grades for dozens of schools, and the collapse in FCAT scores after the state adopted tougher standards. The Board of Education was forced to lower passing grades for the statewide writing tests in May 2012 after the passing rate plunged from 81 percent to 27 percent for fourth graders and showed similar drops in eighth and 10th grades.