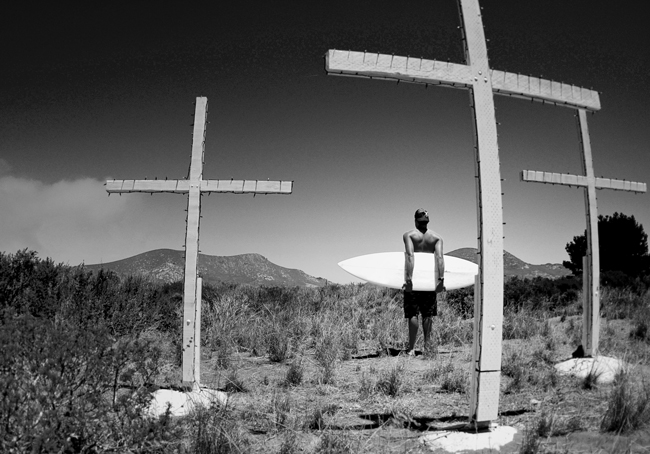 It's about heart. And not just the late Tommy Tant's heart.
Every year, surfers from the world over gather by the Flagler Beach Pier to remember Tommy, a competitive local surfer who died in his sleep at age 24 during a visit at his parents' house on Nov. 19, 1998, from an aortic aneurysm, a ballooning of the large artery that takes blood away from the heart. The Tant Classic, now in its 12th year, will once again bring together friends, families and visitors this weekend to remember Tant's life, raise awareness about Marfan Syndrome—the tissue disorder—aortic disease and raise funds for scholarships.
Will Tant, Tommy's younger brother and a professional surfer, is very excited about a new goal for this year's event: to raise awareness about heart health. "It runs in our family," he said. "It's bitter sweet every year we hold the event. It's a celebration but we will always miss Tommy. It's like a madness mix of beauty."
Tommy died as a result of an unknown aortic dissection. His mother Barbara and brother Will were found to have the same aortic aneurysm. Barbara underwent surgery in 2010 to repair the aorta. Will's aorta is being monitored every three months. Eventually he will need surgery as well.
This year the event is sponsored by Nautica. Not only can you find Will Tant all around the world in Nautica ads—which helps pay his bills as he attends Columbia University—but Nautica President Karen Murray's family also suffers from heart problems. When she found out about the Tant event last year she immediately contacted Will to see her. "I was at her office the next week," Will said. "The sponsorship is really special and Karen and all the people from Nautica are coming to the event this year."
The president of the Marfan foundation will also be present this weekend, speaking about heart health.
The surf contest generally brings out about 300 competitors to fight it out in the cold water, wearing wetsuits, in four pro divisions and 11 amateur divisions. This year, the two–day event is expected to draw thousands of spectators according to Tom Tant, Tommy's father, the finance chief at the Flagler County School Board.
But it's more than just a surf contest. It's become a cultural event that carries special importance to Flagler Beach. Every year, the Tant classic puts the town on the map with more than a metaphorical splash while injecting it with a youthful, attractively reckless energy unique to surfing events. The town itself rides the waves in its own ways. Besides surfing, there will be live art, food, a raffle, music and a silent auction. And, young surfers and their parents are teamed up to surf the Tadpole division, everyone's favorite surf division.
Flagler Beach attorney Dennis Bayer, a surfer himself whose Flagler Beach office is close enough to gauge the waves (he often surfs at lunchtime), said the Tommy Tant weekend is his favorite time of the year. "This event unites the community for a great cause," he said. "It shows how good things can come out of tragedy and it's neat to see the passing on to next generations."
Bayer recently represented the surfers in the controversy over the swimming and surfing zone distance from the Flagler Beach pier. Surfers are required to stay 150 feet away from the pier but pier fishermen wanted to double it to 300 feet. The debate ended for now when the Flagler Beach City Commission left the matter to self-policing and future review, pending both sides' abiding by proper fishing and surfing etiquette, with a newly created committee to help. It was just in time for the Tommy Tant weekend. "I am seeing some cooperation, which is a good sign," Bayer said. Bayer will be entering the Tant Classic grand master surf division this weekend. "I would not miss it."
Bruce Campbell, the Flagler Beach city manager, said that he looks forward to this important event every year. "It's the biggest non holiday event that we have in town," he said. "It's great and all positive. People come out and enjoy themselves."
The Memorial Surf Classic began as a small event with the help of Tommy's former high school teachers and a Flagler Palm Coast High School marketing class. "The students put on the contest as their senior project," Barbara Tant, Tommy's mother, said. "Then local surf shop Z – wave owner Zoee Forehand held the contest for the next three years."
In the fifth year, Tommy's younger brother became the event organizer. "Will has really grown into it and made this event into something big," his mother said. The event keeps growing each year as it draws on people's willingness to get involved, as the event's chief sponsor did this year. "Every year people come to us with new ideas and different levels of support," Will said. "We will keep on going forever."
Jimmy Blumenfeld, a surfing icon locally and owner of North Beach Surf Camp, has never missed the Tommy Tant Classic in 12 years. "I have been there and surfed the contest every year," he said. "I get so excited. You can feel the vibe in the air and it's not like any other venue in Flagler." The surf camp owner says it brings a huge surfing community together. "It's so cool now because most of us have families and kids and we want to encourage this lifestyle." Blumenfeld is entering the pro and the amateur division this year, and of course he will be entering the tadpole division with his 6-year-old son Skye.
This year's daily surfing competition begins at 7:30 a.m. Saturday and Sunday and for the first time in the Tant Classic history, the entire event will be live streamed online at tommytant.com.
The 4th Annual Tommy Tant Food Festival and Concert will take place at Veterans' Park in downtown Flagler Beach from 5 to 7:30 p.m. Saturday evening before the Red Bull Night Riders, a spectacular show of nighttime surfing by six top surfers under floodlights beaming down from the pier (that's Saturday from 8 to 10 p.m.). A dozen local restaurants, including Oceanside Bar & Grill, Blue at Topaz, Flagler Fish Co., Atlantic Grille and many more, will participate, proving sampling delights. Musician Josh Garrels and Brad Corrigan of Dispatch will be performing during the festival.
This year's silent auction will be held at the Golden Lion during the Kick-Off event Friday at 6:30 p.m. The auction helps the raise money each year for the Tant scholarship. To date, the Tommy Tant has awarded over $50,000 in scholarships to over 60 students and $7,000 in donations to the local food bank. All proceeds raised at the surf event this weekend will again benefit the Tommy Tant Memorial Scholarship Fund, the Flagler County Food Bank, and the National Marfan Foundation.
"It's such a powerful feeling to see all the local families, contestant and kids running around with surfboards with a smile on their face, "Will said. " Such a testimony to community to allow healing."