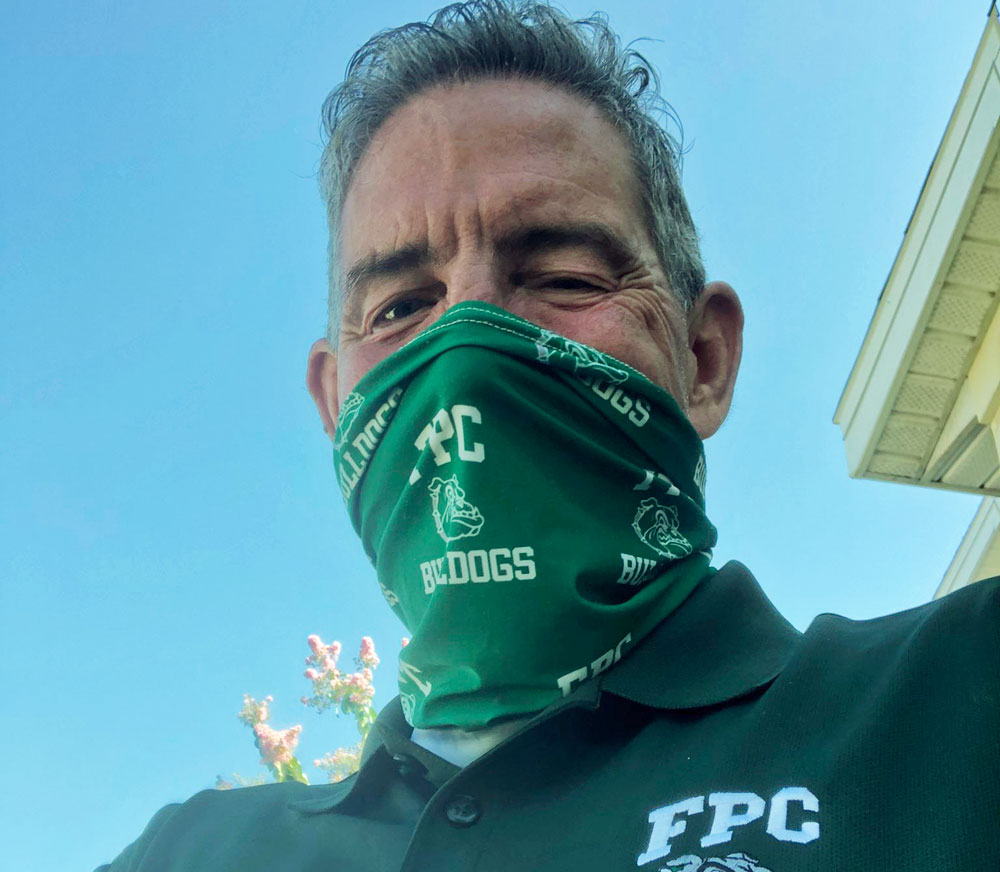 Sometime on Monday a rumor started flying around Volusia County that Tom Russell, the Flagler Palm Coast High School principal and former Volusia County superintendent, had died. By evening the rumor was rampant in Flagler County as well. The rumor, which has upset Russell's family, is false.
Russell is battling covid-19 in an intensive care unit, and has been struggling. District officials in Volusia and Flagler counties this morning confirmed that he was battling on. Russell's wife Julie has been in contact with Cathy Mittlestadt, the Flagler superintendent, who in turn has kept FPC faculty and administration appraised of Russell's condition in the last few days. The superintendent shared texts from Julie Russell today, with faculty, underscoring frustrations and suggesting that Tom had possibly improved overnight.
FPC faculty is holding daily morning prayers for Russell at the school's flagpole, before the school day begins.
"This is a difficult time and we are doing our best to honor his privacy but recognize he is loved not only by his school community but by many beyond the walls of FPC," Flagler School Board member Colleen Conklin posted on her Facebook page on Friday. "Sending nothing but love and healing prayers to Tom as he battles this virus."
A teacher in Volusia County reportedly posted grimmer news on a social media platform sometime in the last 24 hours, then took it down, but too late to prevent chatter from spreading on Facebook and elsewhere, including among student discussion groups at FPC.
Russell, 60, was an administrator in Volusia County schools for some 15 years before his elevation to superintendent in 2015. Shortly after the Volusia school board voted to remove him in June 2019, Jim Tager, his former colleague and at the time the superintendent in Flagler, hired him as FPC's principal, where Russell quickly established himself as a forceful and genial presence.




He revealed his Covid diagnosis in an email to his staff on Nov. 16, just hours after getting his test results. "It has shocked my family because of my vigilance about practicing safeguards," he wrote. "Actually, everyone here thought I had bronchitis. I had some physical struggles this past weekend and the Seminoles game did not help matters. I am incredibly grateful that I was removed from all of you when I was quarantined last Monday. I am thankful that out of the blue my pulmonary doctor called this morning not knowing of my results and has hopped right on this case. Think positive, think healing, move forward."
FPC, the district's largest school, has also been its epicenter of Covid cases, with 35 cases affecting 14 staff members and 21 students since Nov. 16, the day of Russell's diagnosis. The cases mirror a surge in the community at large, where the Department of Health has confirmed more than 150 cases a week for three straight weeks, in the state, where the seven-day average has soared above 10,000, and across the country, where daily case loads have exceeded 200,000 on certain days.
Reader Interactions