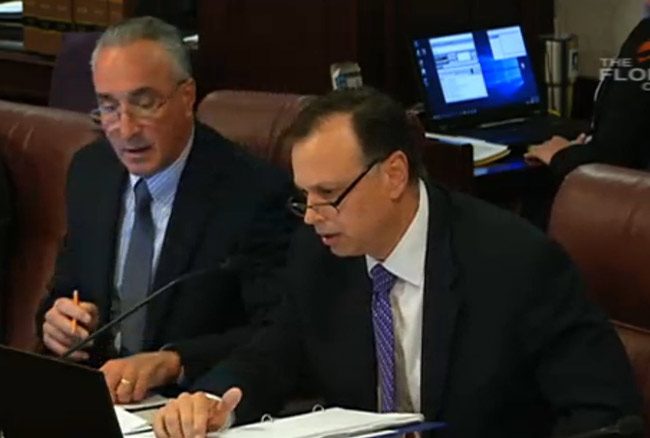 Well, that was a wasted trip. At least for Flagler County officials, who once again traveled to the state Capitol—a six-and-a-half hour, 450-mile round-trip by car—for the fourth time in in less than three weeks to argue against a legislative proposal to roll-back local regulation of short-term vacation rentals.
The bill was before the Senate Community Affairs Committee for its second of three committee stops before reaching the Senate floor. It cleared a Senate subcommittee on March 21, and has already cleared two of three House committees, making these latter stops increasingly critical for Flagler County government's chances to stop the bill.
But Sen. Greg Steube's bill never got a full hearing this afternoon. It never made it past its first of two proposed amendments, neither of them relevant to Flagler's concerns, before the clock struck 6 p.m., the Legislature's Cinderella stroke equivalent of midnight, when lawmakers and lobbyists ritually repair to pubs and back-chambers. But the delay was a better outcome than not either for opponents or proponents of the bill. Sen. Tom Lee, a seasoned senator, a former president of the Senate and the chairman of the committee, was clearly uninterested in rushing business before him or hurrying the most anticipated bill of the afternoon, as had been the case when the bill appeared before Sen. Travis Hutson's subcommittee last month–even though Hutson represents Flagler. Lee said the bill's hearing will be rescheduled.
He had left the vacation-rental bill last on a list of 14 to be heard, even though the hearing room was largely filled with proponents and opponents of the Steube proposal.
Steube's bill would forbid local regulation of short-term vacation rentals if regulation differs from that applied to other residential homes. Flagler officials, who have been represented by County Attorney Al Hadeed, who was in Tallahassee today, and a rolling cast of county commissioners, have argued to legislators that as far as Flagler's 100 short-term rentals are concerned, the Steube proposal would make it impossible to continue regulating them. That, in essence, is the aim of the Steube proposal.
Vacation-rental proponents, for their part, see the Flagler approach (and many like it across the state) as overbearing and unnecessary, since existing zoning and nuisance ordinances are, or in their view should be, enough of a check on irresponsible renters. To that end, one of the amendments presented today (by Steube) would require that short-term rentals have a point of contact on file in case of an emergency at the property. The amendment passed with little discussion (except for an objection from the Florida League of Cities, whose Casey Cook slipped in a quick broadside: "It is lacking any sort of enforcement mechanism on the life-safety mechanism," he said. "The locals are largely acting as the regulatory arm."
As far as Flagler is concerned, the amendment is superfluous as the requirement is already incorporated in the county ordinance.
But the Steube amendment is at heart a contradiction of the core idea behind Steube's bill—that it "wouldn't allow you to regulate specifically vacation rentals," in his words. Steube has argued that it is unjust to single out vacation rentals or differentiate them from any other single-family homes as a matter of property rights. But the amendment is an implicit recognition of what the opposition has been arguing all along: that vacation rentals are different and that they incur different potential problems.
State inspectors, for example, visit hotels and motels at least once a year to verify compliance with fire, pool and other safety codes. They do not inspect vacation rentals. That's what county inspectors do in Flagler and other local governments.
The discussion today though never got as far as the debate over the bill. As Steube was presenting yet another amendment—to exempt veterans from a grandfather clause that could yet expose them to some local regulations—Lee marked the time, and said the hearing had to end. It's not yet clear when the bill will be scheduled next.
In a sense, the reprieve gives opponents of the bill a few more days to make their case to lawmakers behind the scenes. But the battle so far has seemed lost, from opponents' perspective, as the bill and its House companion have built momentum largely on the strength of vacation-rental lobby, a powerful industry in the state with a substantial economic impact on the tourism industry, including Flagler's.