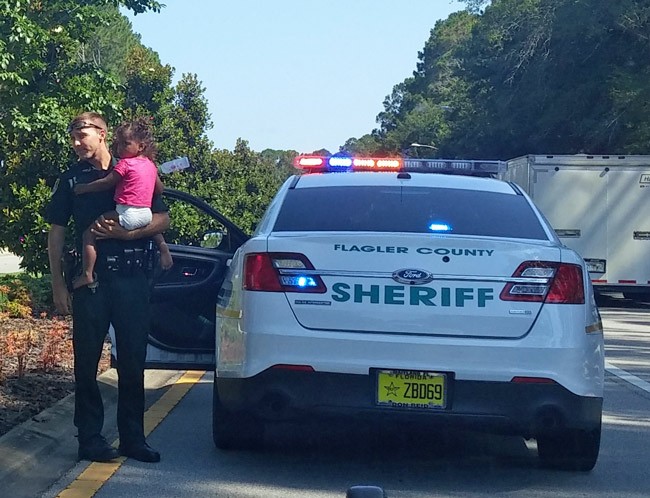 Heather Seils, the 24-year-old mother of a 2-year-old girl and a 3-year-old boy, was asleep Saturday morning in her B-Section home in Palm Coast when, somehow, her daughter managed to wander out of the house unattended. The front door is armed with a deadbolt, but it was not locked at the time.
The girl appears to have followed the family dog out the door.
A little after 10 a.m., the sheriff's dispatch center got information that a toddler was in the middle of Belle Terre Parkway at Braddock Lane. The information was relayed by a man who had, according to the subsequent incident report, secured the child, and waited for police to get there.
Flagler Sheriff's deputy James Miley was dispatched to the scene, where a witness told Miley that she'd seen the child follow a small dog across the southbound lanes of Belle Terre onto the median, where bystanders intervened and stopped the girl from continuing.
The man who was safeguarding the child immediately turned her over to Miley and drove off. His identity is not known. Miley and a corporal then began canvassing the neighborhood to trace back the origin of the lost child, back to Bradmore Lane, where she'd been seen walking from, and at Number 12 saw Seils trying to get their attention.
She told police that she'd gone to check on her children immediately after waking up. She thought they were watching television. She noticed her daughter and the family dog missing, and the door ajar. "She then checked with her neighbors and began to run inside her residence to call the Sheriff's Office, but was [told] by a neighbor that law enforcement was on scene," the incident report relates.
Seils explained that the family is new to the area and that her daughter had never done that before. Deputies gave her information on child-proofing the house to prevent this sort of thing from happening again. Deputies found the house to be "cluttered but livable," with food for the children, but the children's bedroom consisted of just a mattress with sheets and a television.
The Department of Children and Families was notified of the incident.
"I commend the quick actions of the bystanders who saw this little girl in need of help and Deputy Miley for caring for her until her mother was located," Sheriff Jim Manfre said in a statement included in a sheriff's release issued today.