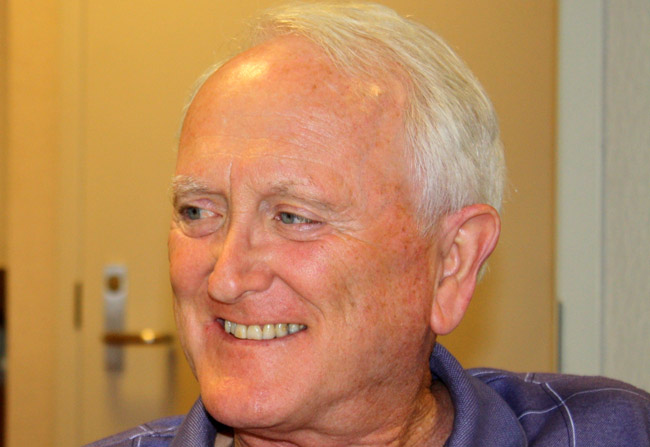 He's spent the last six years observing, analyzing, lauding and at times criticizing Palm Coast and Flagler County politics from his virtual command post at GoToby.com, a widely read website with a focus on real estate. Now, Don Tobin—best known as Toby—is making a run for the Palm Coast City Council seat being vacated in November by Frank Meeker, who's running for the county commission.
It's not quite an election. Or rather, as Tobin describes it, "it's an election with a constituency of four." The Palm Coast mayor and three council members will appoint Meeker's replacement after whittling through a list of applicants, interviewing those on their shortlist, and voting for a top choice, repeatedly if necessary, until they have a chosen one. That will take place in November. Meeker is not stepping down until the Nov. 6 election. His late announcement for the commission seat meant that an actual election to fill the remaining two years on his term could not be held.
Nine names, including Tobin's, are in the city's hopper as of today: Joel Rosen, Tony Amaral Jr, Greg Hansen, Norman Mugford, James Bradshaw, John Distler, Nicole Mazie (who is no relation to Ken Mazzie, the accountant and candidate for Flagler County clerk of court), and Joe Rossheim. Mugford is a member of the city's code enforcement board, the only applicant, so far, serving on one of the city's boards. Tobin's name is the most publicly recognizable, if not the most surprising on the list: Earlier this year he fractured a hip and has been recovering since, with orders to stay off his feet until August, though aside from a brief spell, he's not laid off his 24/7 work habits.
Tobin has several concerns. city-county relations had improved only to begin deteriorating again.
The recent battle over the renewal of the half-cent sales tax is an example, with the county looking to increase its share of the revenue, Palm Coast standing firm on preserving its current share, and no workable compromise from either side, until the county commission conceded on Monday that its own intransigence could mean certain defeat for the proposal at the polls. The county is again pleading with the cities.
Economic development is another top issue for Tobin, as it has been for most candidates and sitting representatives. "That's an example of an issue that's been fragmented because of the lack of cooperation," Tobin said. The city has what it calls Prosperity 2021, but Tobin isn't convinced of the substance behind the program. "I don't know, when I was in business, you'd see these great powerpoints, but that's all they were, great powerpoints."
He's more impressed by the county's approach. "At least the county with Helga has taken a well-defined stand and has moved forward with it," he said, referring to Helga van Eckert, the county's new economic development director. "We had a good acquisition with Helga. I think she was a stroke of good fortune for us, I'm impressed with her, and I think the results of her efforts, the county's efforts, will be good for everybody."
He'd have rather seen the city hitch its economic development efforts to those of the county, with a more holistic approach to development. "It's nice for the city to promote economic development, but at the city level I think that's myopic," Tobin said. For example: balancing the county's tax base by reducing its dependence on residential development, increasing commercial and industrial development—and looking to Bunnell as a natural place, geographically, for that growth. Job creation would benefit both cities and the county.
Second, Palm Coast, once it has re-built Bulldog Drive (one of the entrances to Town Center) should look at ending the Town Center Community Redevelopment Agency (a special taxing district meant to develop that particular area, but that the considerable expense of tax revenue for the county). The city approved three other similar, major developments (called developments of regional impact, but not CRAs), but neither those nor Town Center are likely to see the sort of booming development that could build them out any time soon, Tobin said. Meanwhile, the city could do something to encourage at least more active development.
Which leads to his third point: impact fees, which are slapped on top of the cost of a new home or business, could be lifted for a couple of years. The impact fee on a residential home (combining all its components, including transportation, parks, schools) adds up to roughly $16,000. With median home prices now ranging between $115,000 and $130,000, that accounts for 12 percent of the cost of a home or more. "Impact fees are a hidden tax and I think their effect is much more profound than many people think," Tobin said, describing impact fees as a regressive tax.
Meeker, on the council, has been pushing for an impact fee moratorium. He has support from council member Jason deLorenzo, who works for the county's homebuilders' association. But so far the third vote has been elusive.
Fees in general irritate Tobin, particularly when they're masking a tax: franchise fees on people's garbage, water or utility taxes, for example, are, in fact, little different from taxes. The city should be more transparent about that when it slaps them on, or proposes them, as it recently did with a utility franchise fee (the council ultimately rejected that proposal).
More generally, Tobin said he'd look to improve transparency and cohesion between governments, pointing at one particular problem. "I think it's a lot of ego," Tobin said, with characteristic candor. "I said before we have too many dogs pissing on too many trees." He's been pleased with the greater independence of two newly elected council members: deLorenzo and Bill McGuire.
If picked for the position, Tobin would not abandon GoTobin.com. It's his income, and what council salary (a little over $9,000) he would make would not be enough to replace it. "I'm kind of a 7/24 worker anyway," Tobins aid. "The on switch is always on. I frankly don't see a conflict with my publishing GoToby or a conflict with my being a Realtor anymore than I'd see a conflict with my being in Rotary International or in the Chamber of Commerce. All those things are part of what defines me. My website, GoToby, is a blog, and it's fairly widely read in a narrow community—people who are interested in real estate. It's not a political blog."
Tobin, 69, was born in Springville, N.Y. He has a B.S. from the University of Rochester. He spent the first third of his career in technical management—what was then known as a data processing manager, a title more recently gentrified to "information technology" and its likes. He then worked in sales (selling hardware and software to medium to large companies) until the bursting of the dot-com bubble in 2000. He then did technology consulting before getting his real estate license in 2004 in Palm Coast, and launching GoToby.com, which has earned him broad acclaim and national attention.