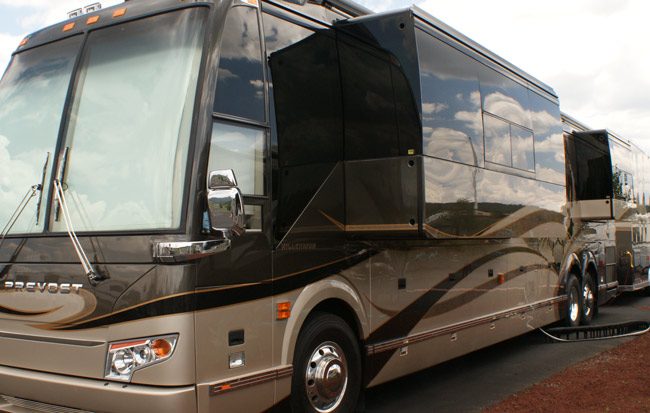 A proposal to develop a small, planned RV park on Colbert Lane that the project's attorney compared to "12 school buses on five and a half acres of land," caused a small uprising from neighbors who don't want to see that sort of development in their area. The proposal was before the Flagler County Commission Monday evening, where opponents filled the commission chambers.
It failed. The commission voted 5-0 to deny it.
The proposal was to be located on 5.63 acres about 1,300 feet north of Lakeview Drive, on the east side of Colbert, across from Graham Swamp and south from Palm Coast Plantation. But numerous issues arose aside from popular opposition, which is not supposed to play a role in the county commission's decision on such land-use matters: the only things the commission may consider are whether the proposal complies with local land-use rules and the county's comprehensive plan, its long-term blueprint for development in the county. In County Attorney Al Hadeed's words, "The popularity or unpopularity of a land use proposal has nothing to do with the quasi judicial hearing, doesn't matter if it's popular or not. It's whether it's legal or not."
But county commissioners are not automatons, and they don't call such proceedings a "public hearing" to entirely ignore the public, especially when the public speaks from Palm Coast Plantation and Grand Haven, two of the most voter-heavy precincts in the county. So the proposal was facing some steep obstacles, legally justified or not.
But the legally justified reasons to turn down the proposal were numerous enough.
To begin with, the proposed RV park, dubbed "an upscale RV park in the woods," wasn't going to be just an RV park. Richard G. Gurell, the owner of the parcel and currently a Palm Coast resident, wanted to build his retirement home there and oversee the property from that home. Opponents say the rezoning to allow residential development would be contrary to the county's rules on two grounds: first, the parcel was assigned a commercial zoning designation in 2004 for a reason, they say—eventually to enable shops to residents in the area. Second, the rules don't allow for any residential density on the parcel. The RV park may be OK, but not the house. But Gurell intended to build his house first.
There was the issue of septic tanks. Gurell didn't want to hook up the property to Palm Coast water for fear that he'd be forced to annex, as state law allows municipalities to do with properties that use municipal sewer and water. County commissioner Nate McLaughlin pointed out that a 2007 agreement is supposed to protect county residents against such forced annexation. But as Palm Coast Plantation found out in 2010, Palm Coast will still do battle, and Palm Coast Plantation, its namesake aside, had to take the city to court to use city water without being annexed. Palm Coast Plantation won, but it took a while. Less wealthy property owners may not be ready to do battle likewise.
The problem for Gurell is that even though he got clearance from the county health department to be on septic systems, commissioners were not thrilled by the idea, nor were residents of Palm Coast Plantation and Grand Haven, who say the fewer septic systems, the better. "I can't get past that," Commissioner Don O'Brien said. "I have a real problem with it being where there's water and sewer lines close enough."
And there was the matter of compatibility with existing land use. Commissioners saw none.
Tom Conner, the attorney for the project, portrayed himself perplexed by the opposition. He was seeking to have less development on the property, not more. His client, he said, "can't imagine" why neighbors would want "a commercial development instead of low impact high wend camp park. Not a trailer park, a camp park." He kept showing pictures of strip malls and concrete-heavy developments, puncturing his pictures with the question: "Is this what we want for Colbert lane?" He contrasted the concrete with images of what would be a lush, tree-lined RV park, with RVs the size of school buses. McLaughlin would later somewhat sarcastically congratulate him on his clever marketing, but he didn't bite.
Charlie Faulkner, the development consultant working with Conner and Gurell, made his own pitch in favor of RVs, trying to break the comparison with "trailer parks" and stick to the notion of upscale transient travelers. "To have them be able to come and stay near by, near your family, is a positive, not a negative, for our community," Faulkner said, and it's a less intense development than anything that could be built there, with less asphalt, less water usage, less traffic and lesser other impacts.
But the residents of the two nearby developments who spoke wouldn't let go of the comparison of the RV park to a trailer park, nor of their fears that septic tanks would leach pollution into the ground, nor of worries about traffic and claims of incompatibility.
The applicant was requesting a rezoning: from neighborhood commercial, where shops and strip malls could be built, to Planned Unit Development, a regulated development that could accommodate a mix of residences, businesses and recreation. One commissioner wondered why Gurell hadn't just asked for a residential designation. Asking for a Planned Unit Development may have hinted at future uses that could have nothing to do with an RV park—if not Gurell's own, then a future owner. That, too, was something commissioners worried about.
Commission Chairman Greg Hansen toward the end of the public participation portion of the hearing misapplied Hadeed's statement about commissioners' responsibility to stick to the facts as he curtly judged one woman's presentation "inappropriate," because she had asked the commission not to take away her dream set-up in Plantation bay with an RV park nearby. While commissioners are required to stick to legal issues in their decisions on land-use matters, they're not to proscribe or prescribe what members of the public may or may not say during the public participation portion, beyond the reasonable parameters of an agenda item, let alone judge mere comments–even about one's dream property–as "inappropriate." (Hansen had also overstepped his bounds when he told members of the public not to comment merely to say they liked or didn't like the proposal.)
But that misstep aside (which the county attorney did not correct), commissioners then moved to explain their own votes–only McLaughlin and O'Brien did–and voted 5-0 to deny the application for rezoning.