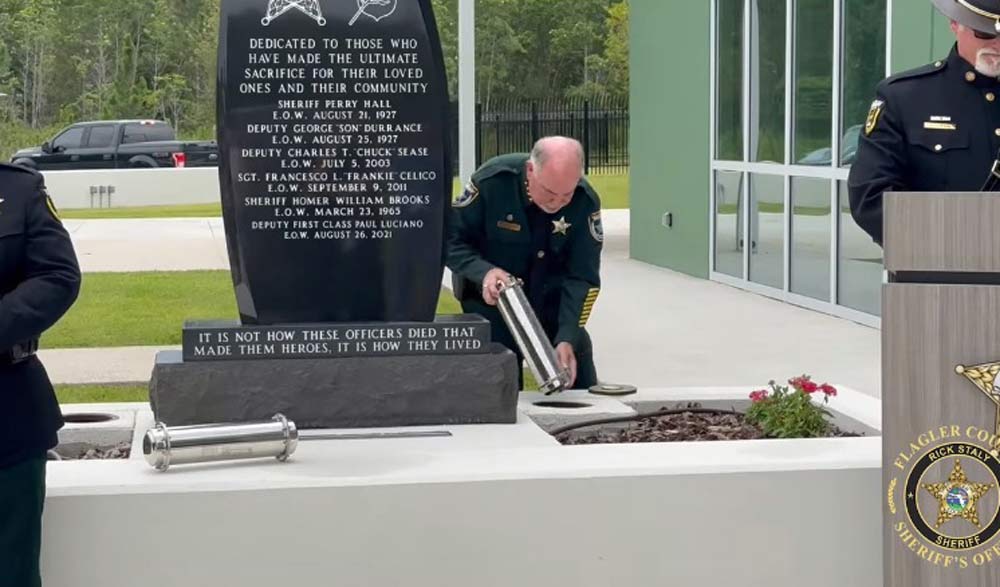 On Monday, Sheriff Rick Staly and the Flagler County Sheriff's Office buried two time capsules at the new Flagler County Sheriff's Operations Center.
"I think history is important. It shows where you have come from and where you're going," said Sheriff Rick Staly. "What's better than a time capsule to commemorate the opening of this beautiful building that will serve our county for decades to come. It would be interesting to see how different the world will be 50 years from now."
The "FCSO Centennial Time Capsule" is set to be opened on July 9th, 2067. The opening date coincides with the agency's 150th anniversary and it includes items from FCSO's 100th anniversary in 2017, such as:
Photos and news articles from the 100th anniversary celebration (FCSO news release, Flagler Live article, Palm Coast Observer article, Daytona Beach News Journal article)
FCSO Centennial badge, challenge coin, and pin
The second time capsule, the "FCSO Operations and District 3 Time Capsule", is to be opened on November 7th, 2072. The opening date coincides with the 50th anniversary of the Dedication Ceremony for the new Sheriff's Operations Center and District 3 building, which was held on November 7th, 2022. The time capsule includes:
Eviction Notice and Writ of Possession from the Courthouse: Tom Bexley, Clerk of the Court, Plaintiff. Rick Staly, Sheriff, Defendant. Served November 7, 2022.
USB drive with time-lapse of building construction, Architects Design Group Design Directory
FCSO face mask from COVID-19
FCSO challenge coins (COVID-19, 2020, 2022, and Dedication Ceremony)
Click here to view a video and pictures of FCSO's time capsules burial.