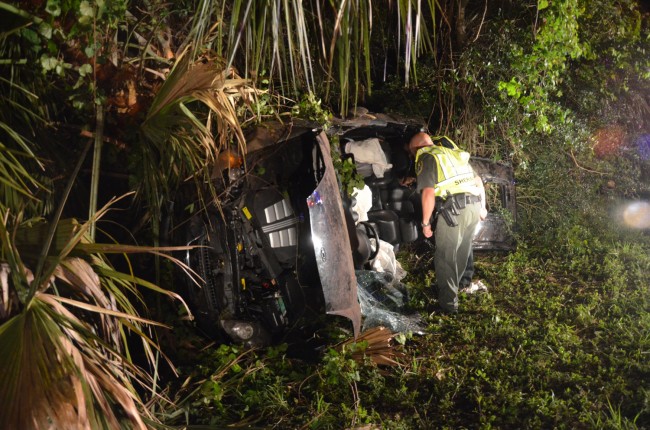 I-95 northbound was closed for 20 minutes late Friday night as a rescue helicopter made a landing on the highway three miles north of Palm Coast Parkway to evacuate Timothy Rudolph, 24, who'd smashed his car into the woods.
Rudolph, an Ormond Beach resident, was alone in the vehicle, a Hyundai Tiburon, a two-door compact sports car. He suffered serious to critical injuries to the head and hips and was evacuated by Volusia County's Air One helicopter, to Halifax hospital's trauma unit.
The wreck took place at mile marker 294 at 10:30 p.m. According to a witness, a woman who saw the wreck unfold in front of her, the driver of the Hyundai appeared to be speeding north when Rudolph suddenly veered right into the grassy shoulder. The tire marks were visible where the Hyundai left the road, traveling some 30 yards before gashing through the ground in two quick successive spots and, according to the witness and evidence left on the brush and trees, went airborne some 10 to 12 feet before flipping back down, and crashing on the Hyundai's flank, on the driver's side.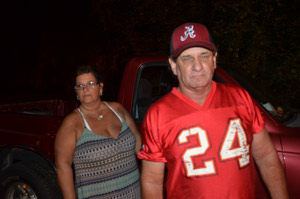 Keith and Mary Aaron were driving north immediately after the crash when they saw a woman–the witness–screaming by the side of the road, flagging people down. The Aarons stopped. Keith Aaron, a truck driver by trade, is also an armed guard who's trained in first aid and CPR.
He describes what happened: "I pulled over, backed up, got to her, she was screaming over here, ran to the vehicle. I could see in the front windshield that there was one in. So I got the hatch ripped open, made sure there was no kids. Usually in an SUV I'm looking for children." Aaron was initially under the impression that the vehicle was an SUV. "No children. The guy was unconscious, pretty much blood coming out of the side of his head and his ear. Pretty much thought he was gone.
"Went back, got my flashlight, come back in, watched his stomach, stomach was moving, so I knew he was breathing. Kept talking, kept talking, kept talking, finally got him to come to me and start moaning. Good sign once he starts moaning. Kept talking more, got his name, his name is Tim, he's 24 years old. Once I got that out o him, then I started, finally–are you the only one, is there anyone else, anyone else, he said he was the only person in there so I wasn't looking for an ejectee. I kept staying with him until first aid got here."
There wasn't much left to the Hyundai. Its front-end and driver's side airbags had deployed, likely helping to save the driver's life. The vehicle was crushed against a line of woods and brush.
I-95 northbound was reduced to two lanes from three shortly after 10:30 p.m., then closed entirely between 11:09 and 11:29 p.m., when Air One landed and was on the ground. The Palm Coast Fire Police and the Flagler County Sheriff's Office were at the scene, as were units of the Palm Coast Fire Department and Flagler County Fire Rescue. The Florida Highway Patrol was due to investigate.